The Jean Pigozzi African Art Collection
NA KINSHASA EZA POSSIBLE – MAGNIN-A, Paris, France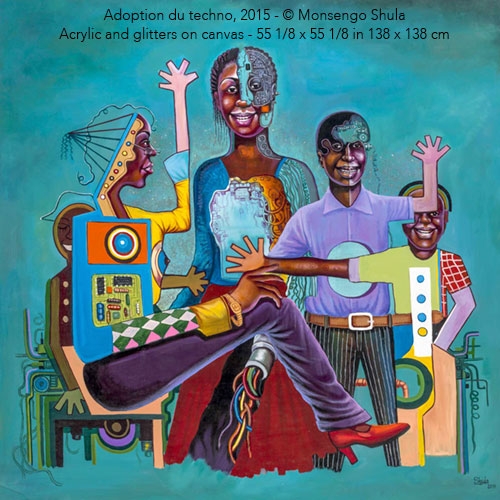 from 27/04/2019 to 27/07/2019

Untitled, 2019
© Pathy Tshindele
Power épisode 3
Acrylic on canvas
35 x 35 in - 89 x 89 cm
"NA KINSHASA EZA POSSIBLE"
Steve Bandoma
,
Houston Maludi
,
Kura Shomali
,
Monsengo Shula
,
Pathy Tshindele
From all the continents, Africa appears to be the one that evolves and surprises the most. It is no longer a question of disorder and dark visions but rather of pride, diversity, creativity and cultural wealth. Africa is a continent of light. In Africa, contemporary art was born with the independences. A new consciousness has emerged, new individualities rise in the continent, representing a fight for creative freedom and a research of its personality.
All these artists, free of the western models, are not considered anymore only through the angle of their origin but for the singularity and the strength of their art. They know that culture plays an important role in the development and the future of Africa.
Inauguration weekend during the Paris Gallery Weekend (Mai 17 - 18 - 19, 2019)
Opening on Saturday Mai 18, starting at noon
Exhibition from April 27 to July 27, 2019, Tuesday-Saturday, 2pm-7pm
MAGNIN-A
118, Boulevard Richard Lenoir, Paris, France
Press kit
Link to the exhibition website