The Jean Pigozzi African Art Collection
Why Africa? Pinacoteca Giovanni e Marella Agnelli, Turin, Italy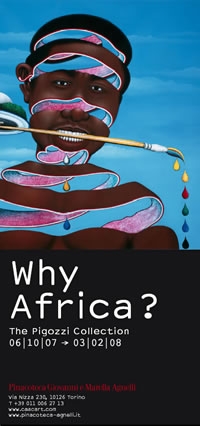 from 06/10/2007 to 03/02/2008
THE PIGOZZI COLLECTION
6 October 2007 – 3 February 2008
curated by André Magnin
The Pinacoteca Giovanni e Marella Agnelli is pleased to present Why Africa? The Pigozzi collection, as part of its new cultural programme dedicated to art collections.

The exhibition is having its Italian première, curated by André Magnin, Artistic Director of Contemporary African Art Collection (the Pigozzi collection), the world's most important collection of contemporary African art.

Created in 1989 by the joint efforts of Jean Pigozzi and André Magnin, who was deputy curator of the exhibition Les Magiciens de la Terre being held at the Pompidou Centre at the time, the collection is constantly evolving with the addition of works by artists of various generations from sub-Saharian Africa. It maintains strong links with the artists it supports, giving them visibility and recognition on the international art scene, and this was confirmed this year when the 52nd International Venice Biennale awarded a Golden Lion for lifetime achievements to 72 year old photographer Malick Sidibé, because no one is worthier than him to receive this honour (Robert Storr).

Jean Pigozzi reveals his passion and obsession for African art in about one hundred works selected from the collection, several of which have never been exhibited before. The exhibition includes drawings, paintings, sculpture, photographs, installations and site specific works as the one conceived by the South -African artist Esther Mahlangu for the new Fiat 500.

The great wealth of African contemporary artistic output is presented through the work of several artists -Frédéric Bruly Bouabré, Bodys Isek Kingelez, Chéri Samba and Malick Sidibé, George Lilanga and Keita Seydou, precursors of contemporary African art who died recently – who overcame the stereotype of folklore and decorative art of the postcolonial period and forged links with Western art, developing their own autonomous language.

The majority of these artists produce works that are figurative or inspired by current topics, depicting a reality that is both local and global.

One of the most obvious constants is the deep bond with the territory: the artists address the territory first and foremost, and they work with what is familiar to them; their art is inclusive, rooted in history and against division. Art that comes from the people, addresses the people and returns to the people, in the words of André Magnin.

The exhibition will be presented in a special setting created by Ettore Sottsass and Marco Palmieri.

A number of conferences and meetings and a film screening dedicated to Africa will be organised during the exhibition, supporting by ERSEL.

The guide to the exhibition has been realized by Fabrica, Benetton research centre on communications. Created to lead the visitor through the 'itinerary' of the show, the guide offers an insight to the artists and their work.
Link to the exhibition website