The Jean Pigozzi African Art Collection
Seydou Keïta Bamako portraits – FOAM – Amsterdam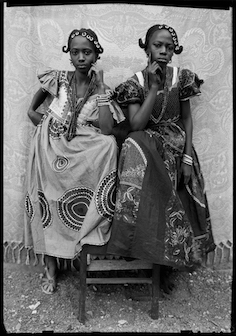 from 06/04/2018 to 20/06/2018
In the 1950s and 60s, a colourful collection of inhabitants of Bamako, capital of Mali, posed for Seydou Keïta (1921-2001, Mali).
People visited Keïta's studio to have their picture taken at their best: wearing extravagant dresses made from wonderful textiles with splendidly formed headdresses, or posing in a modern Western suit with a bow tie, leaning against a motorcycle, or with a radio tucked under their arm. His oeuvre reflects a portrait of an era that captures Bamako's transition from a cosmopolitan city in a French colony to the proud capital of independent Mali.
Keïta's remarkable archive of over 10.000 negatives came to light in 1992 after a discovery by André Magnin, the then-curator of Jean Pigozzi's contemporary African art collection. Modern prints were printed from the negatives with Keïta's collaboration, allowing his work to be introduced to the art world. International fame quickly followed. The exhibition in Foam consists of signed modern prints, and a large selection of unique vintage prints.
The exhibition was developed in collaboration with the Contemporary African Art Collection (CAAC) – The Pigozzi Collection.
Link to the exhibition website
Featured Caacart artists :