The Jean Pigozzi African Art Collection
Romuald Hazoumé, Gagosian Gallery Paris, France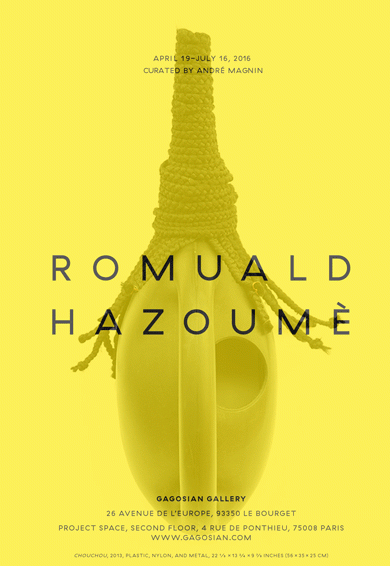 from 19/04/2016 to 17/09/2016
EXTENDED!
Through Saturday, September 17, 2016

"Romuald Hazoumè"
Installation view at Gagosian Gallery Paris Project Space
Artworks © Romuald Hazoumè, ADAGP 2016

Photo by Thomas Lannes
"I send back to the West that which belongs to them, which is to say, the refuse of consumer society that invades us every day."
—Romuald Hazoumè
Gagosian Gallery is pleased to present the work of Romuald Hazoumè. Spanning the last two decades, the exhibition is organized by
André Magnin
and includes sculpture, installation works, and a single large-scale photographic tableau.
Download Press Release
(PDF 227 Kb)
***
"Je renvoie à l'Ouest ce qui lui appartient, c'est à dire, le refus d'une société de consommation qui nous envahit chaque jour."
—Romuald Hazoumè
Gagosian Gallery est heureuse de présenter une exposition des œuvres de Romuald Hazoumè. Retraçant les deux dernières décennies, l'exposition est organisée par
André Magnin
, et présente des sculptures, des installations, ainsi qu'une photographie à grande échelle.
Télécharger le dossier de presse
(PDF 228Kb)
La Galerie Gagosian expose Romuald Hazoumé du 19 avril au 16 juillet 2016.
Commisaire : André Magnin.
Deux espaces d'expositions :
-
26, avenue de l'Europe, 93350 Le Bourget
- Project Space, second floor,
4 rue de Ponthieu, 75008 Paris
Link to the exhibition website
Featured Caacart artists :