The Jean Pigozzi African Art Collection
Insiders, CAPC musée d'art contemporain de Bordeaux, France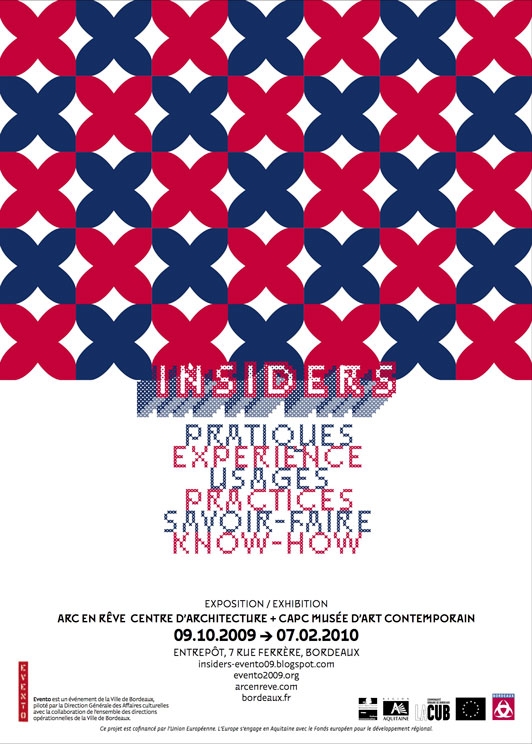 from 09/10/2009 to 07/02/2010
La
manifestation
Insiders
rassemble plus de quatre-vingts artistes, architectes et collectifs de tous horizons qui ont en commun des facons de deborder des limites de leurs disciplines. A la manière des premiers folkloristes, les artistes contemporains se tournent vers une pratique de recensement de matériaux culturels, tandis que les architectes proposent des modes d'exercices alternatifs en relation avec de nouveaux modes d'appropriation de la ville et de l'architecture. La sélection des projets exposés résulte d'une enquête dans les champs respectifs de l'art, et de l'architecture, sur les interrelations entre cultures savantes et cultures populaires. Face aux questions sociales et économiques qui travaillent le monde, face au modèle d'une culture globale, Insiders explore la singularite des dynamiques d'échanges et d'organisations inédites porteuses de nouvelles valeurs collectives.
----
The works selected for the exhibition
Insiders
question relations existing respectively between art and architecture and the rituals and utopias of popular culture. When art offers the chance of a collective experience of sharing and exchange, and emphasizes new possibilities of "living together". Several contributions and rich interviews, accompanied by sumptuous views of the exhibitions focus on all these issues.
----
Artists of the exhibition: 2012 Architecten, 4 Taxis, Kim Adams, Vladimir Arkhipov, Bertille Bak, Ball& Nogues Studio, Leah Beeferman, Patrick Bouchain, Alexander Brodsky, Burning Man Festival, Patrice Caillet, Stefan Canham, Jean-Marc Chapoulie, Raimond Chaves, Crimson Architectural Historians, Cyberholla, Calin Dan, Jeremy Deller, Dewar & Gicquel, Stephan Doesinger, Jimmie Durham, Thierry Ehrmann, El Ultimo Grito, EQA, Ruth Ewan, Fashion Architecture Taste, Peter Fattinger, Cao Fei, Fischli & Weiss, Pierre Fisher, Terunobu Fujimori, Aiden & Agnes Fynch, Anna Galtarossa, Daniel Gonzalez, Dionisio Gonzalez, Christoph Gossweiler, Gramazio & Kohler, Richard Greaves, Inti Guerrero, Peter Haimerl, Helen & Hard, Anna Heringer & Eike Roswag, Hild und K, Interbreeding Field, Pierre Joseph, Allan Kane, Igloo Media Patrimonu, Mike Kelley, Le Vilain, Jacques Loeuille, Abu Bakarr Mansaray, Matière Première, Joseph Marzolla, Justin Meekel, Asier Mendizabal, Mathieu Mercier, MMW, Christodoulos Panayiotou, Gaël Peltier, Mick Peter, Nicolas Polissky, Marjetica Portc, Raumlabor, Pedro G. Romero, Felix Rottenberg, Denis Savary, Adelfo Scaranello, Jim Shaw, Janet Lee Scott, Dubravska Sekulic & Ivan Kucina, Speedism, Sitesize, Suzanne Treister, Oscar Tuazon, Marcel Türkowsky, Vilijoen & Bohn, Kai Vöckler, Rufina Wu, Mario Ybarra Jr., Raphaël Zarka, Andrea Zittel.
->
Communiqué / Press release
->
Dossier de presse / Press kit
Link to the exhibition website
Featured Caacart artists :