The Jean Pigozzi African Art Collection
Environment and Object – Recent African Art, Tang Museum, Saratoga Springs (NY), USA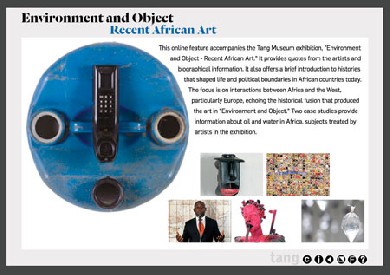 from 05/02/2011 to 31/07/2011
Environment and Object • Recent African Art examines recent African art according to two fluid and often intertwined aesthetic and conceptual frameworks: the impact of the environment on contemporary African life, and the use of found objects and appropriated materials as a recurring presence in current African art. Charting a wide range of ways that contemporary artists from Africa are responding to environmental conditions and their own situations to make art, Environment and Object includes sculpture, photography, painting and video by well-known artists from Africa and contemporary African artists living abroad.

The artists featured in Environment and Object • Recent African Art engage the environment in varied ways and display distinctly different approaches to the use of objects and media in their art making. Some artists in the exhibition focus on the interplay between natural resources, capitalism and colonialism, and their impact on life in Africa today. Decisively rejecting romanticized perceptions of Africa, they interrogate contemporary African conditions and their urban and natural landscapes as contested spaces of economic and political power, creating conceptually resonant images with an overt social critique. Other artists in the show employ strategies of accumulation and "recuperation," drawing on objects present in their surroundings to create dense, poetically lyrical works that combine a love of abstraction with a commitment to the use of quotidian materials. The interdisciplinary implications of the art on view will underscore the range of ways environmental issues impact Africa, adding the frequently biting and provocative voices of these artists to scientific and political discourses on African nations, environments, and realities.



Environment and Object • Recent African Art is curated by Lisa Aronson, Associate Professor of Art History at Skidmore, and John Weber, Dayton Director of the Tang. The exhibition is accompanied by an extensive catalogue with new essays on a range of topics related to art and the environment and will be a valuable resource on the current generation of African contemporary artists.

Environment and Object • Recent African Art is supported by the Andrew W. Mellon Foundation, the Getty Foundation, the Tadahisa Kuroda Exhibition Fund, the Virginia Gooch Puzak '44 Faculty Curatoria Endowment, Chief Oskar Ibru '81 and Chief Mrs. Wanda Swann Ibru '79, Institut Français and Friends of the Tang, with additional support from the Henry Luce Foundation and the Creative Thought Fund at Skidmore.



Environment and Object • Recent African Art will be on view at The Anderson Gallery at Virginia Commonwealth University from September 9 through December 11, 2011 and the Middlebury College Museum of Art from January 26 through April 22, 2012. The exhibition will be available to tour through December 2012.
Address:
815 North Broadway
Saratoga Springs, NY 12866-1632
Museum Hours:
Tuesday through Sunday, 12 pm to 5pm
Fridays 12pm - 7pm (July and August)
Museum Information:
Visiting the Tang
Link to the exhibition website
Featured Caacart artists :