The Jean Pigozzi African Art Collection
Barthélémy Toguo, Célébrations, Stevenson Gallery, Cape Town, South Africa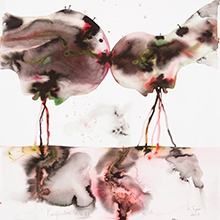 from 29/05/2014 to 12/07/2014
The exhibition takes its title from an immersive installation in which small drawings are displayed atop 35 music stands. Toguo writes:
"It is a concert of 'Celebrations' of life with all its feelings: beauty stands alongside ugliness, pleasure amidst war, sexuality with violence, joy and death."
The artist's 'theatre of the world' embraces everything that makes up human existence. Life and death live side by side and give meaning to one another.
Link to the exhibition website
Featured Caacart artists :