The Jean Pigozzi African Art Collection
AQUA Contemporary Artists and Water Issues, Ile Rousseau, and Château de Penthes, Geneva, Switzerland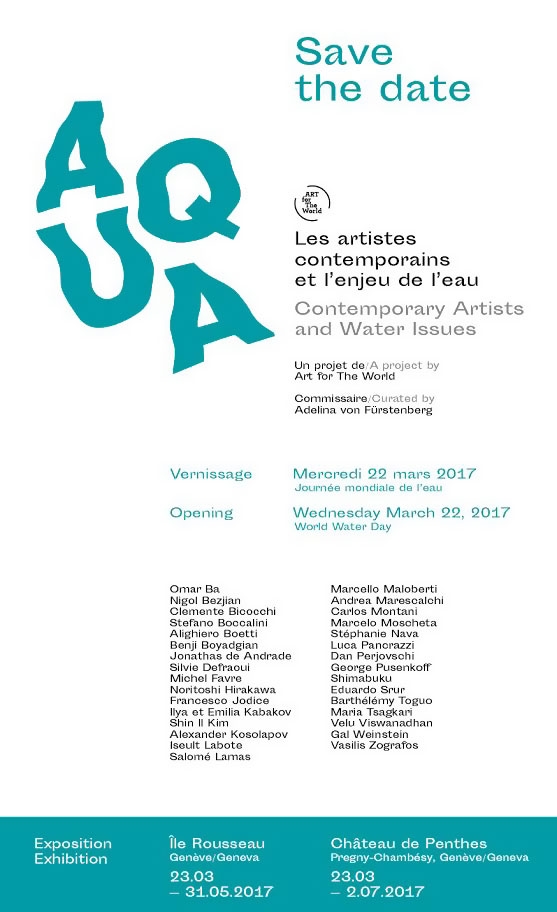 from 22/03/2017 to 02/07/2017

Poster design by Doc Levin, Paris


Opening on World Water Day
Ile Rousseau, Geneva, 22 March - 31 May 2017
Château de Penthes, Geneva, 22 March - 2 July 2017

AQUA - A WORLDWIDE TRAVELING EXHIBITION

AQUA is a worldwide traveling exhibition on water issues conceived by Adelina von Fürstenberg, Founder and Director of ART for The World. The AQUA project centers on environmental issues related to water, using a selection of works by contemporary artists as a tool for reflecting on the role that this vital resource plays in our lives. Water is an essential part of all natural ecosystems and lies at the origin of every known form of life, including our own.

AQUA will premiere in Geneva, Switzerland, on World Water Day, 22 March 2017 in two venues across Geneva- at the museum of the Château de Penthes, and on Rousseau Island in the heart of Geneva.

From 15 November 2017- 27 January 2018, AQUA will travel to South America where it will be exhibited at SESC Belenzinho in São Paulo, Brazil.

2018 schedule for AQUA is still in planning, where it will be exhibited in other countries. Each edition of AQUA is a unique exhibition, incorporating the particular water issues of the context and specificities of the host city or institution, while offering engagement and participation of local artists in the broader dialogue on water, and in the international cross-cultural nexus which is ART for The World.

THE PROJECT

AQUA aims to raise public awareness of the notion of interdependence, essential to the conservation of our environment and to the future of our planet, with the participation of 30 some artists coming from different parts of the world with varied backgrounds, working in a wide spectrum of mediums including painting, sculpture, video-art, installation, photography, and performance on topics linked to the environment, biodiversity and the ecosystem, climate change as well as the preservation of water resources.
Link to the exhibition website
Featured Caacart artists :