The Jean Pigozzi African Art Collection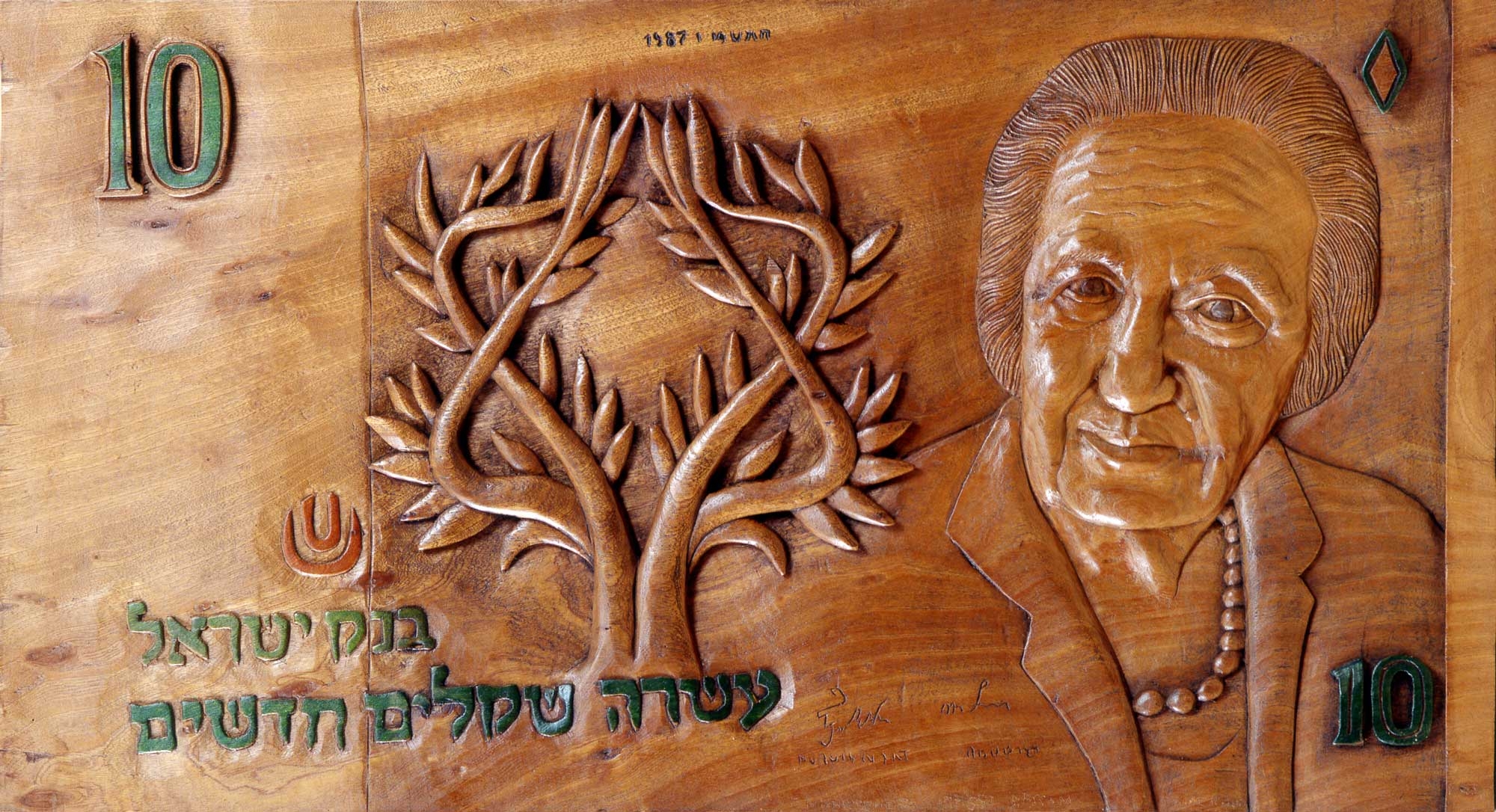 10 Livres Israeliennes - 1992
49 x 89 x 3 cm
Carved wood, ink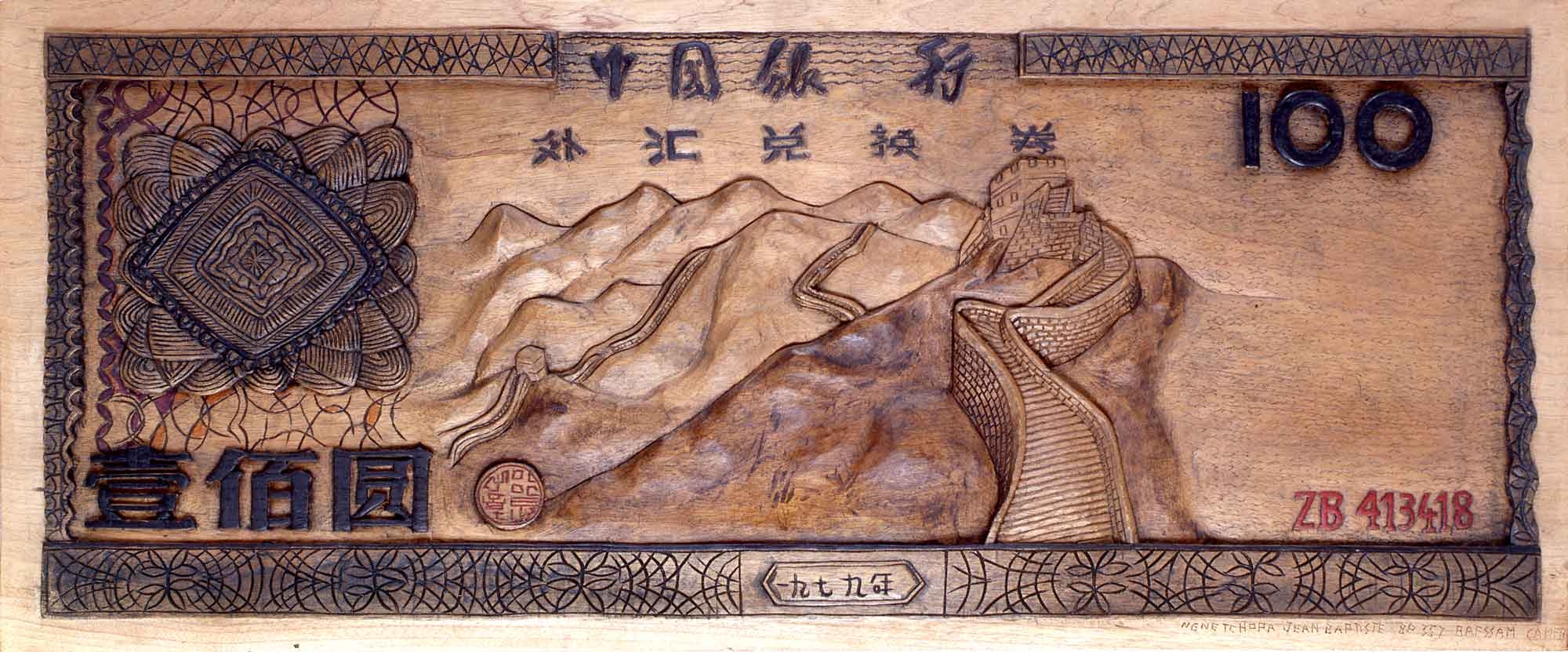 100 Yuan - 1991
46 x 111 x 3 cm
Carved wood, ink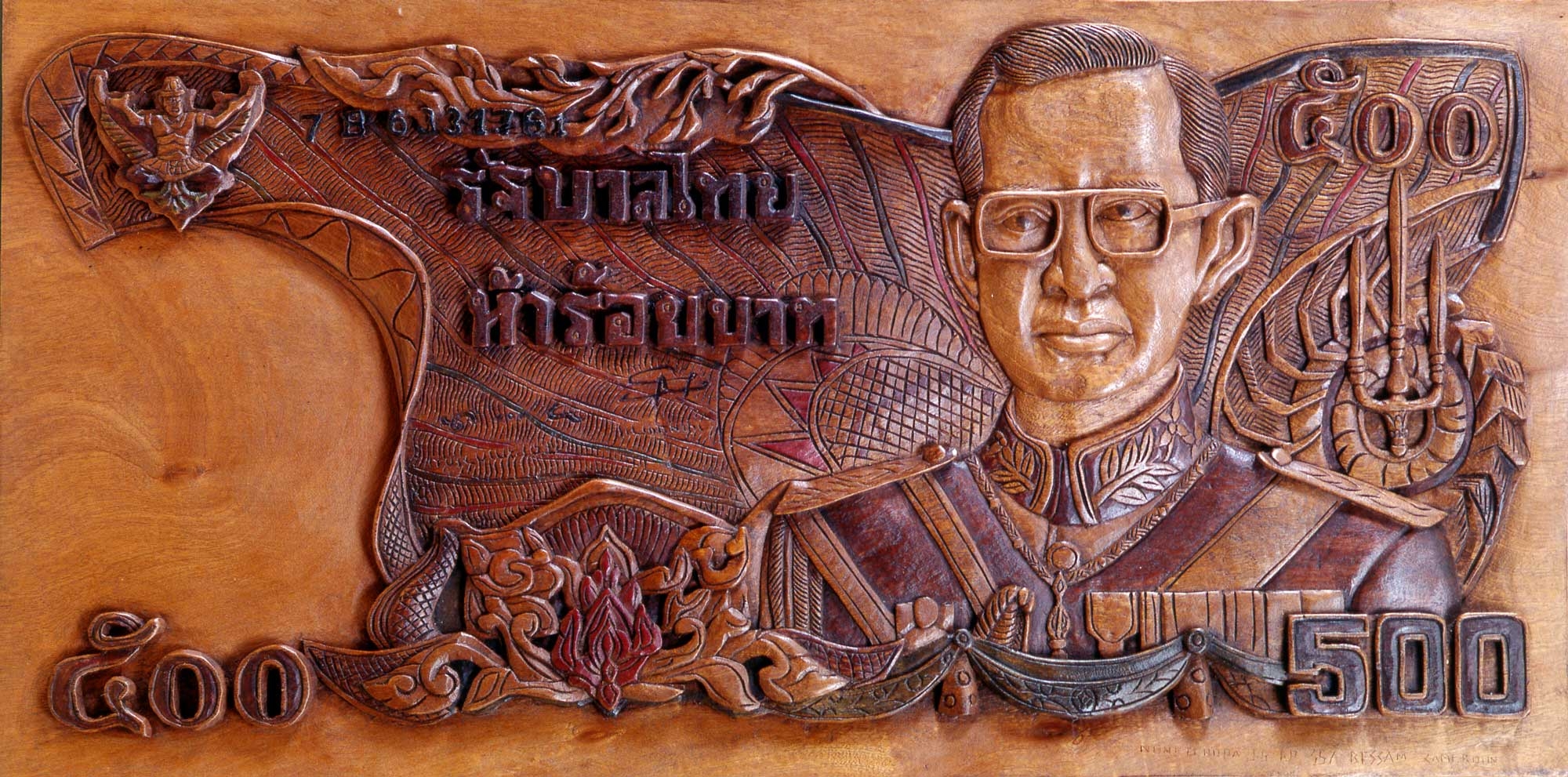 500 Thai Bhat - 1992
48 x 96 x 3 cm
Carved wood, ink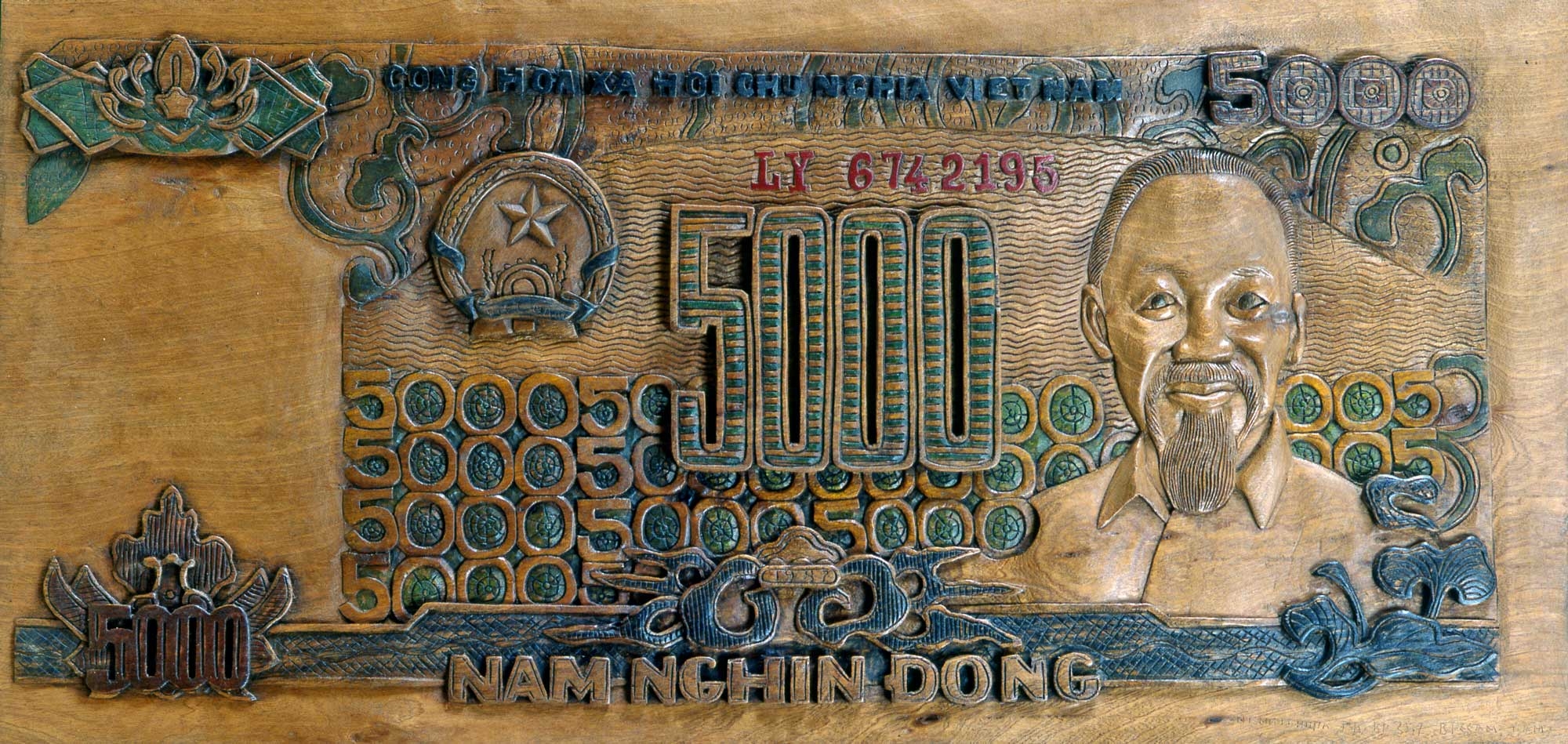 5000 Nam Nghin Dong - 1992
48 x 100 x 3 cm
Carved wood, ink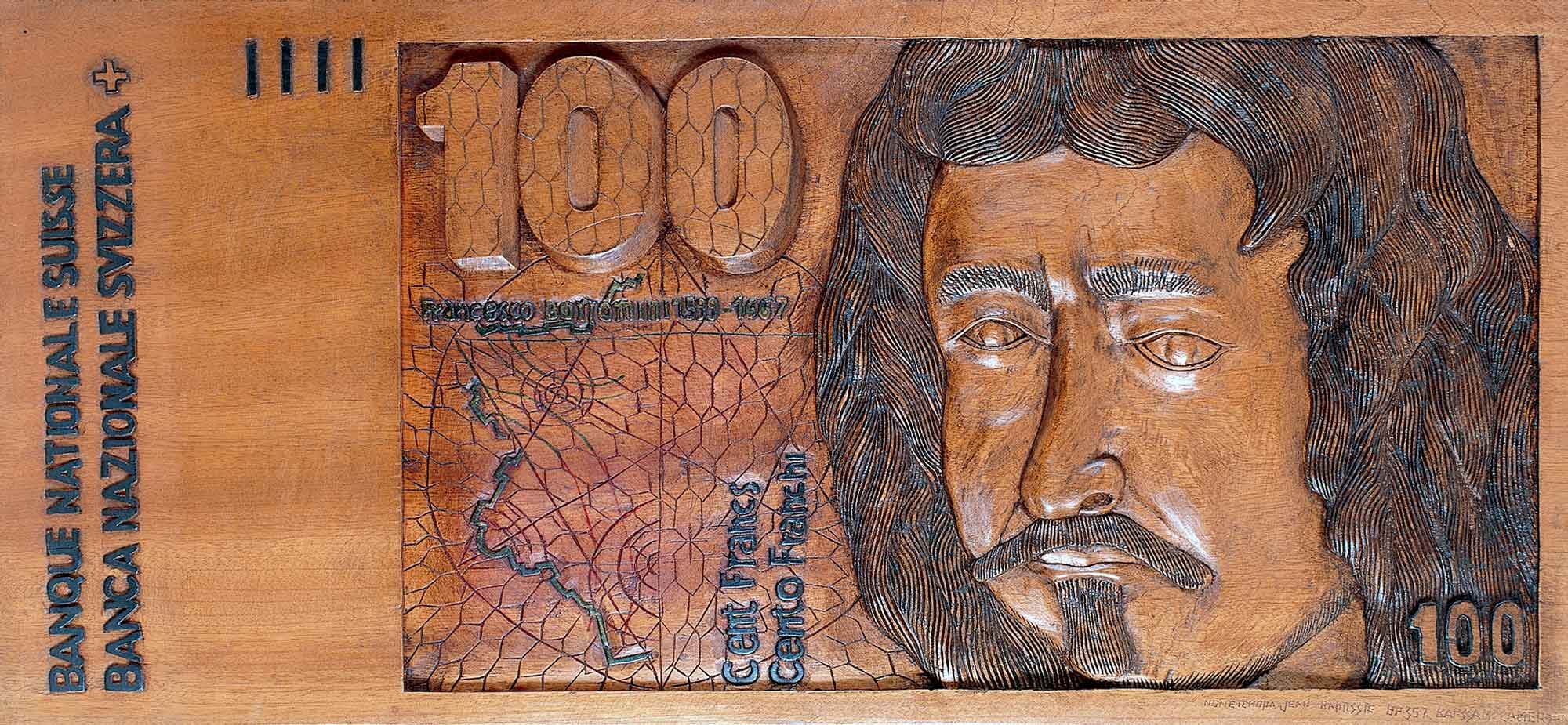 Cent Francs Suisses - 1991
47 x 100 x 3 cm
Carved wood, ink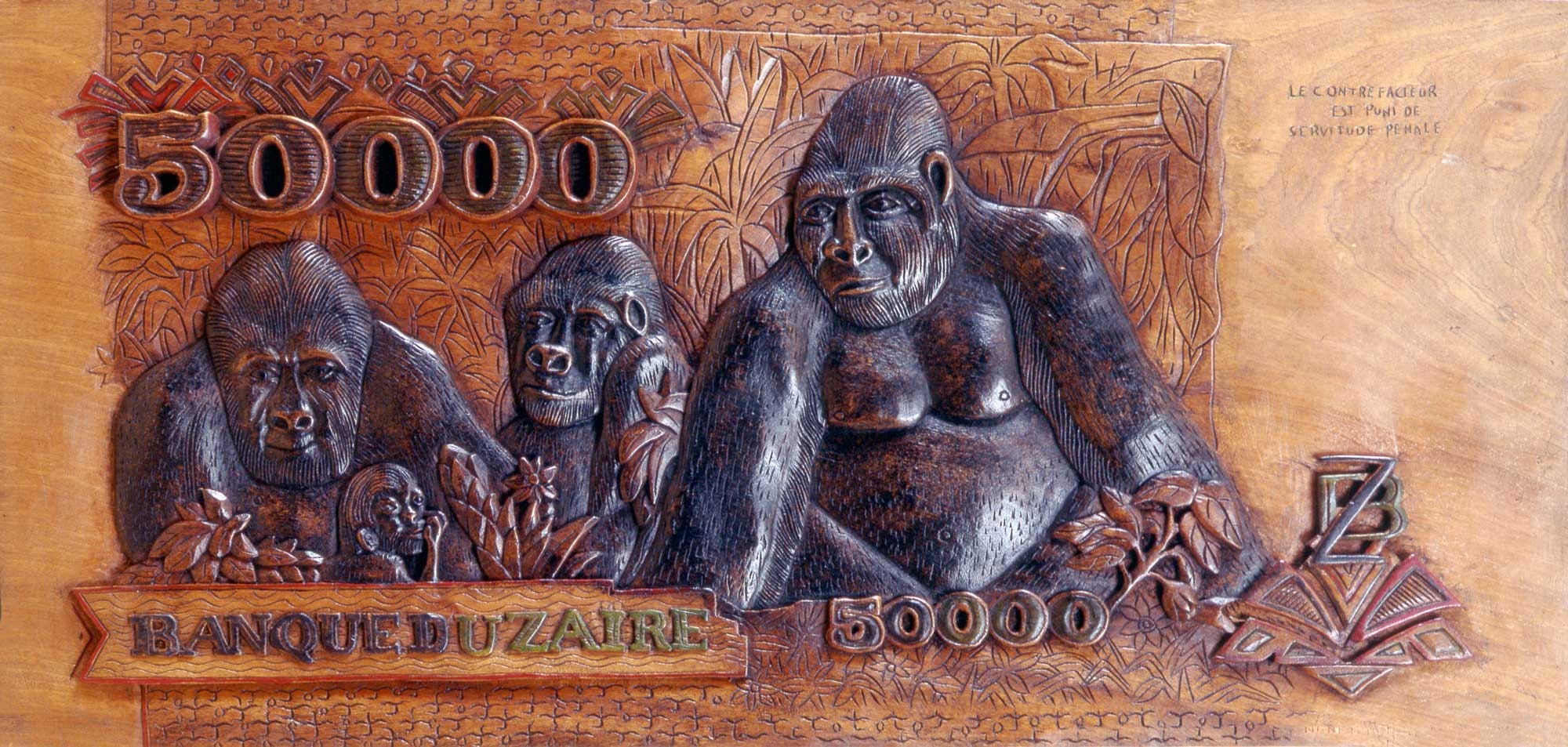 Cinquante Mille Zaires - 1992
48 x 100 x 3 cm
Carved wood, ink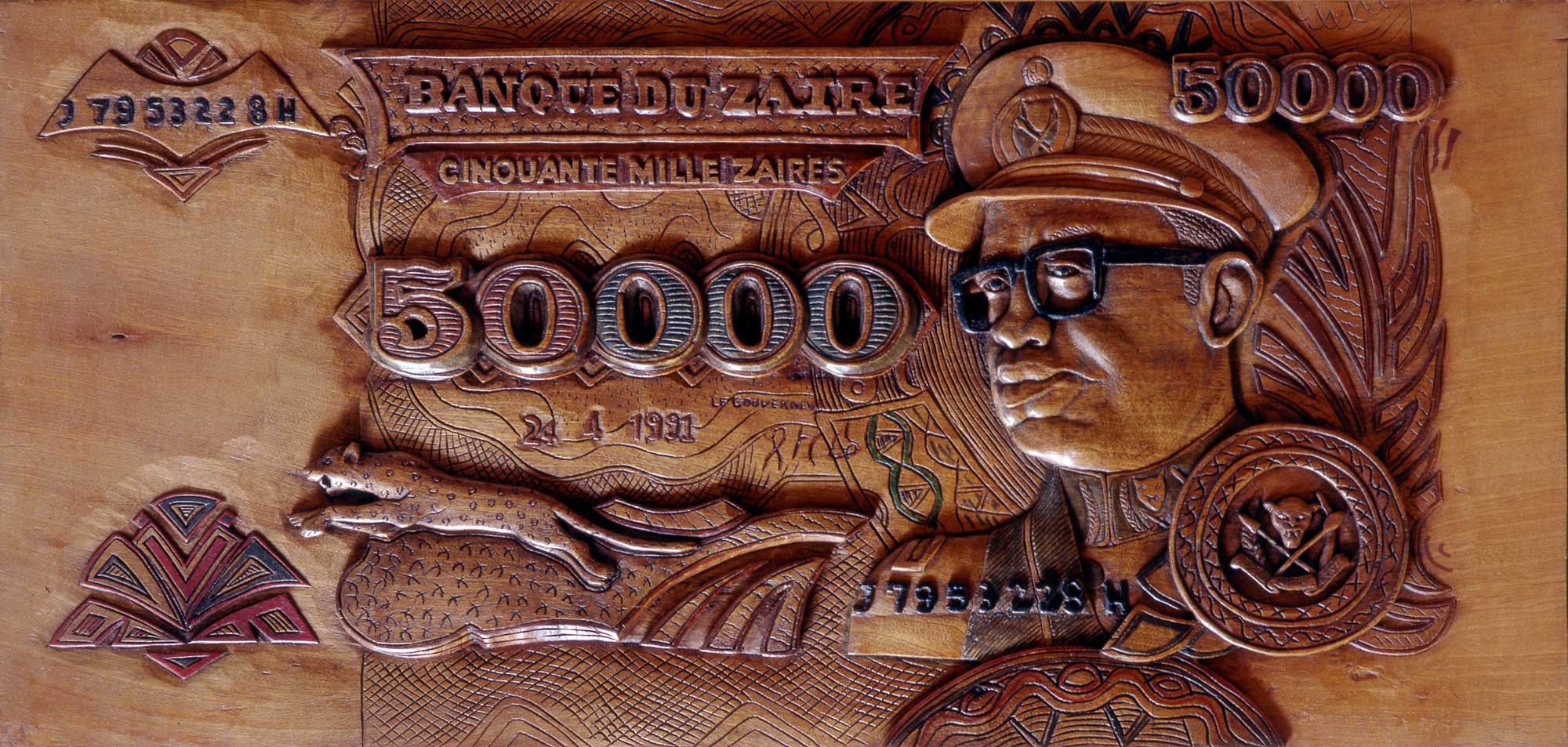 Cinquante Mille Zaires - 1992
49 x 100 x 3 cm
Carved wood, ink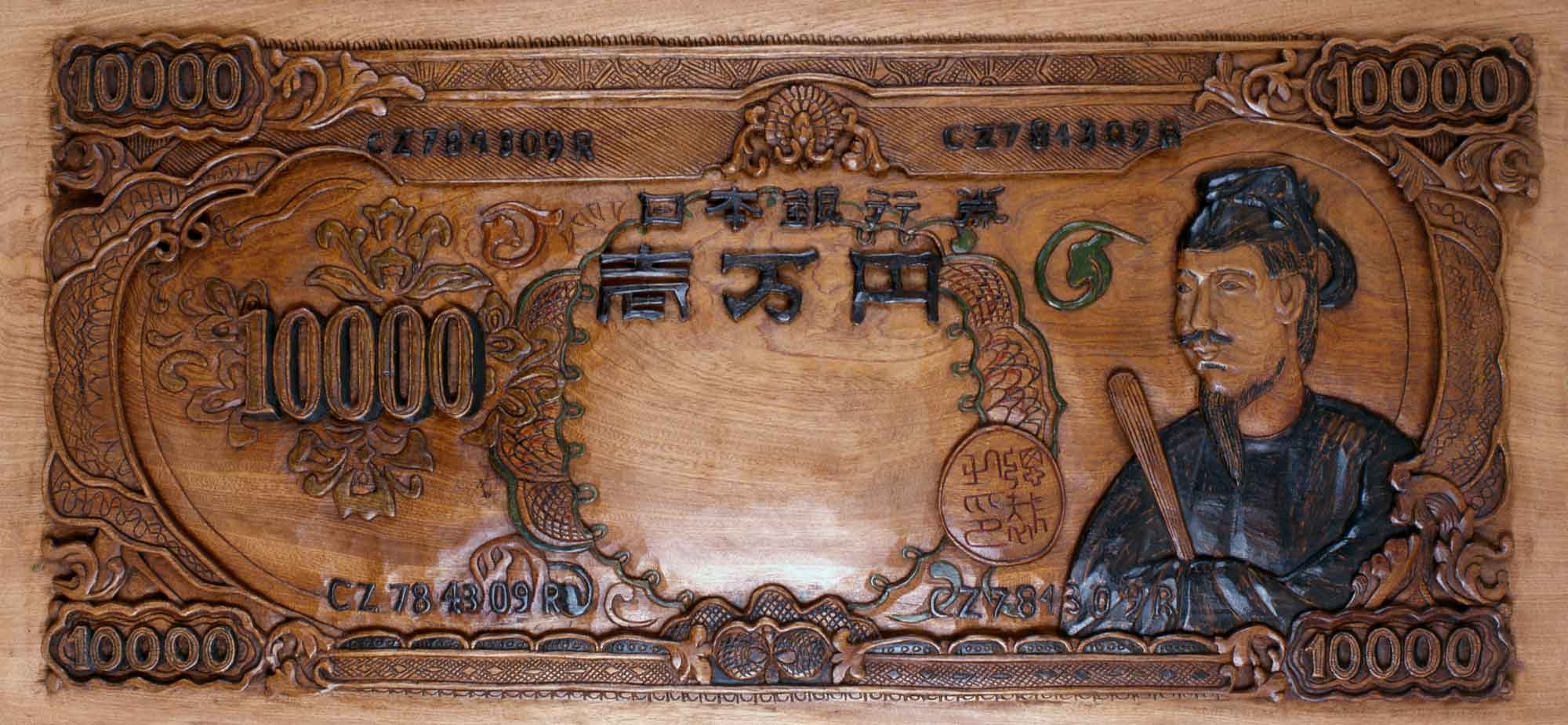 Dix Mille Yens - 1991
52 x 103 x 3 cm
Carved wood, ink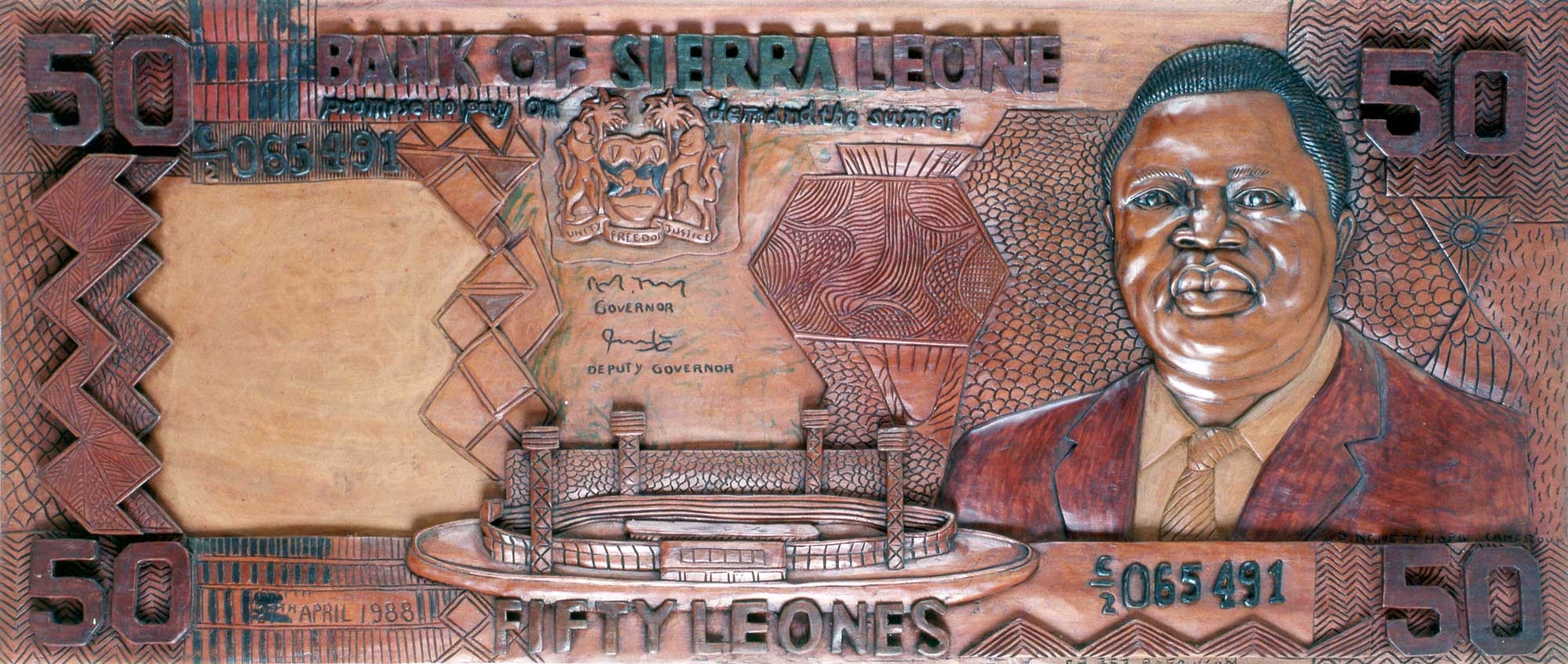 Fifty Leones - 1990
47 x 113 cm
Carved wood, ink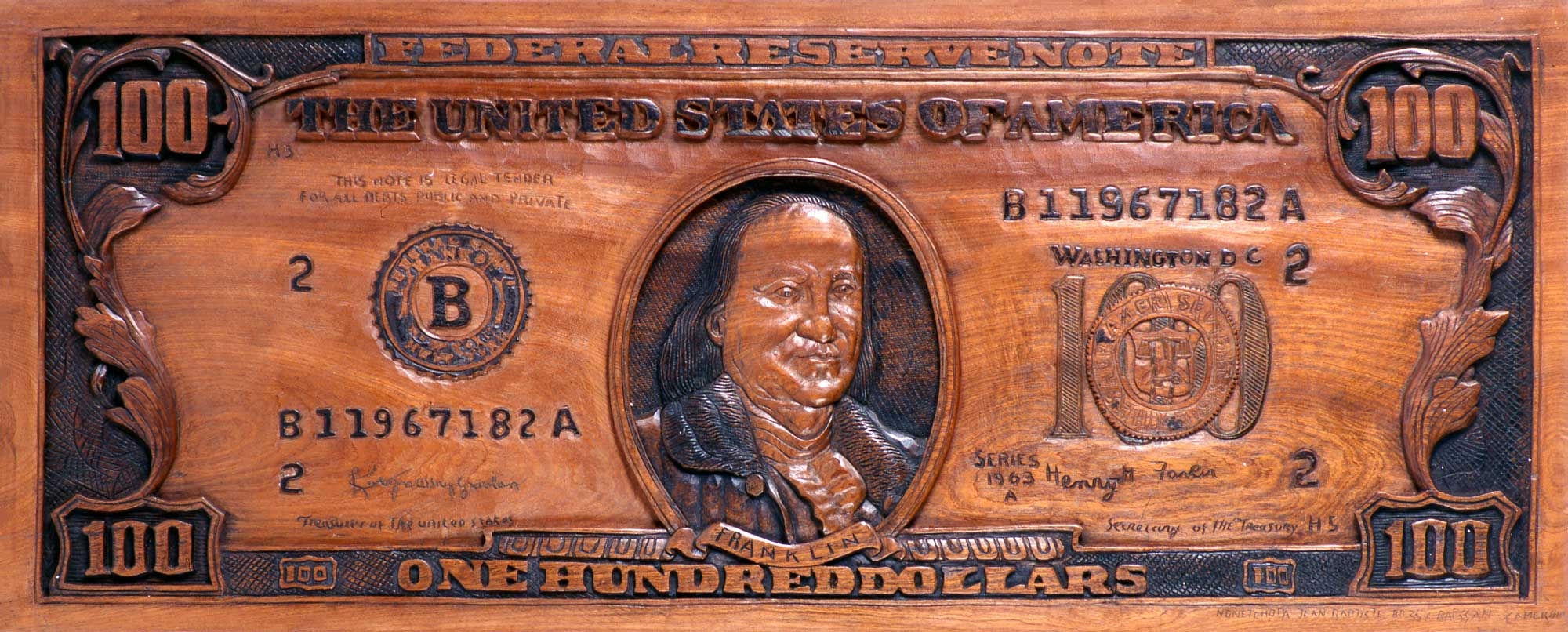 One Hundred Dollars - 1991
45 x 110 x 3 cm
Carved wood, ink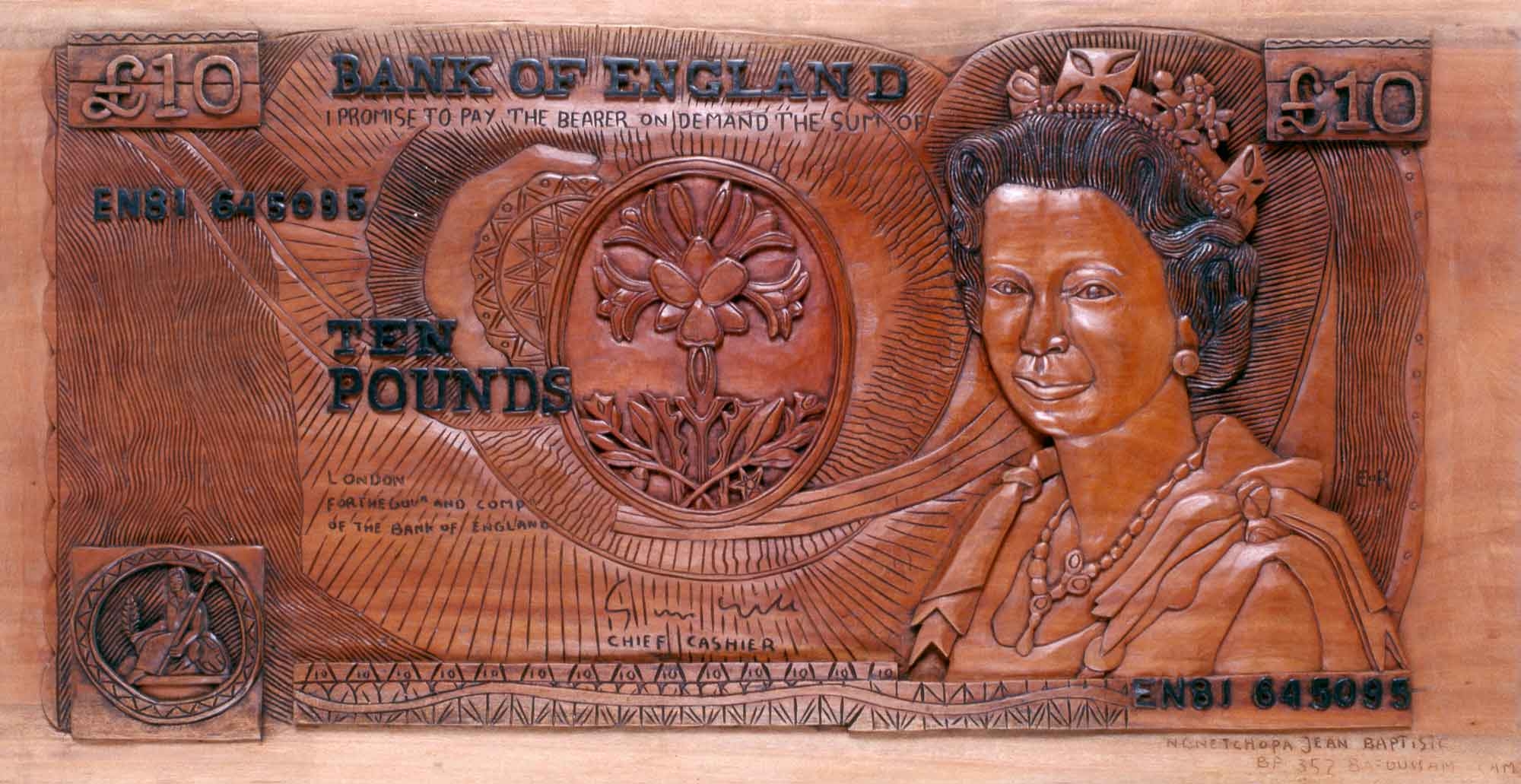 Ten Pounds - 1991
54.6 x 102.2 cm
Wood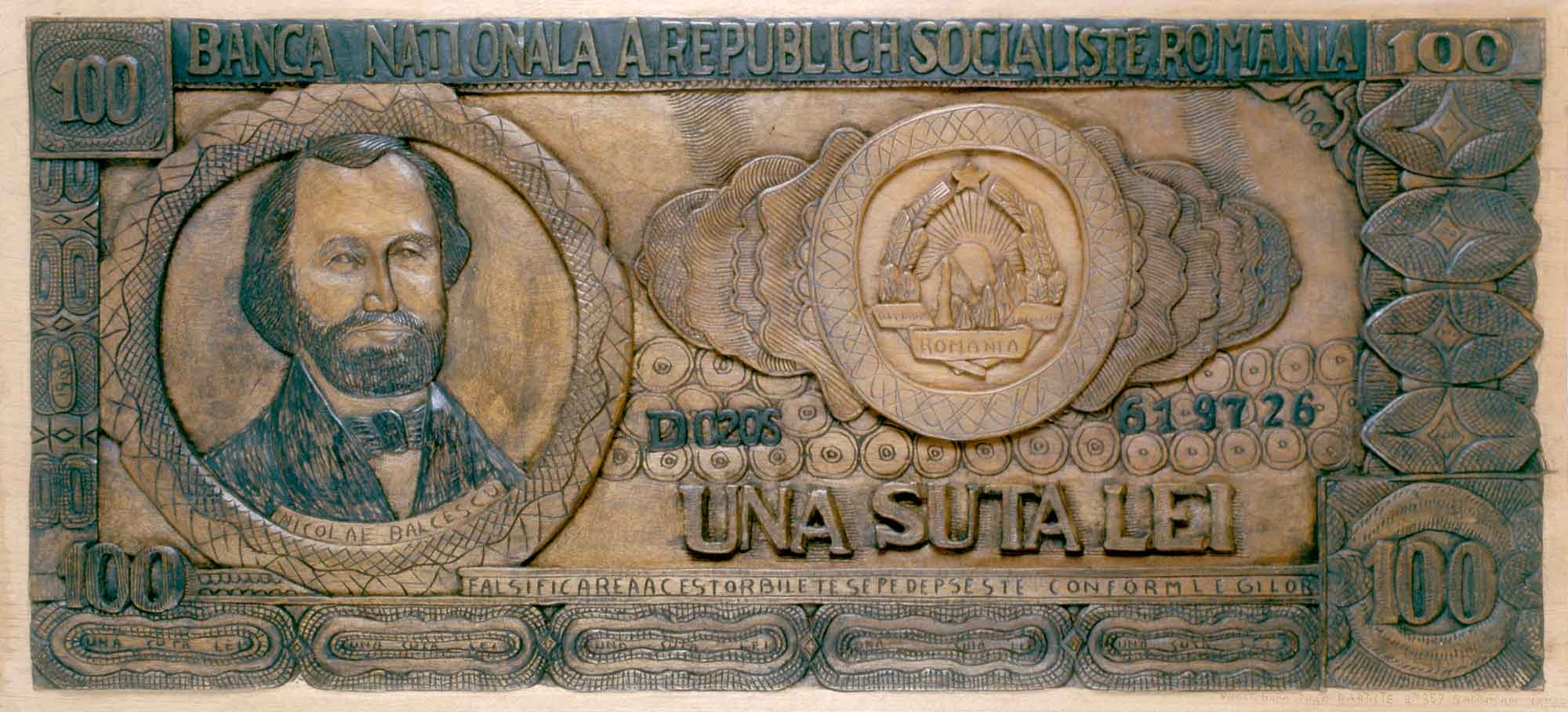 Una Suta Lei - 1991
51 x 114 x 3 cm
Carved wood, ink
Jean-Baptiste Ngnetchopa
Born in 1953 in Nkongsamba, Cameroon. Lived and worked in Bafoussam, died in 2016.
J.B Ngnetchopa belonged to a family of traditional wood-carvers. His grandfather, Mube Massagoung, was quite famous. At 16, Jean-Baptiste began his wood-carving apprenticeship. It lasted seven years. Besides learning the technique of wood-carving, Jean-Baptiste learned and absorbed the themes that made up the cultural identity of his ethnic group the Bamilekes, an essentially agricultural people who are organized in chieftaincies. Ngnetchopa's early works clearly reveal this influence, the themes evoke either village life with its pageants (initiation, funeral ceremonies, dances), or religious life. Jean-Baptiste was very devout and occasionally practiced traditional medicine based on plants and "mystical water". His sculptures are large panels of iroko or mahogany with in-the-round (relief) carvings. His first departure from traditional themes were his portraits of Cameroonian or foreign dignitaries. He carved in-the-round portraits of Mitterand, Queen Elisabeth II and Mao Tse Toung. But his radical break with Bamileke figures took place in 1985. From then on, he undertook a series of wood-carvings representing giant banknotes. The first was a one dollar bill.
Then came a whole series dedicated to African banknotes. Since 1989, he has done banknotes from all over the world. When I asked him about his new undertaking, he answered: "Some rich people put their money in a vault. This money is dormant and loses value. I ask these rich people to surrender part of this money to me and I will carve them money of wood which they can live with and show to others. And this wooden money will also acquire value."
SELECTED EXHIBITIONS
2011

Art et Argent, liaisons dangereuses, Monnaie de Paris, Paris, France.

Virtual exhibition
2001

Platea dell' Umanità – 49° Biennale di Venezia

Giardini di Castello / Arsenale – Venice VE, Italy
2000

Partage d'exotismes – 5ème Biennale d'Art Contemporain de Lyon

Halle Tony Garnier – Lyon, France
1992-1991

Africa hoy

Atlantic Center of Modern Art.

Las Palmas Gran Canary - Spain.

Contemporary Cultural Art Center

Mexico D.F. - Mexico.

Groningen Museum, Netherlands
BIBLIOGRAPHY
2009

Area Revue)s( : art valeurs Directeur de la publication : Alin Avila
2000

5e Biennale d'Art Contemporain de Lyon, Partage d'Exotismes Thierry Prat, Thierry Raspail, and Jean-Hubert Martin. Exhibition catalogue. Published by RMN, français-anglais (2 vol.).
1996

Afrika : Neue Kunst aus Afrika Exhibition catalogue: Im Haus Der Kulturen Der Welt. Berlin, Germany. Edition Braus, Heidelberg.
1995

Contemporary Art of Africa Edited by André Magnin and Jacques Soulillou. Published by Harry N. Abraams and Thames & Hudson, London