The Jean Pigozzi African Art Collection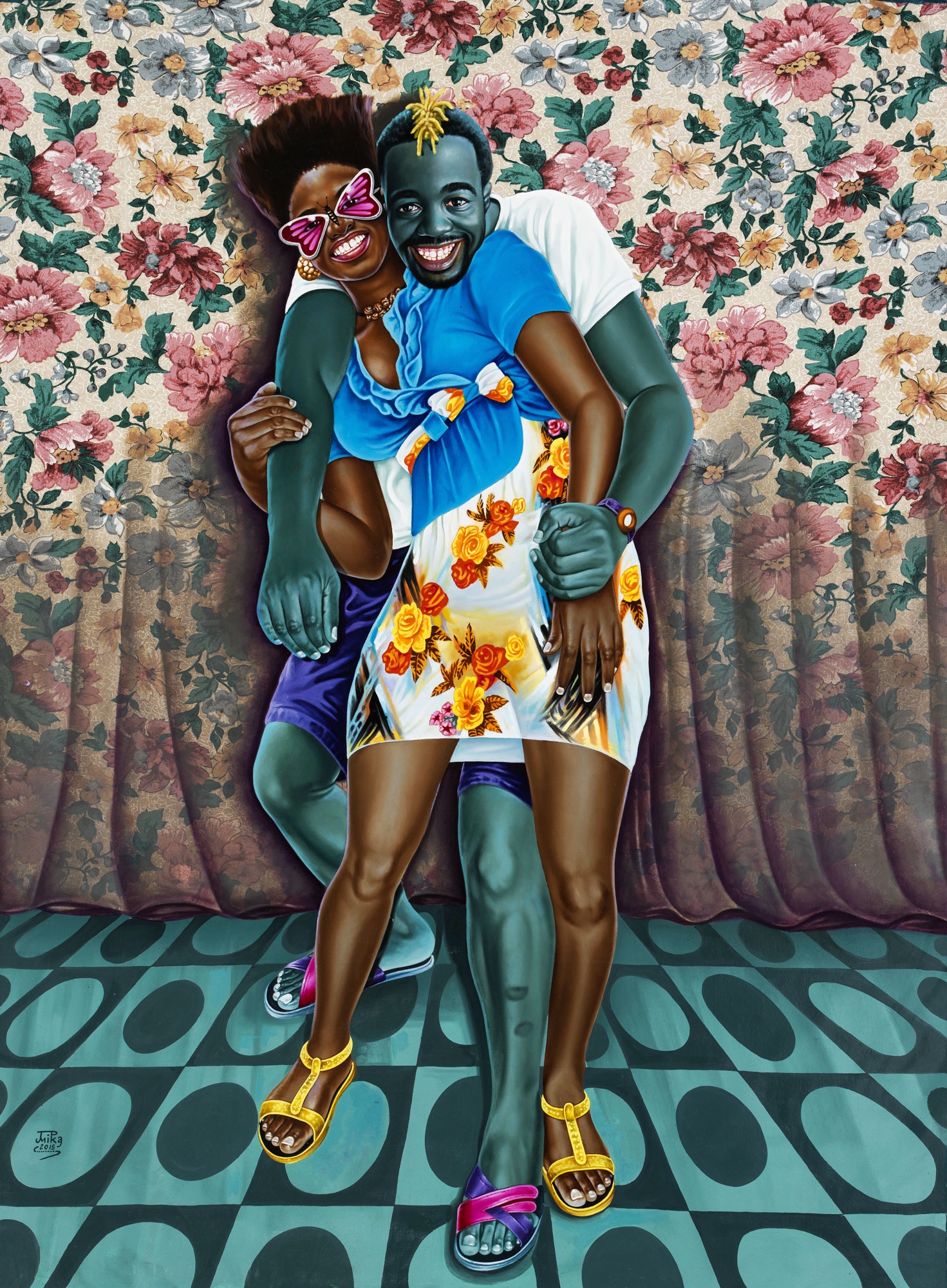 Amour propre - 2015
159 x 117 cm
Acrylic on cloth
Le rajeunissement - 2016
150.5 x 110.2 cm
Acryl on fabric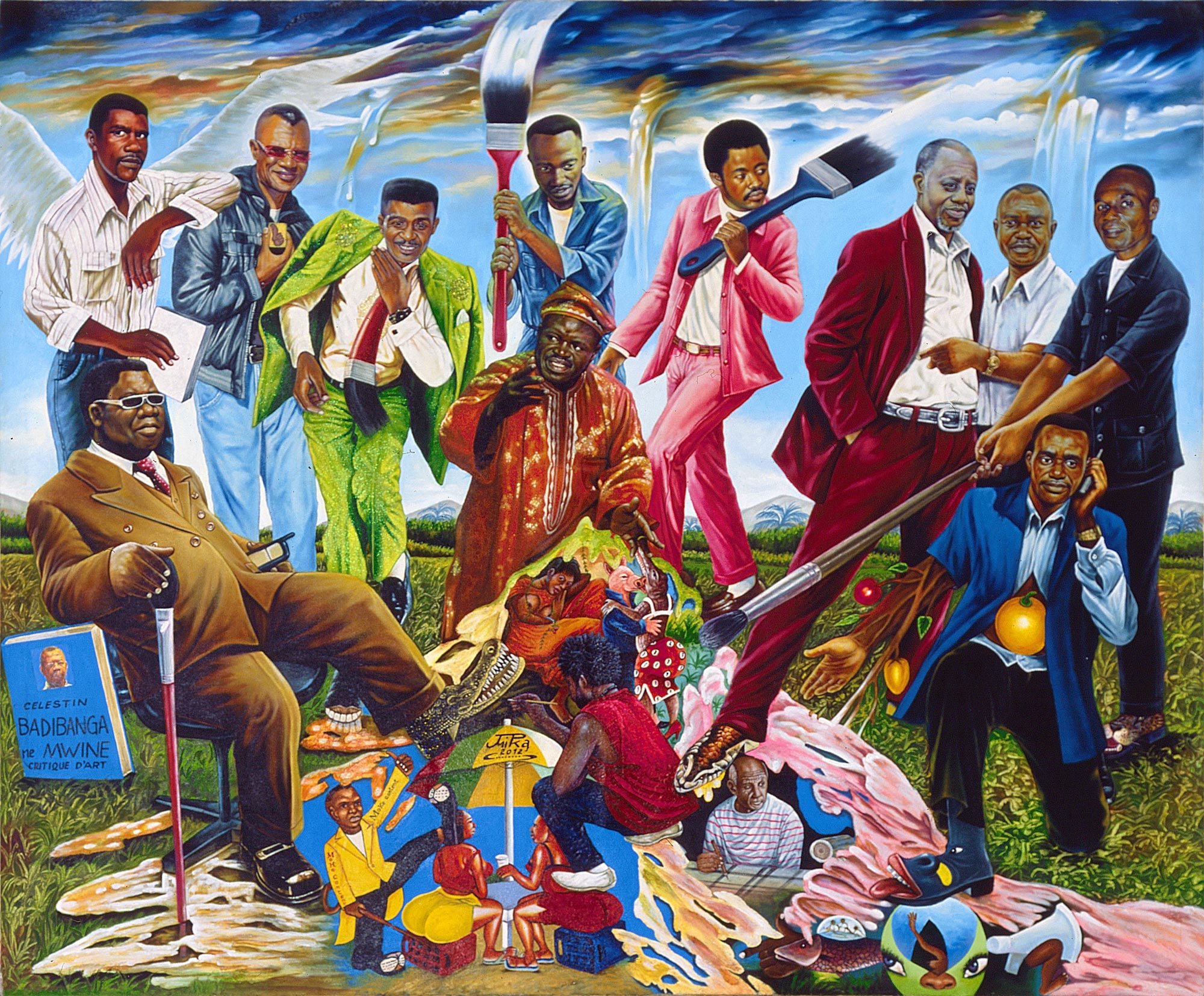 Les casseurs de pierres Célestin Badibanga - 2012
132 x 160 cm
Oil and mastic on canvas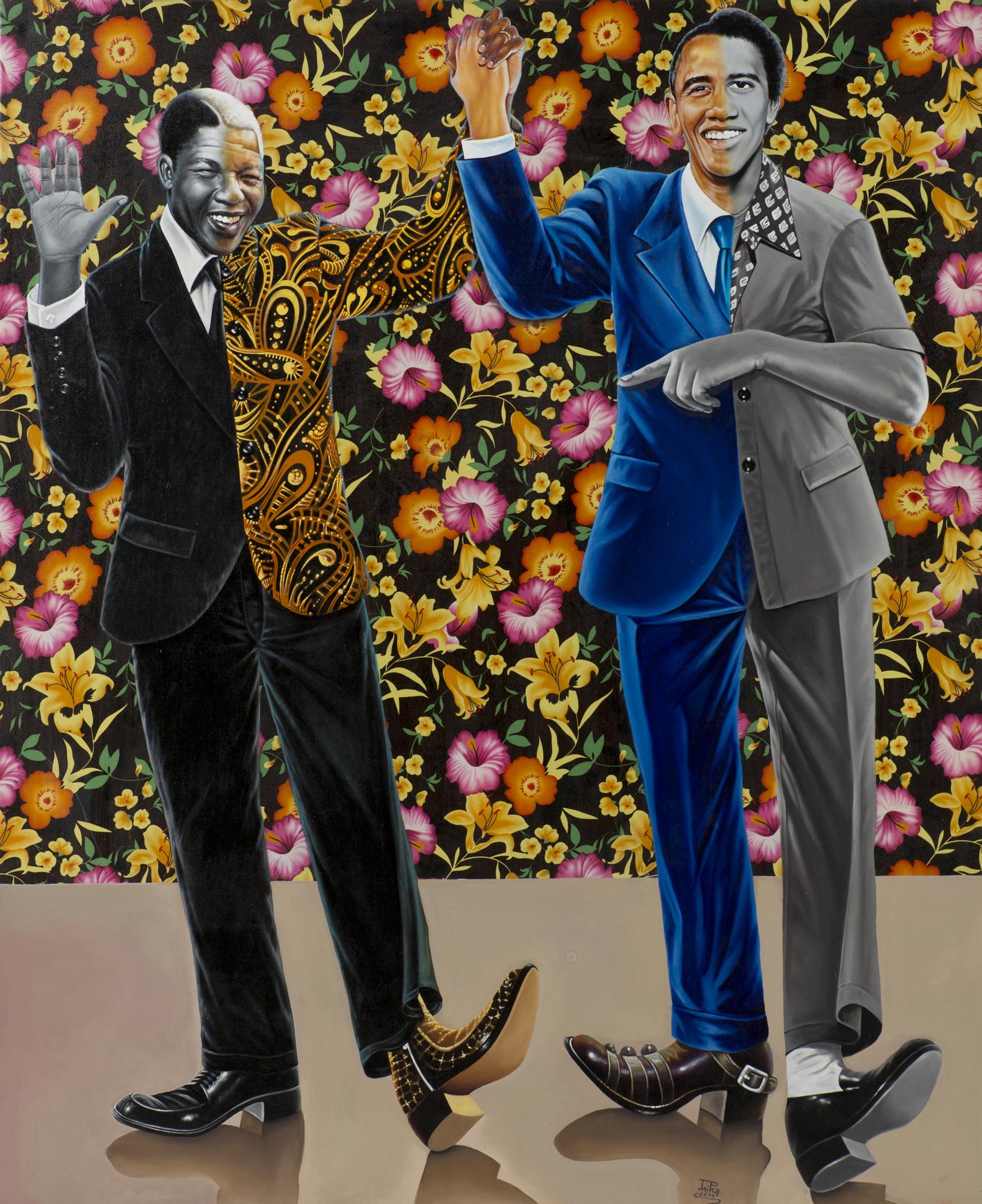 Mandela dignité pour l'Afrique - 2014
169.8 x 139 cm
Oil and acrylic on canvas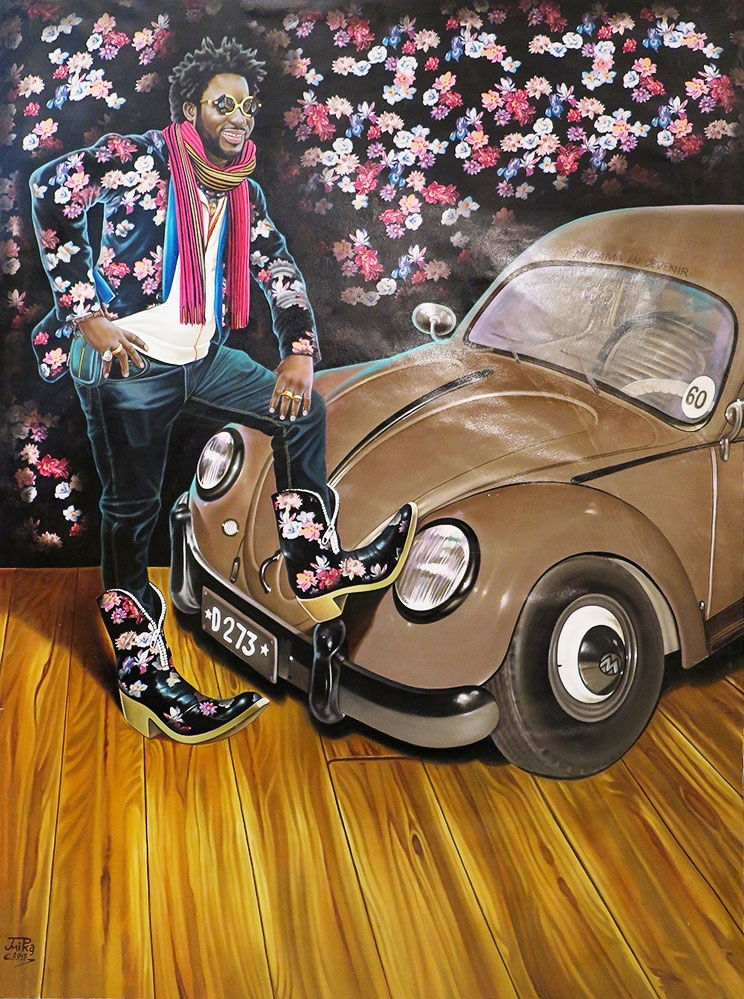 Mvuama en devenir - 2015
146 x 110 cm
Acrylic on cloth
JP Mika
© Angalia
Born in 1980, Kinshasa, Democratic Republic of Congo

Lives and works in Kinshasa
JP Mika took an early interest in drawing and ornamentation and attended the painting department of the Kinshasa Academy of Fine Art. He also went to ARAP, The Popular Art Research Studio created by the artist Chéri Chérin who later became his "Master". There, he improved his skills and became a member of APPO, The Popular Painters Society. In 2004, he established his own Studio and named it EBA, The Fine Arts Events. He is an outstanding draftsman and he has long borrowed the themes and compositions of his elders and his mentor Chéri Chérin. As Chéri Samba before him, Mika puts himself on stage in his works, painting self portraits or adding himself in group composition - most of the time dressed as a "sapeur" (group of well-dressed men). For the last couple of years, he has develop his own style concentrated on portraits and simplifying his composition by using colourful fabrics that he uses as a background. This "finding" and the perfect use of colour provides a positive energy to his work and that now profoundly stands out from his peers. His very realistic paintings are nevertheless benevolent and whatever the subject, he gently and kindly paints a modern, dynamic and happy Africa.
EXHIBITIONS
2020

Alpha Crucis, Astrup Fearnley Museet, Oslo, Norway (01.22 to 09.30 2020)
2019

Bisengo, MAGNIN-A, Paris, France
Congo Stars, Kunsthalle Tübingen, Germany
2018

Congo Stars, Kunsthaus Graz, Austria
African Passions, Cadaval Palace, Evora, Portugal
2017

Malick Sidibé, Mali Twist, Cartier Foundation, Paris, France
2016

The Great Animal Orchestra, Fondation Cartier Paris, France
2015

1:54, Contemporary African Art Fair, New-York, USA
Art Genève, galerie Magnin-a, Geneva, Switzerland
Beauté Congo - Congo Kitoko, Fondation Cartier pour l'Art Contemporain, Paris - France
JP Mika !, Centre Culturel TEXAF-BILEMBO, Kinshasa, Congo
2013

Kin-Babi, Galerie Cécile Fakhoury, Abidjan, Côte d'Ivoire
J-P Mika, Moke Fils et Alfi Alfa, GAC, Lubumbashi, DRC
Réalismes de la vie moderne tragico-comique chachacha, GAC Fondation Rachel Forrest, Katanga, DRC
Kin Na Madrid, Edith Mbella Gallery, Madrid, Spain
2012

J-P Mika, Chéri Chérin, Freddy Mutombo et Francis Mampuya, Galerie Out of Africa, Benasque, Spain
2011

Kin Moto Na, Anvers, Belgium
2010

Exhibition organized by UNMACC pour la journée internationale de lutte anti mines à l'hôtel Memling de Kinshasa.
Symphonie des arts à Kinshasa, For the 50th anniversary of the independence of DRC
5th Festival Socio Culturel de la Tshangu, Kinshasa, DRC
AFRICA Time, New York, USA
2009

J-P Mika, Chéri Samba, Chéri Chérin, Rhode Makoumbu, et Tonton Kabeya, Galerie Kalao, Bilbao., Spain
3rd Festival Socio Culturel de la Tshangu, Kinshasa, DRC
Salon d'art contemporain Africain, Espace Pierre Cardin, Paris, France
Galerie Artitude, Paris, France
49 ans de l'indépendance, Kinshasa
2008

Como esta africa ?, Bilbao, Spain
BIBLIOGRAPHY
2015

Congo Stars (catalogue), Buchhandlung Walther König
Beauté Congo – 1926-2015 – Congo Kitoko, Fondation Cartier, Exhibition catalogue