The Jean Pigozzi African Art Collection
Rifugiato Mappa del Mondo - 2011
183 x 380 cm
Map of the world loosely based on infographics showing migration statistics, constructed out of collected plastic bags. This work was stitched together by Sibongile Chinjonjo, a Zimbabwean refugee currently living in South Africa.
Daniel Halter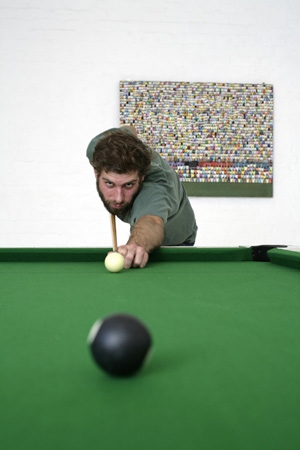 Born 1977 in Harare, Zimbabwe
Now based in Cape Town, South Africa, Halter continues to interrogate and engage with the politics of post-colonial Zimbabwe. Graduating in 2001 from the Michaelis School of fine Art at the University of Cape Town with a BA (FA), he has since had two solo exhibitions. The first titled Take Me to Your Leader was held in Cape Town in 2006, followed by Never Say Never at the Derbylius Gallery in Milan in 2008.
He has taken part in numerous group shows including Second to None at the South African National Gallery, Zeitgenössiche Fotokunst aus Südafrika at the Neuer Berliner Kunstverein (NBK) and VideoBrasil in São Paulo. In 2008, he was a MTN New Contemporaries selection, and completed two international residencies, one in Zürich and one in Rio de Janeiro. Most recently, he was selected to participate in the 2009 Havana Biennale.
"My experience as a white Zimbabwean now living in South Africa informs my practice. I deal with notions of a dislocated national identity and the dark humour of present realities in Southern Africa, largely a backlash to a history of oppression that continues today. I realize my work through the use of ubiquitous materials and the use of local popular visual strategies as a form of expression. This often tends towards the language of craft and curio within a contemporary fine art context. Two words that are useful in describing my art are fabric and fabrication:
fab·ric (n)

1. cloth of any type made from thread or fibers, whether woven, knitted, or felted

2. the particular texture or quality of a kind of cloth

3. the fundamental structure or makeup of something

4. the material from which something is constructed, especially a building, or the physical structure of something
fab·ri·ca·tion (n)

1. the construction of something, or something that has been constructed or made

2. the invention of something that is not true

3. a fraudulent imitation of a signature or document"
(Encarta World English Dictionary (c) 1999 Microsoft Corporation.

All rights reserved. Developed for Microsoft by Bloomsbury Publishing

Plc.)
danhalter.com
SOLO EXHIBITIONS
2019

Cross the River in a Crowd, Whatiftheworld / Gallery, Cape Town
2018

Please Call Me, Whatiftheworld / Gallery, Cape Town

Patience Can Cook a Stone, Whatiftheworld / Gallery, Cape Town
2017

Zimbabwean Traffic, Skövde Konstmuseet, Skövde, Sweden

Mafuta Farm, Dillon + Lee, New York
2015

The Original is Unfaithful to The Translation, Whatiftheworld / Gallery, Cape Town
2013

DanHalter – HeartlanD, Special Project, Joburg Art Fair
2012

The Truth Lies Here, Whatiftheworld / Gallery, Cape Town
2011

Dan Halter / Mappa Del Mondo, NKV (Nassauischer Kunstverein Weisbaden), Weisbaden, Germany
2010

Double Entry, WHATIFTHEWORLD / GALLERY, Cape Town, South Africa

shifting the goalposts, (in collaboration with Adam Davies) Son Gallery, London, United Kingdom

shifting the goalposts, (in collaboration with Adam Davies) GoetheOnMain, Johannesburg, South Africa
2008

never say never, Derbylius Gallery, Milan, Italy^
2006

take me to your leader, João Ferreira Gallery, Cape Town, South Africa^
^ indicates catalogue/publication
SELECTED GROUP EXHIBITIONS
2019

Mapping Worlds: Selected Works from the Scheryn Art Collection, Norval Foundation, Cape Town

LagosPhoto Festival, Lagos

No Photos on the Dance Floor! Berlin 1989 – Today, C/O Berlin Foundation

Rocks, The Gallery 44 Stanley, Johannesburg

Lost Lover, RAMPA, Porto, Portugal

Dance of Urgency, Q21 Museums Quartier, Vienna

Growbox Art Project, Zeitz MOCAA, Cape Town
2018

Hacer Noché, Santo Domingo, Oaxaca de Juárez, Mexico

Forward? Forward! Forward… Stellenbosch University Museum

Baggage Claims, Weatherspoon Art Museum, Greensboro, North Carolina
2017

You & 1, A4 Arts Foundation, Cape Town

Everyday Anomaly, Whatiftheworld / Gallery, Cape Town

Baggage Claims, Orlando Museum of Art

PLAY/III Video and Performance Festival, Galerie Ampersand, Cologne

Two To Tango, Sperling Gallery, Münich

Chinafrika. under construction, Galerie für Zeitgenössische Kunst Leipzig

Low Res: Spatial Politics in the Cloud, NARS Foundation, Brooklyn
2016

HISTORICODE: Scarcity and Supply, The 3rd Nanjing International Art Festival

Negative Space, Whatiftheworld / Gallery, Cape Town

After the Thrill is Gone, Western Michigan University

100 Geographies, US Museum, Stellenbosch

Dear Europa.. Whatiftheworld / Gallery, Cape Town

Energy Flash – The Rave Movement, M HKA (Museum van Hedendaagse Kunst Antwerpen)

Mir ist das Leben lieber, Weserburg Museum für moderne Kunst

Artists' Books and Africa, Smithsonian National Museum of African Art

Winter 2015: Collected Works, Rennie Collection at Wing Sang, Vancouver

Nano, Barnard Gallery, Cape Town
2015

Brave New World… 20 Years of Democracy, Iziko South African National Gallery, Cape Town

Foreign Bodies, Whatiftheworld / Gallery, Cape Town

Broken English, Tyburn Gallery, London

Johannesburg Pavilion, 56th Venice Biennale fringe

Migrations, National College of Art and Design, Dublin, also travelling to Australia and America

Thinking, Feeling, Head, Heart, New Church Museum, Cape Town
2014

Unerasable Memories: A Historic Look at the Videobrasil Collection Sesc Pompeia, São Paulo, Brazil

No Fixed Abode, New Church Museum, Cape Town

Vegetation as a Political Agent, Parco Arte Vivente (PAV) Turin, Italy

Uncertain Terms, Whatiftheworld / Gallery, Cape Town

Ngezinyawo – Migrant Journeys, Wits Arts Museum, Johannesburg

Paperwork, SMAC Art Gallery, Stellenbosch
2013

Beitbridge Moonwalk, Flint Institute of Arts, Flint, Michigan

Weather Report – Weerberig, Aardklop Festival, Potchefstroom

'Who is afraid of the public?' ICA (The Institute of Contemporary Arts), London

Earth Matters: Land as Material and Metaphor in Arts of Africa, Smithsonian, National Museum of African Art, Washington DC

Digi Re-engineering, UNISA Art Gallery, Pretoria

Making Way, Standard Bank Gallery, Johannesburg
2012

Positive Tension, Whatiftheworld / Gallery, Cape Town

Under Constant Threat, Museum of Contemporary Art, Porto Alegre, Brazil

4th Protest Arts International Festival (PAIF), Harare, Zimbabwe

Making Way, National Arts Festival, Grahamstown

Beyond Apartheid: sex, race, and politics in contemporary Africa, Galeria Lunara, Porto Alegre, Brazil
2011

17th VideoBrasil, São Paulo, Brazil

7th International Triennial of Contemporary textile Arts, Tournai, Belgium

O2 VideoAct (International Video Art Biennial), Hotel Amister Barcelona, Spain

10 Years On, Michaelis Gallery, University of Cape Town, South Africa

Propaganda by Monuments, CICCAIRO, Cairo, Egypt

Volta7, Basel, Switzerland
2010

LADUMA!, Rotterdam, Holland

Dak'art, Dakar, Senegal

US, South African National Gallery, Cape Town, South Africa

Harare International Art Fair (HIFA), Zimbabwe National Gallery, Zimbabwe

Spier Contemporary, City Hall, Cape Town, South Africa

*/ + = X*, Serialworks, Cape Town, South Africa

Mooimarkshow III, Galerie Weisser Elefant, Berlin, Germany
2009

Project 35, NADA, Miami Art Fair, USA

Holiday, WHATIFTHEWORLD / GALLERY, Cape Town, South Africa

ECC25 (End Conscription Campaign 25 years), Spier Wine Estate, Stellenbosch, South Africa

US, Johannesburg Art Gallery, Johannesburg, South Africa

WORD!, Association for Visual Arts (AVA), Cape Town, South Africa

Encounters, South African International Documentary Festival

10th Havana Biennial, Havana, Cuba

Second Johannesburg Art Fair, Sandton Convention Centre, Johannesburg, South Africa

Objects of a Revolution, Dominque Fiat Gallery, Paris, France

18th Annual Art Salon at Rose Korber Art, Cape Town, South Africa

Bamako FAIVA (Festivale Africain d'Images Virtuelles Artistique), Bamako, Mali

Forward> March, Spier Arts Centre, Cape Town, South Africa
2008

Big Wednesday, WHATIFTHEWORLD / GALLERY, Cape Town, South Africa

3rd Guangzhou Triennial, Guangzhou, China

Monologs, Rome, Italy and at the Gallería Animal in Santiago, Chile

MTN New Contemporaries, University of Johannesburg, Johannesburg, South Africa^

Forty Years of Friendship: The Friends of The National Gallery: 1968-2008, South African National Gallery, Cape Town, South Africa

Power Play, Goodman Gallery Cape, Cape Town, South Africa

First Johannesburg Art Fair, Sandton Convention Centre, Johannesburg, South Africa

Prints + Editions, WHATIFTHEWORLD / GALLERY, Cape Town, South Africa

Studio 2666: Ons Skrik vir Niks, Blank Projects, Cape Town, South Africa^

17th Annual Art Salon at Rose Korber Art, Cape Town, South Africa
2007

Spier Contemporary, Spier Wine Estate Stellenbosch, South Africa^

16th VideoBrasil, São Paulo, Brazil^

The Inchoate Idiosynchratic Descent into Nihlism, Michaelis Gallery, University of Cape Town, South Africa

The 2nd Cape Town Biennale, Blank Projects, Cape Town, South Africa

3C Committee and Critics Choice, Association for Visual Arts (AVA), Cape Town, South Africa

Hell Yeah, Museum of Contemporary Art, Cape Town, South Africa

Zeitgenössiche Fotokunst aus Südafrika, Neuer Berliner Kunstverein (NBK), Berlin, Germany
2006

Second to None, South African National Gallery, Cape Town, South Africa

The Cape Town Biennale, Blank Projects, Cape Town, South Africa

The Last Braai 666, (in collaboration with Christian Nerf and Ed Young), L/B's Lounge, Cape Town, South Africa

Next Wave Festival, Melbourne, Australia

15th Annual Art Salon at The Bay, Bay Hotel, Cape Town, South Africa
2005

Black and White Poster Project, Dirt Contemporary Art Space, Cape Town, South Africa^

14th Annual Art Salon at The Bay, Bay Hotel, Cape Town, South Africa
2004

Contra Mundi, Association for Visual Arts (AVA), Cape Town, South Africa

Exchange Views on…/ Echange vues sur…, Espace Croix-Baragnon, France and Michaelis Gallery, University of Cape Town, South Africa^
2003

Picnic, Bell-Roberts Gallery, Cape Town, South Africa^

Meeting: Art in the Water Closet, Gallerie Puta, 2A Dysart Road, Cape Town, South Africa
2001

YDETAG, South African National Gallery, Cape Town, South Africa

Emergency, Bell-Roberts Gallery, Cape Town, South Africa
^ indicates catalogue/publication
AWARDS AND RESIDENCIES
2018

Pro Helvetia residency in Zürich, Switzerland
2017

CAT Cologne residency

Nanjing International Festival of Art, award
2014

Nine Urban Biotopes, EU residency in Turin, Italy
2010

Glenfiddich residency in Dufftown, Scotland
2008

Nominated as MTN New Contemporaries finalist
2007

Pro Helvetia residency in Zürich, Switzerland 2008

Capacete residency in Rio de Janeiro, Brazil 2008 from VideoBrasil
2001

Judy Steinberg Prize, Michaelis Painting Prize