The Jean Pigozzi African Art Collection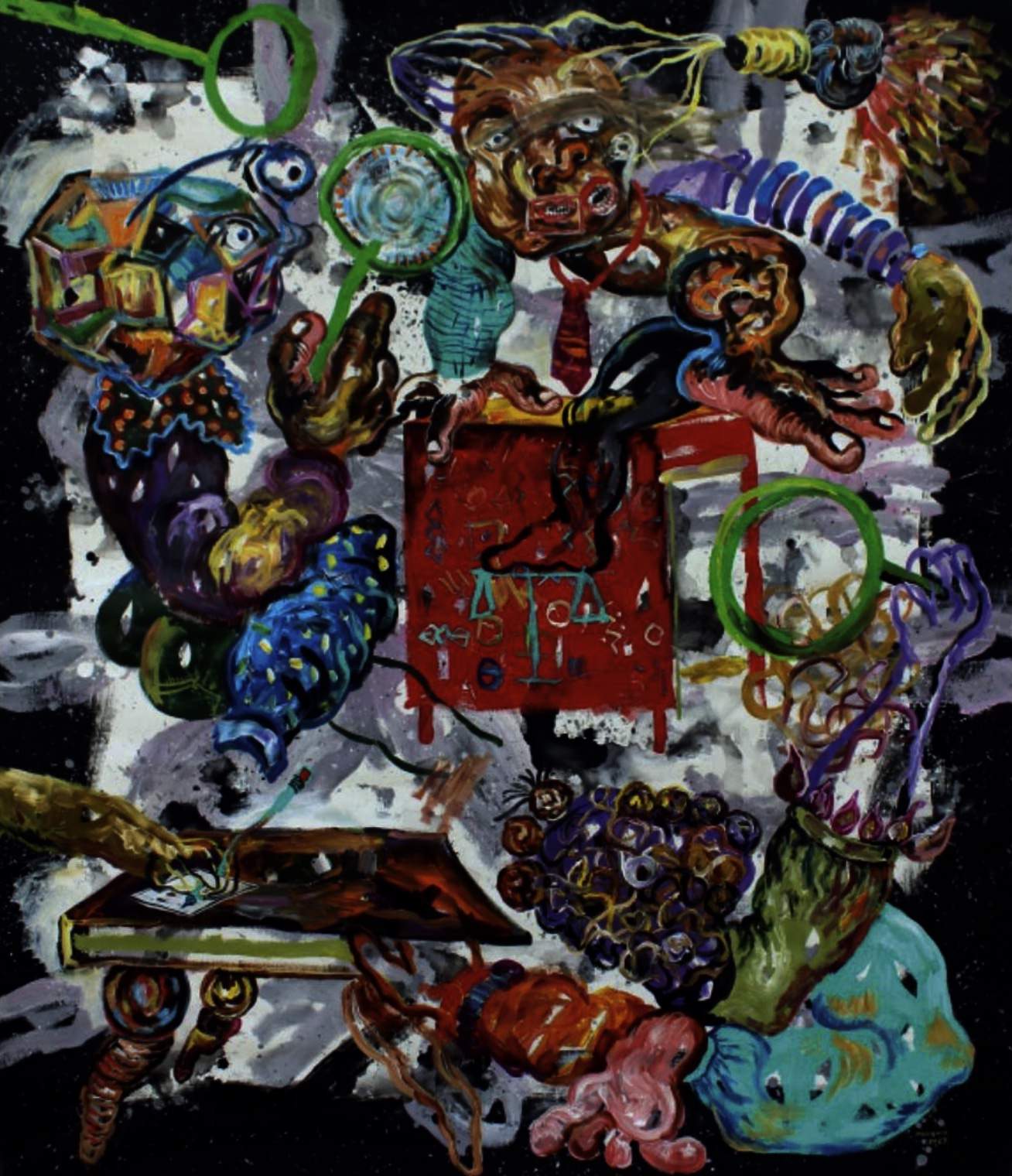 Avaliação - 2019
187 x 154 cm

Cristiano Mangovo
Cristiano Mangovo Brás was born in 1982 in Cabinda, Angola and currently lives in Lisbon.
As a child, he immigrated to the Democratic Republic of Congo, lived there as a refugee, found his calling and graduated from the Fine Arts School in Kinshasa.
Cristiano Mangovo has in the contemporary African landscape, the inspiration for the creation of his works. Through his creativity, the artist makes an exercise of the balance of power (and its contradictions) between a society that is constantly changing and the questions present in it.
Committed to the main issues specific to the African context, such as environmental protection, women's rights, or on topics such as consumerism, human values, social relations or urbanism, the artist's framework is urban landscape and Daily life.
His first solo exhibition was in 2013 at the Art and Culture Foundation in Luanda. In 2014, he won the Mirella Antognoli Argela Award from the Italian Embassy and the Ensa-Art Award from the Alliance Française in Luanda, which led him to participate in an artist-in-residence program at the Cité Internationale des Arts in Paris. He exhibited at the Angolan pavilion of the Milan Exhibition in 2015. Since then, he has participated in numerous group and solo exhibitions internationally (Portugal, France, Italy, South Africa, DRC, USA,...).
SELECTED SOLO SHOWS
2022
The System, Insofar Gallery, Lisbon, Portugal 2021
Humano e a Natureza, AFIKARIS Gallery, Paris, France 2019
Beirut Art Fair, Beirut, Lebanon 2018
In the streets of Lisbon, Ainori Contemporary Art Gallery, Lisbon, Portugal
2017
The riches of Africa, Portuguese Cultural Center, Camões Institute, Luanda- Angola
100 Protection, First Floor Gallery Harare, Harare, Zimbabwe
2016
Which direction?, Brazil-Angola Cultural Center, Luanda, Angola. Air P, Infecting the City Sessions ITC, Cape Town, South Africa
2015
Guiadores, Dr. Antônio Agostinho Neto Memorial, Luanda, Angola Atelier ouvert n° 2016, la Cité Internationale des Arts, Paris, France Seed of Memory, Angola Pavilion for the World Expo, Milan, Italy
2013
CALUNIAR, Fundação Arte e Cultura LR, Tamargolan Gallery, Luanda, Angola
SELECTED GROUP SHOWS
2022
Reflect #2 - Fragments, Fragilities, Memories: Contemporary Art from Angola, The Museum of African Art, Belgrade, Serbia
Biennale of Kinshasa, DR Congo
ARCO, lisboa, Lisbon, Portugal
1-54 New York, USA
Investec Cape Town, South Africa
2021
Art Paris, Paris, France AKAA, Paris, France
2019
Environs, Ainori Gallery, Lisbon, Portugal
2018
African Contemporary Art, Paris, France
Artissima 2018, Turin, Italy
Joburg Art Fair, Johannesburg, South Africa
Being a city, Banque Econômico, Luanda, Angola
Ensa Art Prize 2018, Museum of Money, Luanda, Angola Ainori Contemporary Art Gallery Lisbon, Portugal Untitled 01, Banque Econômico, Luanda, Angola
2017
Kaluandando, Soap Factory, Luanda, Angola
Representation of the human figure in art in Angola, Banco Económico, Luanda, Angola
2016
Ensa-Arte Prize 2016, Brazil & Angola Cultural Center, Luanda, Angola
2015
Arte comfusão Cultural Center, Camões, Luanda, Angola
2014
13th Fine Arts Exhibition, Pierrefitte Cultural Center, Paris, France
7th International Douro Biennial, Alijó, Portugal
Ensa Art Prize 2014, Cultural Center, Camões, Luanda, Angola
Exhibition of Angolan art paintings to celebrate the 12th anniversary of peace and national reconciliation, New York, USA
2013
JAANGO, National Museum of Natural History of Luanda, Luanda, Angola ARQUIVO MORTO, BAI ARTE 2013, Cultural Center, Luanda, Angola
2009
Tapage-24, Performance at Academia Belas, Kinshasa, DR Congo
2008
World AIDS Day, Collective at the Artisanal Fair with the United Nations Staff Association, Kinshasa, DR Congo
2006
Collective exhibition at the International Symposium on Sexual Violence (Project Action against Violence), Palais, EGMONT, Brussels