The Jean Pigozzi African Art Collection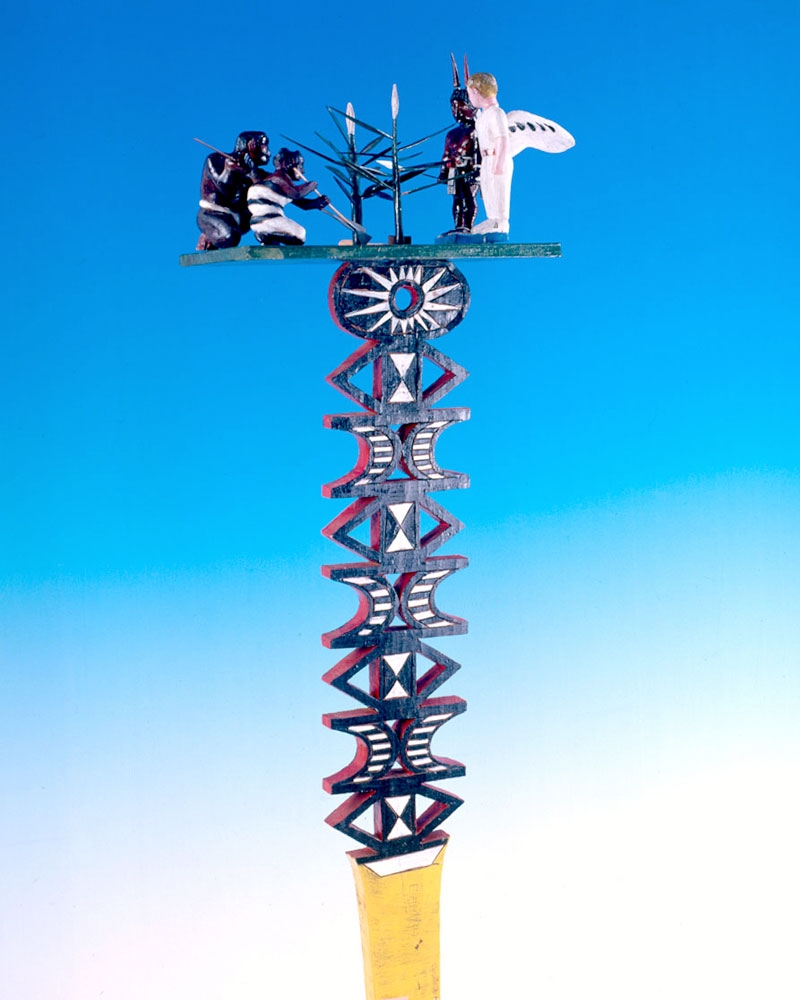 Défi entre Dieu et Andrianapolisy - 1997
186 X 38 X 18 cm
Wood, paint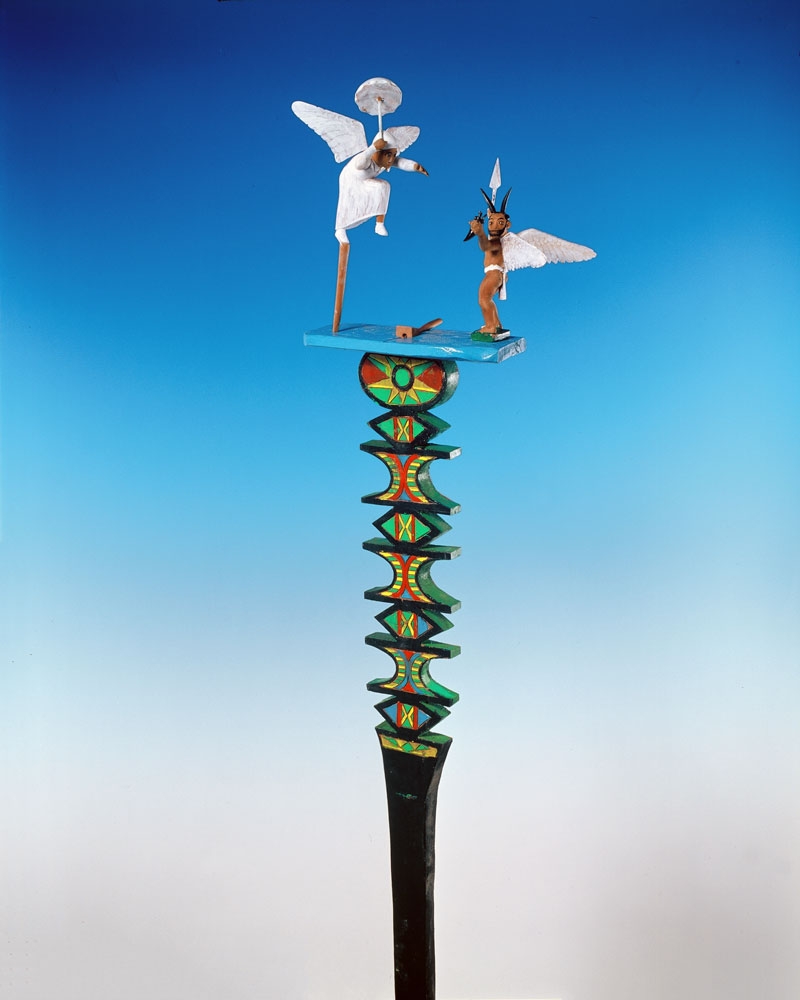 L'homme solitaire. (Tokam-Bata) - 1999/2000
193 X 42 X 11 cm
Wood, paint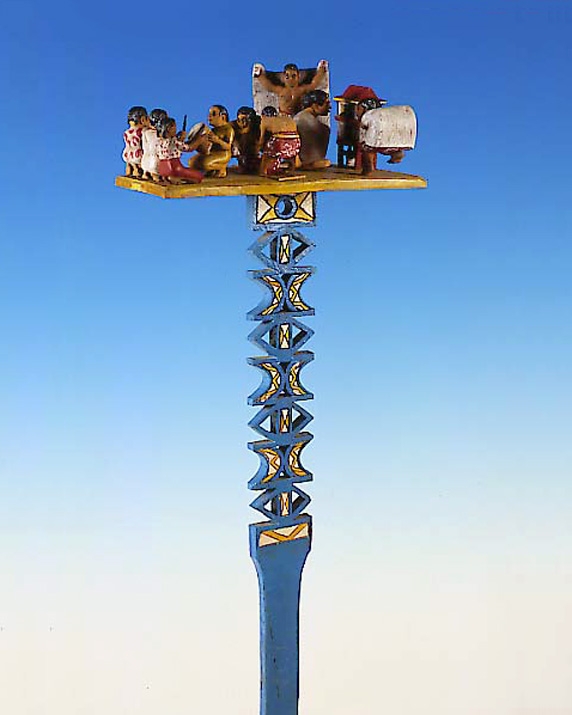 La guérison d'un malade - 1993
187 X 40 X 27 cm
Wood, paint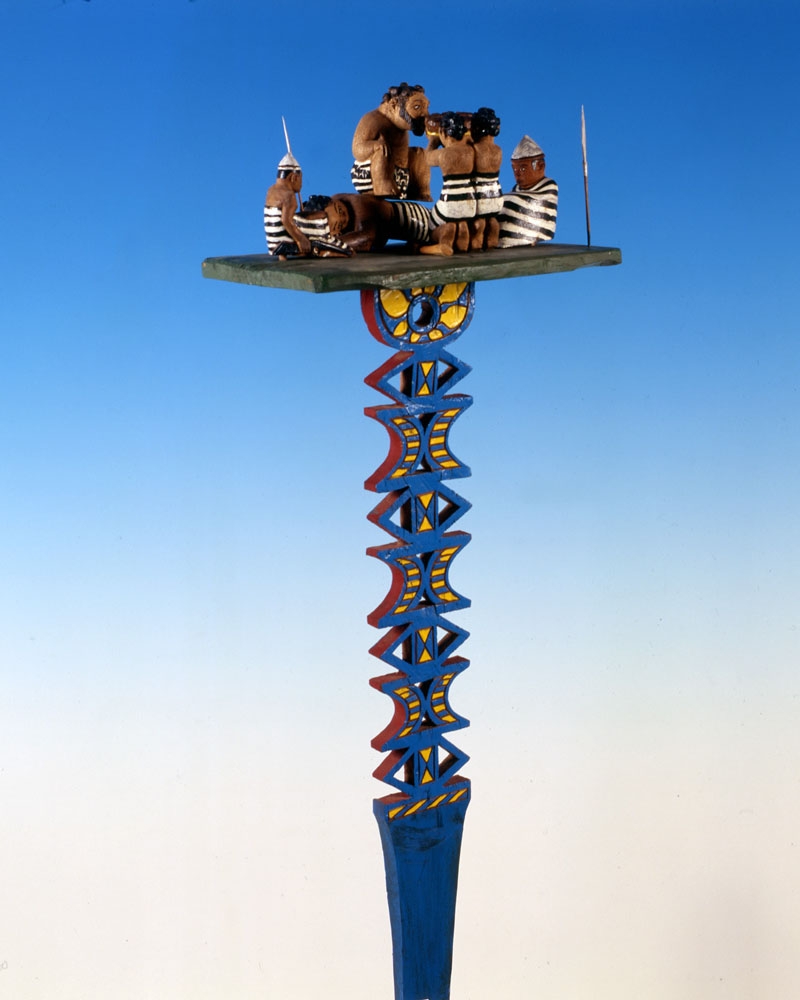 La vie du roi - No date
21 X 39 X 25 cm
Wood, paint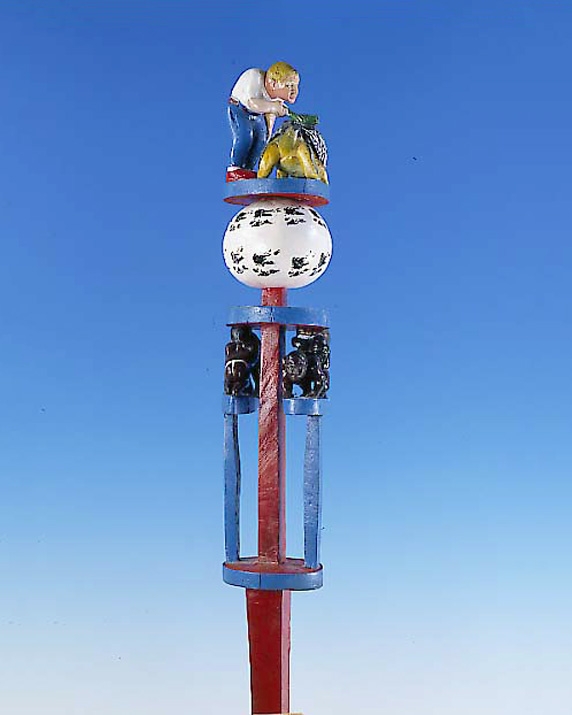 La vie est un combat – Haly am-bato ty Havelo tsy. Voka I ty tsiankitro - 1996
205 X 20 X 20 cm
Wood, paint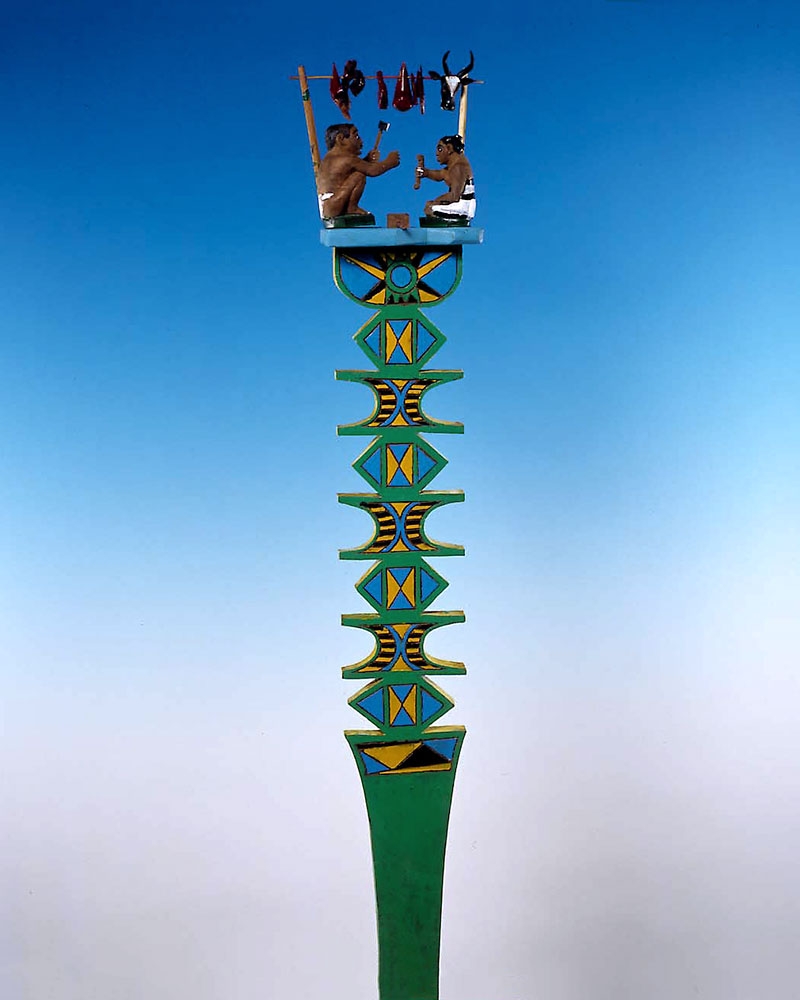 Le voleur de zebu. Vol Isolé. (Halatse kizo) - 1999/2000
235 X 76 X 20 cm
Wood, paint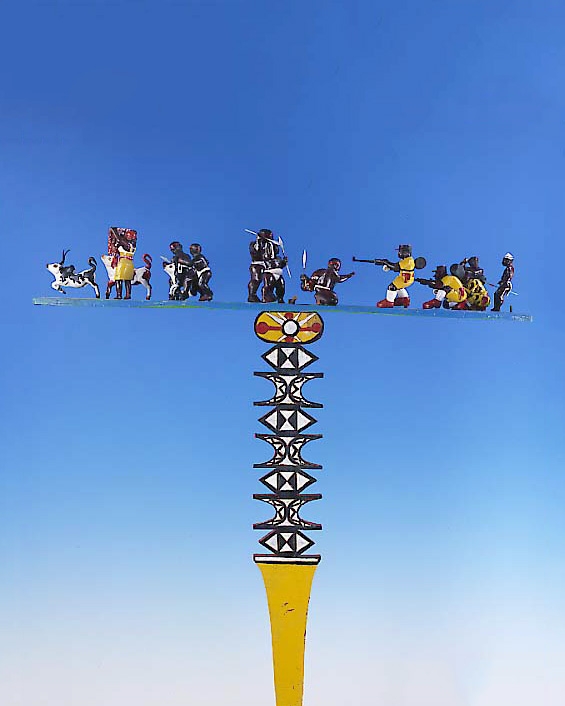 Malaso ou Dahalo – Voleurs de boeufs - 1997
198 X 130 X 31 cm
Wood, paint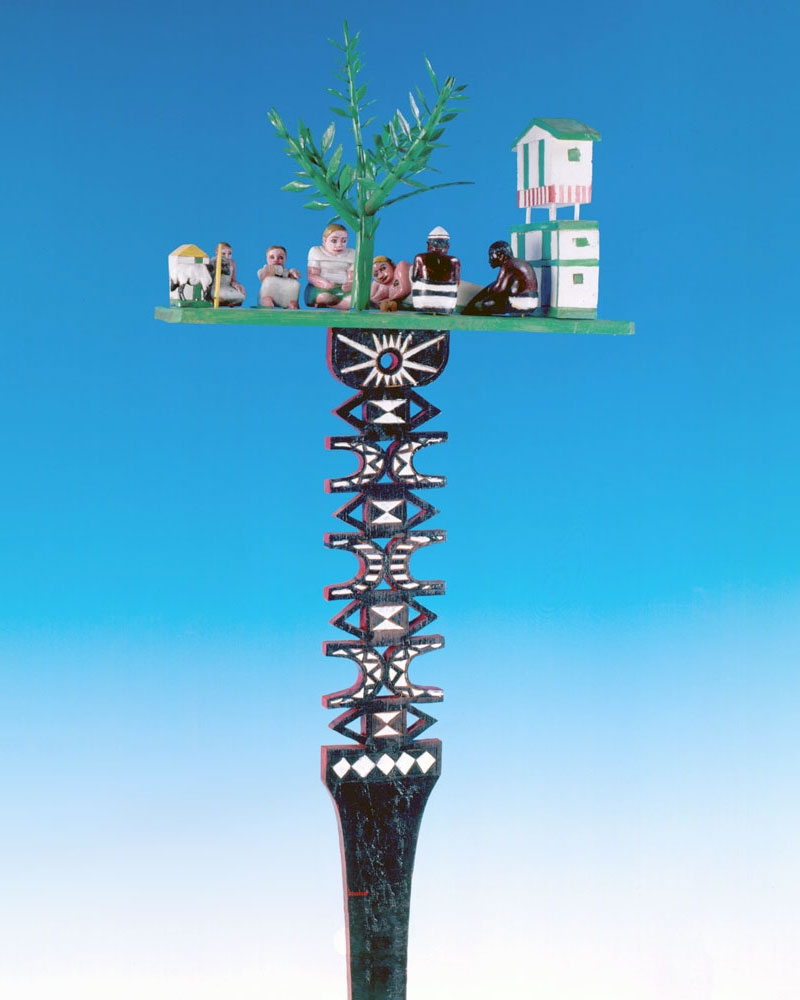 Nitsapan Anharety Andrianapolisy – L'esprit de la forêt soigne les maladies - 1997
213 X 65 X 21 cm
Wood, paint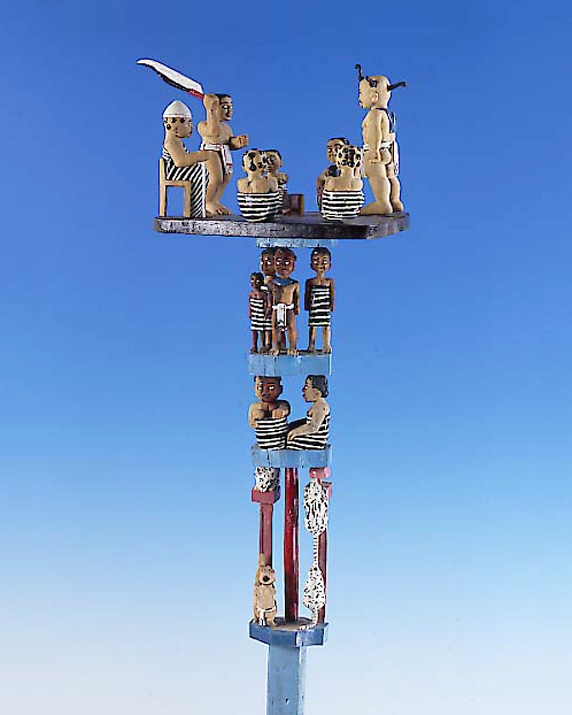 On ne confie pas tous ses secrets à sa femme – Quatre touffes de cheveux ne se racontent pas à la femme – Tsoko – tsoko efatse tsy ambara valy - 1996
215 X 42 X 42 cm
Wood, paint
Raty ty Halatse - 1997
196 X 58 X 17 cm
Wood, paint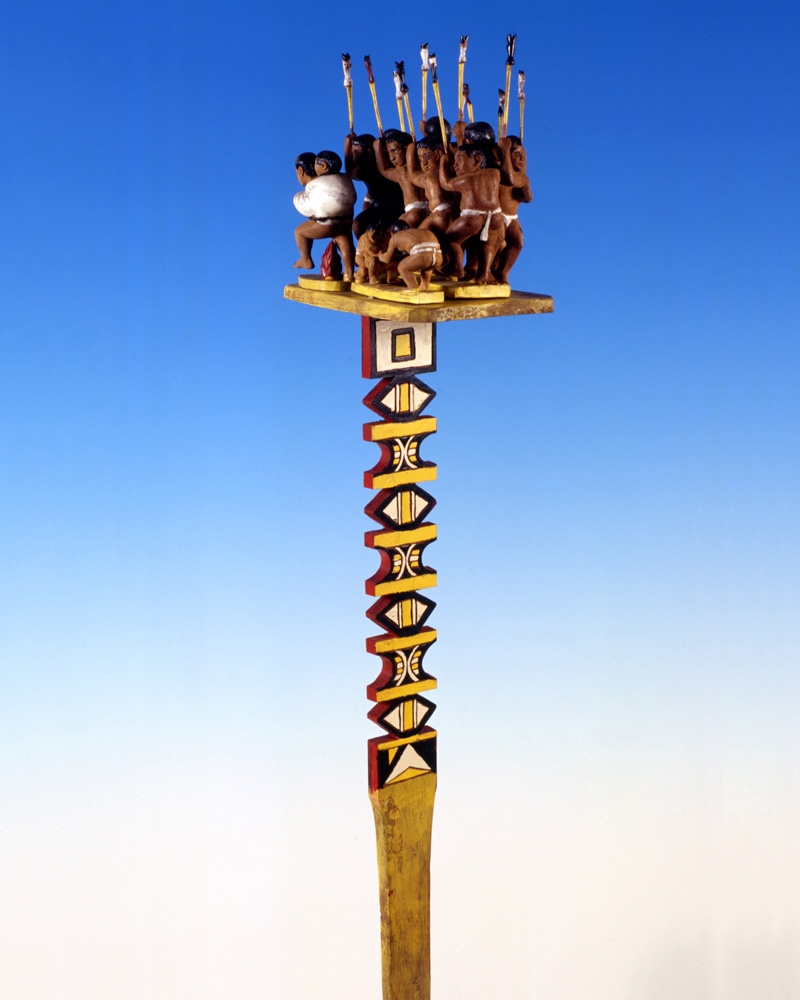 Scène de circoncision - 1994
190 X 25 X 20 cm
Wood, paint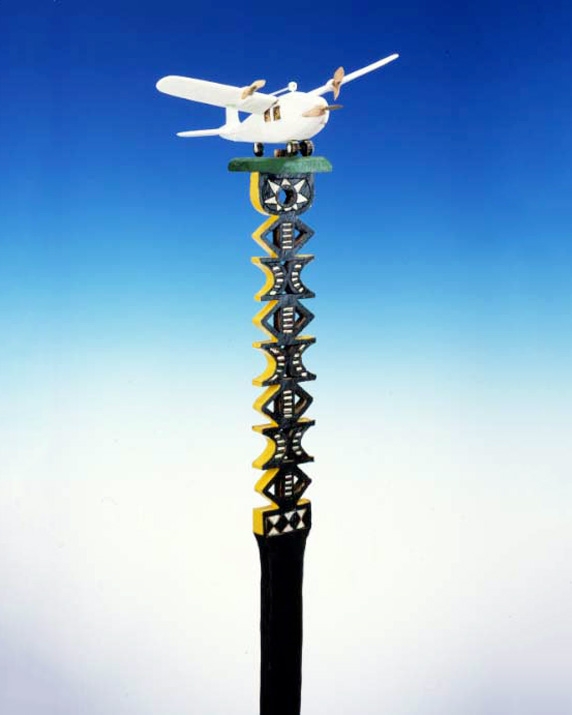 Untitled - 1992
53 x 33 x 13 cm
Wood, paint
Jean-Jacques Efiaimbelo
Né C. 1925 à Androka, Pays Mahafaly, Madagascar.

Mort en 2001.
Vivait et travaillait à Androka, Madagascar.
L'origine de l'art et des rites funéraires de la société Mahafale remonterait au début du 16ème siècle avec l'installation des clans royaux Maroserana dans le pays Mahafale (sud de Madagascar). Cet art sacré considéré comme le plus prestigieux de l'île s'est transmis de père en fils (en tout cas dans la famille d'Efiaimbelo) depuis Soroboka, l'ancêtre d'Efiaimbelo jusqu'à ce dernier qui a su par son raffinement et son inventivité maintenir et développer cet art vivant.

Efiaimbelo crée des sculptures traditionnelles appelées Alouals, plantés en carré autour d'un parallélépipède de pierres qui constitue la superstructure du tombeau. L'aloual est un élément de prestige, qui sert d'ornement au tombeau d'un riche défunt, chef spirituel d'un clan ou important chef de lignage. Ils sont toujours tournés vers l'Est et en nombre pair.

L'aloual se présente comme un poteau sculpté dans un bois très dur, appelé Mendorave, de 2 mètres de hauteur environ. La partie inférieure présente une succession de huit motifs (chiffre de la plénitude) étagés, alternativement abstraits et géométriques

Selon l'orateur, les mythes et légendes donnent des significations variables à ces motifs. Le huitième motif est une pleine lune. Ce poteau est surmonté d'une large scène figurative sculptée en ronde-bosse représentant en général le zébu et son gardien (le zébu est synonyme de richesse).

Efiaimbelo, héritier de cette tradition, a su en véritable artiste se diversifier et créer de nouvelles scènes. Son oeuvre unique par sa diversité et sa créativité (vols de zébus, taxi brousse, lutteurs, avion, moto, contes et légendes…) l'a fait connaître dans son pays puis à l'étranger. Efiaimbelo est un des premiers sculpteurs à avoir peint les alouals avec des couleurs acryliques variées par souci strictement décoratif. Les alouals honorent le défunt tout en chantant la vie.
EXPOSITIONS COLLECTIVES (Sélection)
2012

Africa / Africa, Centre d'art contemporain, Meymac, France
2011

Art Paris, Just Art! Grand Palais, Paris, France
2010

African Stories

Marrakech Art Fair, Marrakech
2006

100% Africa

Guggenheim Museum

Bilbao, Spain
2005

Arts of Africa

Grimaldi Forum

Monaco - France
2005

African Art Now : Masterpieces from the Jean Pigozzi Collection

Museum of Fine Art Houston

Houston - USA
2004

Je m'installe aux abattoirs

La collection d'art contemporain d'agnès b.

Les Abattoirs

Toulouse, France
2003

Sculpture 2003

Ray Hughes Gallery

Sydney - Australia
1998

La Piste des Totems dans le cadre de la manifestion « Trésors d'Afrique »

Foire Internationale de Boredaux

MC2a

Bordeaux – France
Diadji Diop, Efiambelo, Alain Séchas

Galerie Perrotin, Paris
1994-1995

(travelling exhibition)

Otro país: escalas africanas
* November 15, 1994-January 15, 1995

Centro Atlántico de Arte Moderno

Las Palmas, Spain

* February 15-April 16, 1995

Fundacion La Caixa

Palma de Mallorca. Spain

* May-September, 1995

Palau de la Virreina

Barcelona, Spain
1993

La Grande VŽritŽ, les Astres Africains

Fine Arts Museum.

Nantes, France.
1992

Out of Africa

Saatchi Gallery.

London, Great Britain.
1991

Africa Hoy / Africa Now

Atlantic Center of Modern Art, Las Palmas de Gran Canaria, Spain.

Groningen Museum,

Groningen, Netherland.

Contemporary Art Cultural Center.

Mexico City, Mexico.
1989

Magiciens de la Terre

Georges Pompidou Center, Grande Halle de la Villette.

Paris, France.
BIBLIOGRAPHIE (Sélection)
2006

100% Africa

Exhibition catalogue. Published by TF Editores & FMGB Guggenheim Bilbao Museum.
2005

African Art Now: Masterpieces from the Jean Pigozzi Collection

Exhibition catalogue. Published by Merrell.
2003

Otro país: escalas africanas

Exhibition catalogue by Simon Njami and Joëlle Busca.
2000

Madagascar -Memorial Arts, Efiaimbelo by Monica Blackmun Vison.

BookÝ: A History of Art in Africa. Text in English.

Edited by Prentice Hall & Abraams.
1996

"Contemporary Art of Africa ".

Efiaimbelo by Paul Rabibisoa Ravoy.

Edited by AndrŽ Magnin and Jacques Soulillou. Text in English.

Published by Harry N. Abraams.
1993

La Grande VŽritŽ, Les Astres Africains, Efiaimbelo by Paul Rabibisoa Ravoy

Edited by The Fine Arts Museum Nantes. Text in French.
1993

KUNSTFORUM AFRICA IWALEWA International (122)

Afrikanische Kunst heute book

Text by A. Magnin p.165, Efiaimbelo p.257 - p.258.
1989

"Magiciens de la Terre ". Efiaimbelo by Jacques Lombard.

Editions Georges Pompidou Center. Text in French.