The Jean Pigozzi African Art Collection
UNREALISM, The Moore Building, Miami Design District, Florida, USA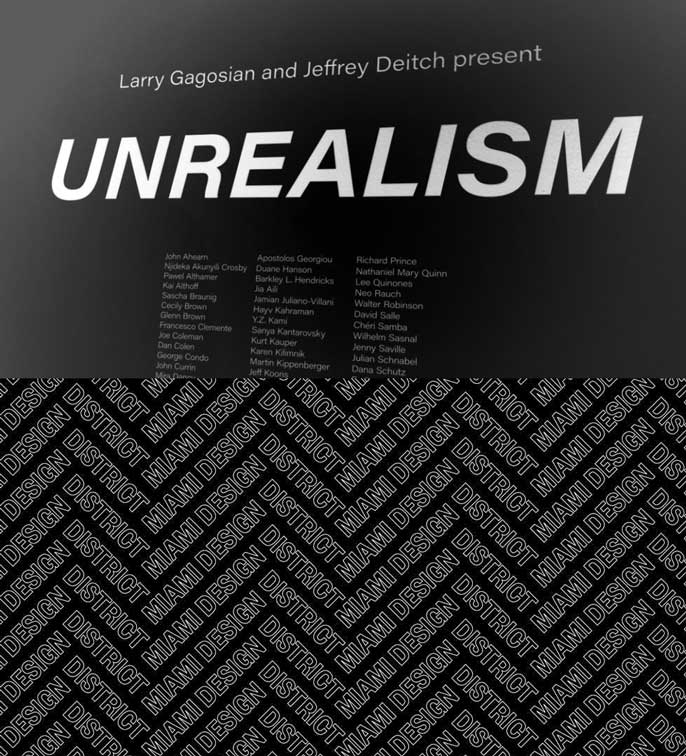 from 01/12/2015 to 06/12/2015
Larry Gagosian and Jeffrey Deitch present UNREALISM
at The Moore Building, Miami Design District, Miami, Florida.
On view December 2–December 6, 2015. Opening reception: Tuesday, December 1st, from 5–8pm
Larry Gagosian
and Jeffrey Deitch Collaborate to Present an Exhibition of New Figurative Painting and Sculpture in the Miami Design District
UNREALISM celebrates the recent revival of interest in figurative painting and sculpture. The exhibition features the work of more than fifty of the most original and compelling artists working in figuration from the 1980s to the present. The title points to the challenge of portraying contemporary reality where the real is often confused with the unreal.
The exhibition focuses on an emergent wave of painters and sculptors who are exploring new approaches to figurative imagery. In doing so, they are also generating renewed interest in innovative precursors.
Figuration is one of the oldest art forms, but it is continually evolving, reflecting contemporary concepts of human identity. Figurative art responds to technical innovations like printing, photography and digital reproduction, but the ancient craft of rendering the figure renews itself with each subsequent generation. The artists featured in UNREALISM work within the figurative canon without becoming academic. They are able to make a venerable tradition in art completely of our time.
UNREALISM
will take place over four floors around the atrium of The Moore Building, a 1921 Art Deco-style, former furniture showroom that is also the current home of the ICA Miami.
The exhibition preview will take place on December 1 from 5-8pm.
"King of Arms," a procession and performance by Rashaad Newsome, will pass through the Design District at 6:30pm to 7:30pm.
Larry Gagosian and Jeffrey Deitch have been colleagues since 1979 and have worked with many of the same artists. UNREALISM is their first collaboration.
In October of this year, Gagosian Gallery opened its fifteenth location in Mayfair, London. Jeffrey Deitch's most recent curatorial project is "The Extreme Present," one of the inaugural exhibitions for the new Aishti Foundation in Beirut.
The Miami Design District, developed by Craig Robins in partnership with L Real Estate, is a neighborhood dedicated to innovative fashion, design, art, architecture and dining. It features distinctive architectural projects by Sou Fujimoto, Aranda/Lasch, Johnson Marklee and other leading young architects; and public commissions of art and design by John Baldessari, Buckminster Fuller, Zaha Hadid and Marc Newson.
For further information please contact the gallery at newyork@gagosian.com or at +1.212.744.2313. All images are subject to copyright. Gallery approval must be granted prior to reproduction.
Press Enquiries
Blue Medium, Inc.
T. +1.212.675.1800
www.bluemedium.com
Contact: Andy Ptaschinski
E. andy@bluemedium.com
Please join the conversation with Gagosian Gallery on Twitter (@Gagosian), Facebook (@GagosianGallery), Google+ (@+Gagosian), Instagram (@gagosiangallery), Tumblr (@GagosianGallery), and Artsy (@Gagosian-Gallery) via the hashtags #UNREALISM #GagosianinMiami #GagosianDeitch.
Link to the exhibition website
Featured Caacart artists :