The Jean Pigozzi African Art Collection
The 55th Venice Biennale 2013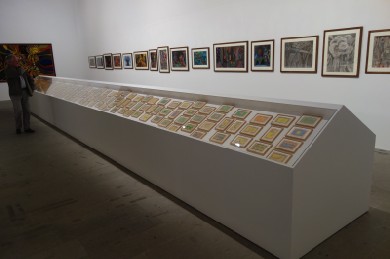 from 01/06/2013 to 24/11/2013
A selection of Frédéric Bruly Bouabré's works fom the CAAC will be displayed in the Arsenale in this year's Biennale in Venice, Italy.
Bouabré's drawings can also be seen at the Ivory Coast Pavilion which is participating in the Biennale for the frist time this year.
Also in the Arsenale, a large display of J.D. 'Okhai OJEIKERE's photographs.
The 55th International Art Exhibition of la Biennale di Venezia is under the artistic direction of Massimiliano Gioni and is entitled Il Palazzo Enciclopedico / The Encyclopedic Palace.
The exhibition will place at its heart "a reflection on the ways in which images have been used to organize knowledge and shape our experience of the world." Inspired by what scholar Hans Belting has called "an anthropology of images", the Biennale Arte 2013 will attempt "an inquiry into the realms of the imaginary and the functions of imagination."
Link to the exhibition website
Featured Caacart artists :