The Jean Pigozzi African Art Collection
Less is less, more is more, that's all ! CAPC musée d'art contemporain de Bordeaux, France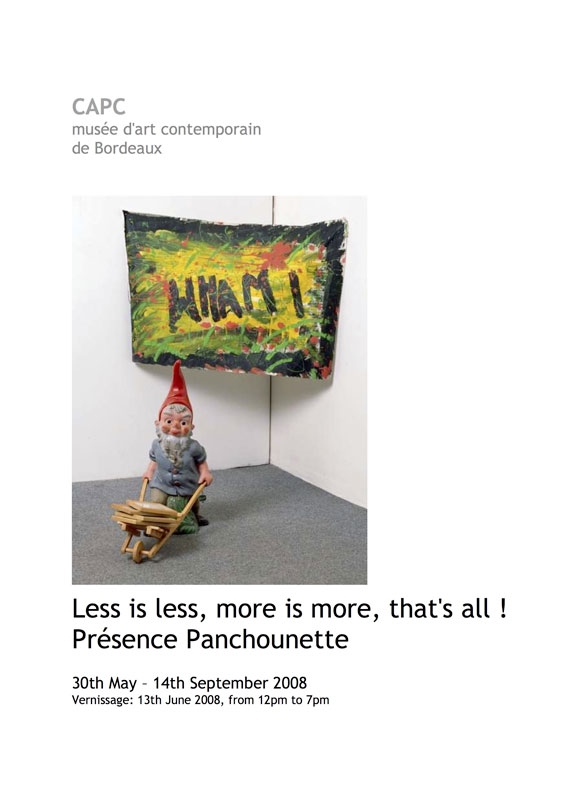 from 14/06/2008 to 14/09/2008
Parallel to the Présence Panchounette exhibition, the CAPC presents in the space of the nave several generations of artists who share with them a collective vision, a "chounette" spirit, being: the challenge of the notion of authorship and style, the decorative becoming inevitable for any artefact, the domestic, the poorly done, the redefinition of the notion of kitsch "with a class consciousness", propaganda, rumours, embarrassing strategies etc.

======================================================

Less is Less, More is More, that's all s'interroge sur l'objet aculturé, répondant à la première exposition rétrospective de Présence Panchounette (2008)

Parallèlement à l'exposition Présence Panchounette dans la ville de Bordeaux, le Capc présente plusieurs générations d'artistes qui partagent avec ce collectif la remise en cause de la notion d'auteur et de style, le mal-fait, le kitsch et l'idée de devenir décoratif de l'art.

======================================================

Artists: John Ahearn, John Armeleder, Art & Language, BANK, Guillaume Bijl, Xavier Boussiron, Buy Sellf, Valentin Carron, Maurizio Cattelan, Jacques Charlier, A Constructed World, Jeremy Deller, Wim Delvoye, Hans-Peter Feldmann, Fischli & Weiss, Sylvie Fleury, Claire Fontaine, General Idea, Group Material, François Hers, International Situationnistes, Jim Isermann, Edward Kienholz, Karen Kilimnik, Jeff Koons, Samuel Kane Kwei, Arnaud Labelle-Rojoux, Bertrand Lavier, Paul Mc Carthy, Alessandro Mendini, Gianni Motti, Jim Shaw, Société Perpendiculaire, Gitte Schäfer, Jean-Frédéric Schnyder, Haim Steinbach, Rosemarie Trockel, Jeffrey Vallance, Patrick Van Caeckenberg, Lily Van der Stokker, Gil Wolman... and many more!
Link to the exhibition website
Featured Caacart artists :