The Jean Pigozzi African Art Collection
J.D. 'Okhai Ojeikere: Hairstyles, Blaffer Art Museum, University of Houston, Texas, USA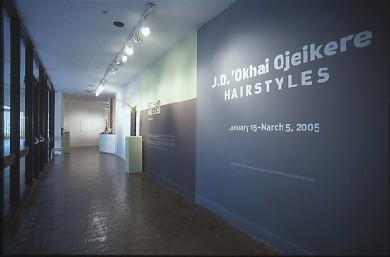 from 15/01/2005 to 05/03/2005
Throughout African history, hairstyles have functioned as markers for social status and political position. Over three decades, veteran photographer J. D. 'Okhai Ojeikere has documented the transformations and variations found in traditional hairstyles worn by women of his native Nigeria. Some are designed for special occasions, others are meant for daily wear, but all of them are indicative of a larger cultural and historical landscape in which these elaborate designs pass from one generation to the next.

In the late 1950s and early '60s, the popular use of wigs began to threaten traditional hairdressing and contributed in time to the gradual disappearance of elaborate hair designs in the visual patterns of Nigerian life. While working on a series of photographs for the Nigerian Arts Council in 1968, Ojeikere became acutely aware of the cultural importance of this slowly fading tradition and set out to preserve it on film. Since then Ojeikere has made it a practice to photograph women's hairdos whenever he encounters a singular, truly exceptional creation, be it on the street, at work, or at parties, and over the years he has compiled a comprehensive archive of over a thousand photographs of hairstyles from all over Nigeria. Each hairstyle speaks to an ancient history, an accumulated knowledge, and the present state of a living culture. These intricate creations involve many hours, sometimes even days, of braidwork assembled in weave-like, linear patterns. For Ojeikere "hairstyling is a form of art. When you see a hairstylist do this or that, every singe movement is precise and rapid. She creates a hairstyle the way a sculptor would work - from nothing. It's fascinating."

Ojeikere photographs his subjects up close, from the back or in profile, in order to emphasize the formal and material qualities of the hairdos. Ojeikere explains that for his purposes "a photograph of the face reveals nothing, while those of the back are almost abstract and really show the sculptural aspects of the coiffures. The angle of each shot reveals distinctive structures." The crisp neutrality of the black or white backgrounds additionally enhances a disembodied sculptural reading of the individual hairstyle.

Ojeikere began his exceptional career as a darkroom assistant for the Ministry of Information in 1954 before becoming the studio photographer for the first African television station in 1961. In 1963 he was hired by West African Publicity where he worked for the greatest part of his career. In 1975, after twelve highly successful and influential years with West African Publicity, he opened his own photo studio Foto Ojeikere.

J.D. 'Okhai Ojeikere: Hairstyles features hairstyles from Ovibiomu-Emai, Nigeria, worn at celebrations, festivals, and marriages. Ojeikere's experience as a photojournalist, commercial photographer, and fine artist, steeped in the emergent cultural pride that accompanied Nigerian independence, comes together in this collection of black and white photos to celebrate hairstyles, stylists, and Nigerian cultural heritage. The exhibition is co-organized by Terrie Sultan, Director, Blaffer Gallery, and André Magnin, Curator and Artistic Director, CAAC: Contemporary African Art Collection, and is on view from January 15 through March 5, 2005.

This exhibition is organized by the CAAC, The Pigozzi Collection, Geneva and Blaffer Gallery, the Art Museum of the University of Houston. Presentation of this exhibition is made possible by Continental Airlines.

J.D. 'Okhai Ojeikere: Hairstyles is part of Houston's city-wide celebration of the artists of the CAAC. Additional installations devoted to Contemporary African Art are on view at: The Museum of Fine Arts, Houston, The Menil Collection, The Contemporary Arts Museum, Houston, Project Row Houses, and The University Museum at Texas Southern University.
Blaffer Gallery
, The Art Museum of the University of Houston
Photos: ©Rick Gardner
Link to the exhibition website
Featured Caacart artists :