The Jean Pigozzi African Art Collection
Festival des Arts Visuels de Vevey (Switzerland)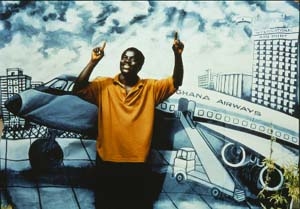 from 08/09/2012 to 30/09/2012
Images
The Pigozzi collection is participating in "Images" at the Festival des Arts Visuels de Vevey by contributing works by Ghananian artist Philip Kwame Apagya. The festival is the first open-air photography festival of Switzerland. Every two years, it produces unseen monumental photography exhibitions in the streets of Vevey and also proposes numerous exhibitions in various regional institutions dedicated to the image.
In 2012, the artists whose work is to be displayed outside all have one thing in common: a certain use of decor in photographs by playing with the foreground and background of the image i.e. between the subject of the photo and what is behind it.
In "No Place Like Home"
Philip Kwame Apagya captures his subjects in front of original painted backgrounds so that they may be photographed in their ideal setting. These canvasses painted in rich colours with unashamed naivety, illustrate stylishly furnished interiors, aeroplanes on the tarmac, or gardens containing luxurious villas. The paintings allow the subject to be part of this illusion just during the time it takes to complete the photoshoot.
Venue
Quai Perdonnet, en face de l'Alimentarium
Link to the exhibition website
Featured Caacart artists :