The Jean Pigozzi African Art Collection
Barthélémy Toguo. Wouri, Donga, Sanaga – Galerie Lelong & Co. Paris, France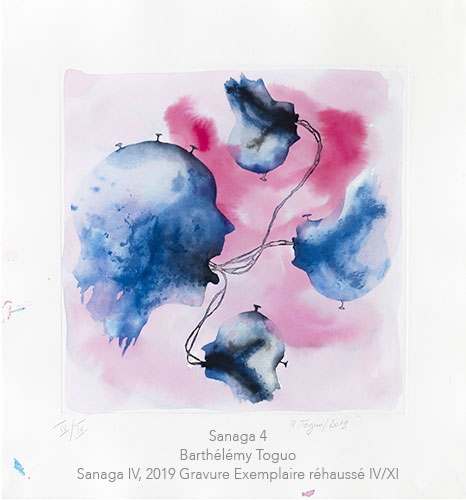 from 05/09/2019 to 05/10/2019
Barthélémy Toguo
is a multi-disciplinary artist: he is equally at ease with painting, sketching, watercolour or printing as he is with sculpture, performance, photography and video. After his exhibition at Galerie Lelong & Co. New York last spring, Lelong Editions is presenting in Paris his first series of etchings: all printed in blue, the series includes examples that have been enhanced with watercolours. This addition of fluid colour animates the powerful silhouettes drawn by the artist, with great sensitivity. They bear the names of rivers from his home country of Cameroon.


Wouri
Barthélémy Toguo
Wouri, 2019 Gravure 35 exemplaires + XI réhaussées 57 x 54 cm

At the same time, the
Le Parvis art centre
at Ibos (Hautes-Pyrénées) welcomes the artist within the Of Blood and Water exhibition until 28 September. Part of his installation Vaincre le virus, presented during the Marcel Duchamp prize at the Centre Pompidou, is included alongside new works and installations, including a collection of pirogues and a wall fresco created in situ. In 2020, an exhibition of the artist's work is scheduled for the Quai Branly museum in Paris and a monograph is being prepared.


Donga
Barthélémy Toguo
Donga, 2019 Gravure 35 exemplaires + XI réhaussées 57 x 54 cm

[FRENCH]
Barthélémy Toguo
est un artiste pluridisciplinaire ; il pratique autant la peinture, le dessin, l'aquarelle ou l'estampe, que la sculpture, la performance, la photographie ou la vidéo. Après son exposition à la Galerie Lelong & Co.New York au printemps dernier, Lelong Editions présente à Paris sa première série d'eaux-fortes: toutes imprimées en bleu, elles comportent des exemplaires rehaussés à l'aquarelle. Cet ajoutde couleur fluideanime, avec beaucoup de sensibilité,lespuissantes silhouettes conçuespar l'artiste.Elles portent les noms de fleuves et rivières du Cameroun, son pays natal.


Sanaga
Barthélémy Toguo
Sanaga, 2019 Gravure 35 exemplaires + XI réhaussées 57 x 54 cm

Parallèlement, le centre d'art,
Le Parvis
, à Ibos (Hautes-Pyrénées) accueille l'artiste dans le cadre de l'exposition Of Blood and Waterjusqu'au 28 septembre. Une partie de son installation Vaincre le virus, présentée lors du prix Marcel Duchamp au Centre Pompidou, est reprise aux côtés de nouvelles œuvres et installations, dont une collection de pirogues et une fresque murale réalisée sur place.
Dans le cadre des
Journées Européennes du Patrimoine et du Festival Les Traversées du Marais
, l'artiste présentera l'exposition
Terra Incognita
aux Archives Nationales de Paris du 6 au 22 septembre
Communiqué de presse
Link to the exhibition website