The Jean Pigozzi African Art Collection
Barthélémy Toguo at Parrish Art Museum, Water Mill, NY, USA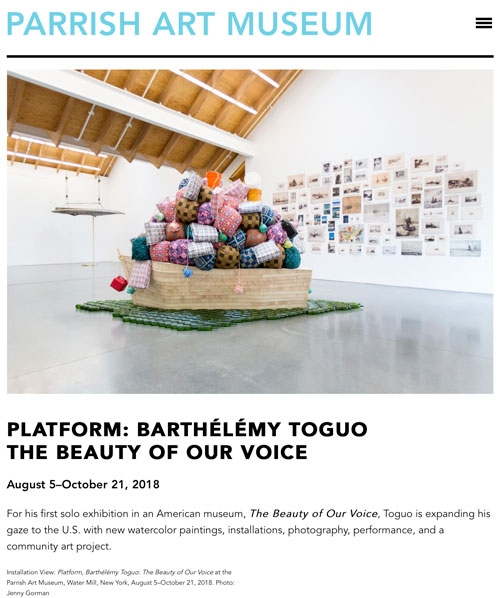 from 05/08/2018 to 14/10/2018
The Parrish Art Museum is presenting The Beauty of Our Voice, a major solo show of French-Cameroonian artist Barthélémy Toguo. The internationally renowned artist addresses issues of migration, mobility, colonialism, race, and the relationship between the global north in his multi-disciplinary works.

Granted the 2018 Inga Maren Otto Fellowship, Toguo has created a comprehensive body of work during a residency at The Watermill Center. This unique new collaboration between the museum and the Watermill lead to this exhibition, on view from August 5 to October 14, 2018. This project expands his gaze to America. Selected pieces include new watercolor paintings, photography from the series Stupid African President, postcards from his international Head Above Water project that involved Hamptons residents, and new versions of his installations Mobile Cafeteria and Road to Exile, adapted to the Parrish.
This exhibition is supported by the Cultural Services of the French Embassy in the U.S.
Link to the exhibition website