The Jean Pigozzi African Art Collection
'Popular Painting' from Kinshasa, Tate Modern, London, England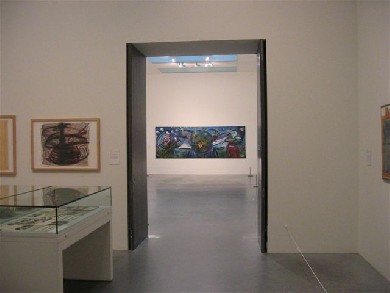 from 24/03/2007 to 01/03/2008


Tate Modern Level 5, London.
Photo: ©Tate Modern
The display 'Popular Painting' from Kinshasa opens on 24 March at Tate Modern and will be located within the collection displays, UBS Openings: Tate Modern Collection. It features eight paintings by a group of five artists from Kinshasa, Democratic Republic of Congo, collectively known as the 'School of Popular Painting'.

In the mid 1970s the 'School of Popular Painting' was founded in Kinshasa by Chéri Samba (born 1956) who was joined by Moke (1950–2001), Chéri Chérin (born 1955), and Bodo (b.1953). Chéri Samba's younger brother, Cheik Ledy (1962 – 1997), later became associated with the group. These five artists, three of whom continue to live and work in Kinshasa, are widely regarded as being among the leading contemporary African painters within sub-Saharan Africa.

The term 'popular' reflects the artists' continuing interest in depicting themes and images that derive from popular culture and everyday life. Their work critically engages with the social and political situations of their local community, such as issues of international aid, conflict, sexuality, and cultural tourism. These are addressed using frank and symbolic imagery, seen for example in a large mural painting by Bodo called Monde en tourbillon! Où l'on va?, 2006. The experience of being an artist is also explored in several works including Untitled, 2001, by Moke, whose tongue-in-cheek painting depicts himself as the financially successful artist or dealer in the centre foreground.

Largely self-taught, the artists bring to painting expertise developed from a variety of backgrounds, from comic strip artistry as seen in the work of Chéri Samba, to billboard and sign painting. Their vibrant palettes and frequent inclusion of textual elements within the large canvases reflect these influences. While each artist has his own particular brand of reportage, all approach painting as a universal medium with the utopian potential to effect change. In some cases, political or social conflicts are portrayed as chaotic and all-consuming, and in others, personal impressions of these situations are treated ironically and satirically.

The paintings are seen in the context the 'States of Flux' suite on Level 5, which presents works by modern and contemporary artists who moved away from traditional picture-making towards a dynamic and forceful visual language to engage with modern life. The techniques of montage and appropriation as well as the critical engagement with politics and society run throughout the suite.

The paintings are on loan from the Contemporary African Art Collection (CAAC), Geneva, which was founded in 1989 by Jean Pigozzi and curated from the outset by André Magnin. It is the largest private collection of its kind and has helped many African artists to show their work in major institutions around the world. As part of Tate Modern's commitment to showing international Modern and Contemporary art, including art from regions of the world beyond Europe and America, 'Popular Painting' from Kinshasa is the first collection display at Tate to present work by artists who were born in and continue to work in Africa.

This display has been made possible by the generous support of the Contemporary African Art Collection and Jean Pigozzi. It is curated by Sheena Wagstaff, Chief Curator, Tate Modern, with assistance from Cliff Lauson, Curatorial Assistant, Tate Modern, in collaboration with André Magnin, Curator, CAAC.
Link to the exhibition website
Featured Caacart artists :