The Jean Pigozzi African Art Collection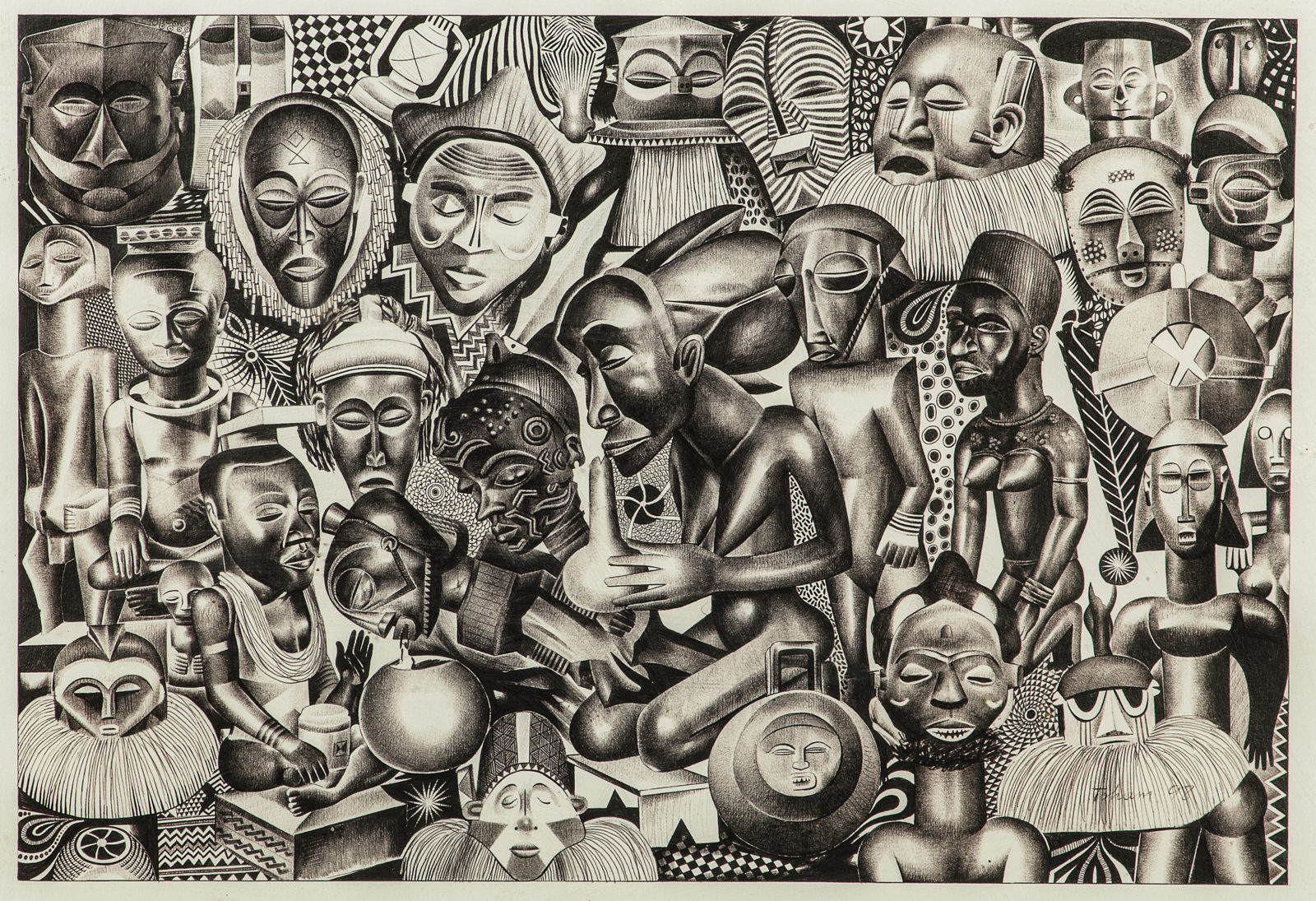 Untitled / Sans titre - 1998
42 x 60 cm
Ballpoint pen on paper © Tsham
Tsham
Born in 1963 in Lubunz, Democratic Republic of the Congo (DRC).
He lives and works in Kinshasa.
Tsham - whose real name is Raymond Tsham Mateng Lomami - enrolled at the Institute of Fine Arts in Kananga in 1981. Gifted for drawing since his early childhood, the young artist developed his art and proved to be an outstanding draughtsman whose works met with great success within his school. He was then hired by a local Christian weekly newspaper, directed by Father Romain.
In 1983, Tsham resumed his artistic studies in Lubumbashi, at the Technical Institute of Fine Arts. In order to cope with financial difficulties, Tsham offers, for a few bucks, his services as an instant portrait artist throughout the city, at bus stops or around the central market. His precocious talent was quickly recognized and some people nicknamed him "mulozi" or "wizard".
In 1984, he became a textile designer at Solbena, a local textile company, under the direction of Joseph Kabongo and Amisi, both great artists of the Lubumbashi school. The artist, who aspires to his creative freedom, resigns in 1986. He then went to Kinshasa where he enrolled as a free student at the Academy of Fine Arts. In spite of his talent, his limited means did not allow him to buy the material necessary to practice his art. To confront this difficulty, he finds the inspiration that will become his strength: the use of the black ballpoint pen! The ballpoint pen became Tsham's instrument of choice, allowing him to see his art explode. With a simple black Bic, he draws masks and statuettes from the Congo and elsewhere.
Tsham draws his inspiration from the news. He paints everything while listening to an international radio, waiting for the slightest news to nourish his already dense imagination. He exhibits his work in Kinshasa, in the Bilembo Space in 2015.
SELECTED SOLO EXHIBITIONS
2015
Tsham - Recent works, Espace Texaf Bilembo, Kinshasa, DRC
SELECTED GROUP EXHIBITIONS
2022
Congo Biennale - Kinshasa, Democratic Republic Of The Congo - 16/09 - 23/10/2022
2021
Papiers de société, Kura Shomali, Raymond Tsham et Steve Bandoma, Espace Texaf-Bilembo, Kinshasa, RDC
2018-2019
Grafic Africa, Abou Traoré et Raymond Tsham, PIASA, Paris, France
2018
La Collection BIC, CENTQUATRE, Paris, France
2016
Exposition d'ouverture, 1,242 South-East Gallery, Ile Maurice
2014-2015
Congo Eye Na Nantes, Angalia et Casa Africa Nantes, Voyageurs du Monde, Nantes, France
2012
Kinshasa moindo mpembe, Le Monde des Flamboyants, centre culturel de la TMB, Kinshasa, RDC
2007
Galerie Arts pluriels à Abidjan, Côte d'lvoire
2005
Symphonie des arts, Kinshasa, RDC
2002
Zoos de Columbus et Cincinnati dans l'Etat de l'Ohio, USA
1998
Galerie M2A à Bordeaux, France
Centre Wallonie-Bruxelles, Kinshasa, RDC
1996
Musée de l'art wallon à Liège, Belgique
La Médiatine à Bruxelles, Belgique
Centre Wallonie-Bruxelles à Paris, France
Centre Wallonie-Bruxelles, Kinshasa, RDC
1994
Symphonie des arts, Kinshasa, RDC
1992
Symphonie des arts, Kinshasa, RDC
1990
Ambassade du Canada Kinshasa, RDC
1989
Symphonie des arts, Kinshasa, RDC
Centre Wallonie-Bruxelles, Kinshasa, RDC