The Jean Pigozzi African Art Collection
Assembly Line - 2002
21.7 x 29.5 x 63 cm
Metal sculpture and various materials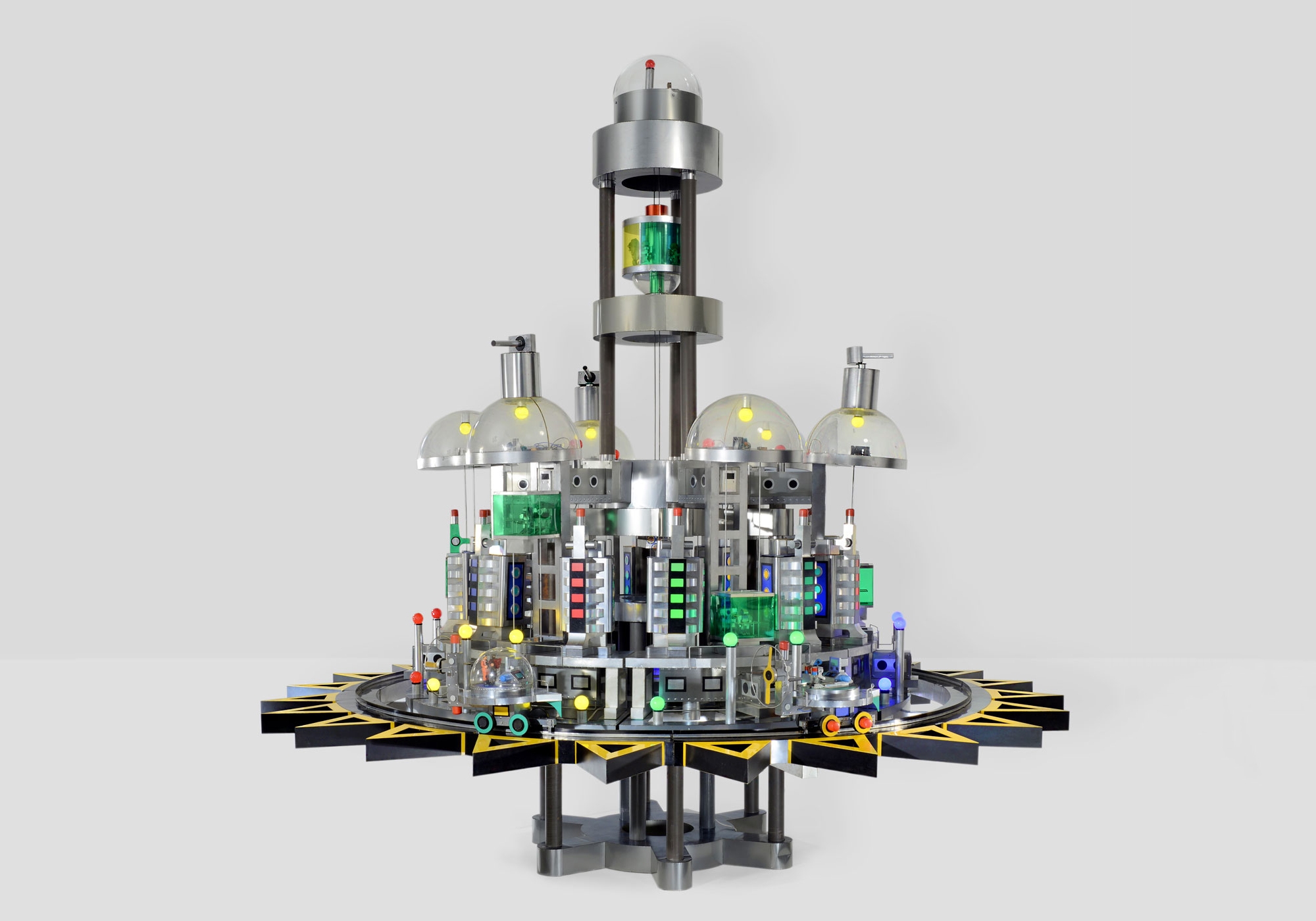 Cité des étoiles - 2006
315 x 306 x 306 cm
Steel, aluminium, plastic, wood, glass and electrical components

Photo © Maurice Aeschimann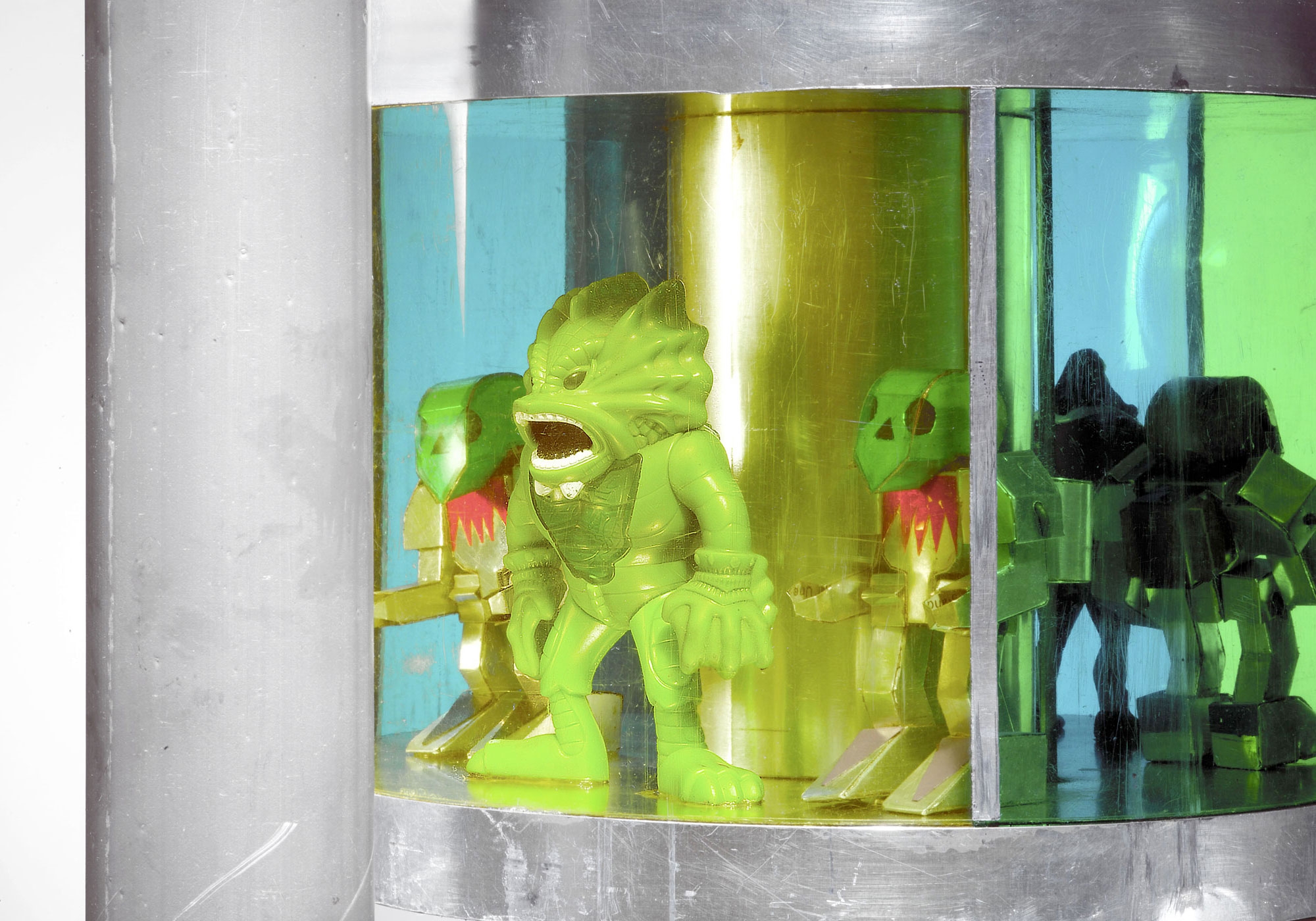 Cité des étoiles [detail] - 2006
315 x 306 x 306 cm
Steel, aluminium, plastic, wood, glass and electrical components

Photo © Maurice Aeschimann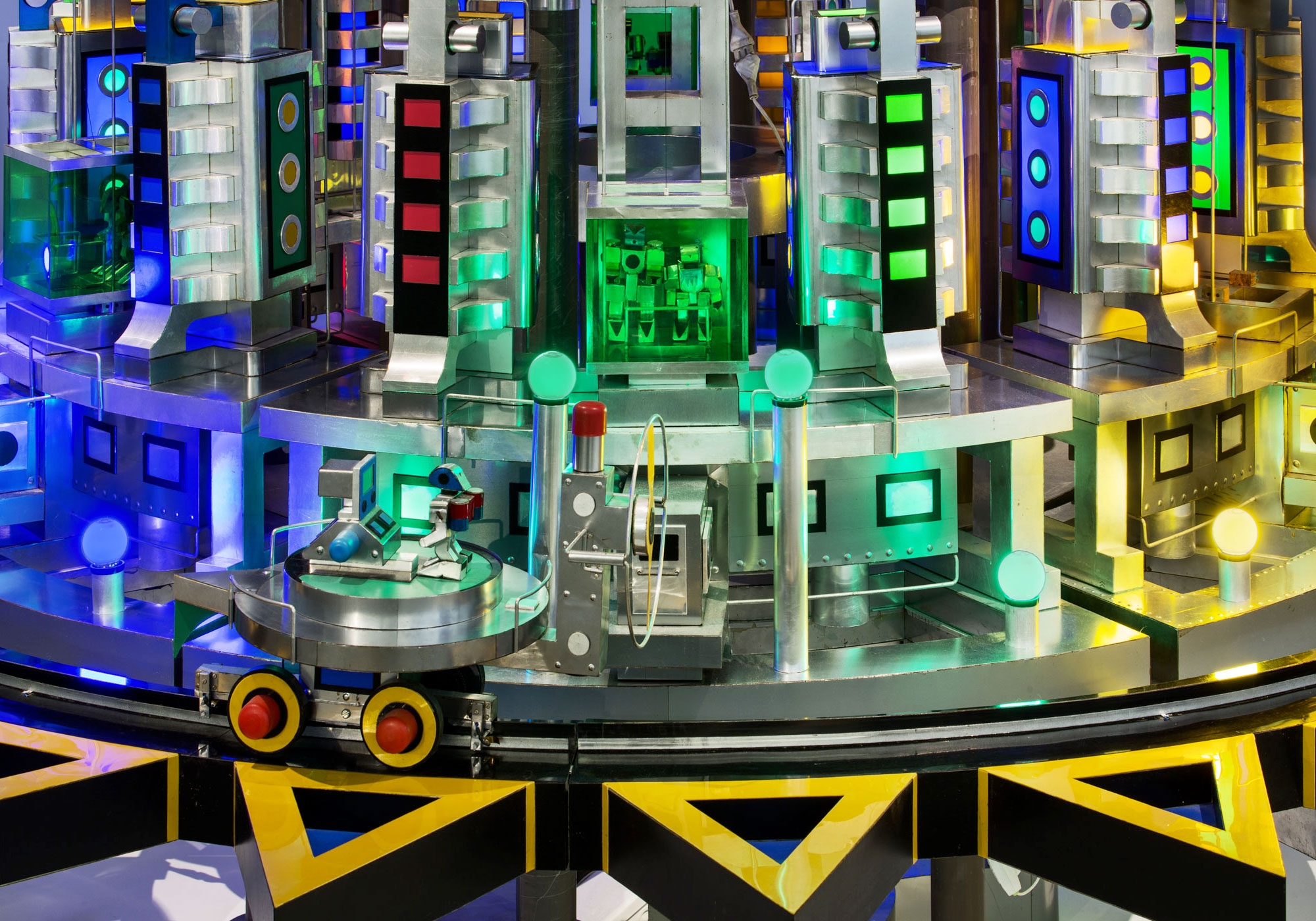 Cité des étoiles [detail] - 2006
315 x 306 x 306 cm
Steel, aluminium, plastic, wood, glass and electrical components

Photo © Luc Boegly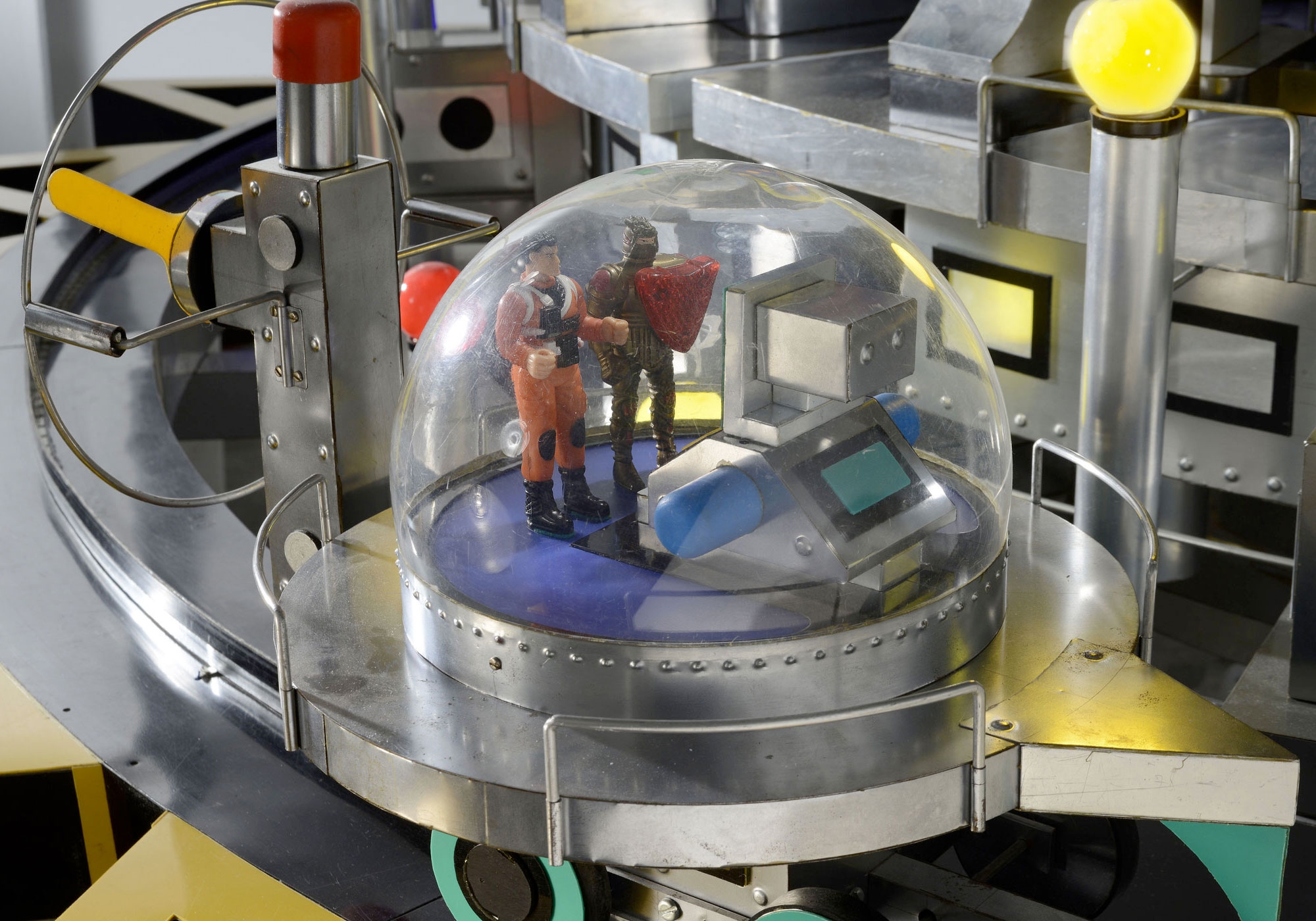 Cité des étoiles [detail] - 2006
315 x 306 x 306 cm
Steel, aluminium, plastic, wood, glass and electrical components

Photo © Maurice Aeschimann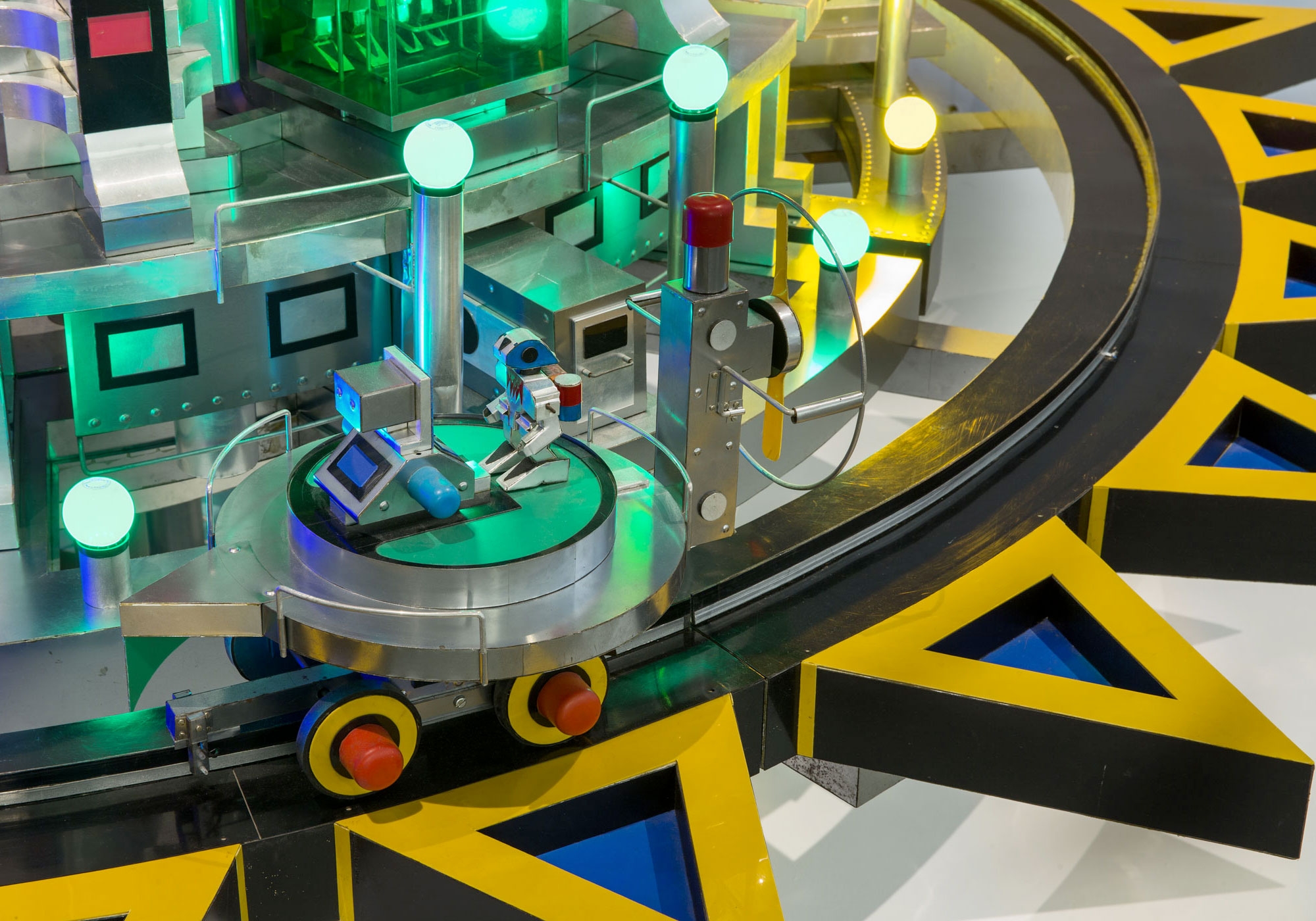 Cité des étoiles [detail] - 2006
315 x 306 x 306 cm
Steel, aluminium, plastic, wood, glass and electrical components

Photo © Luc Boegly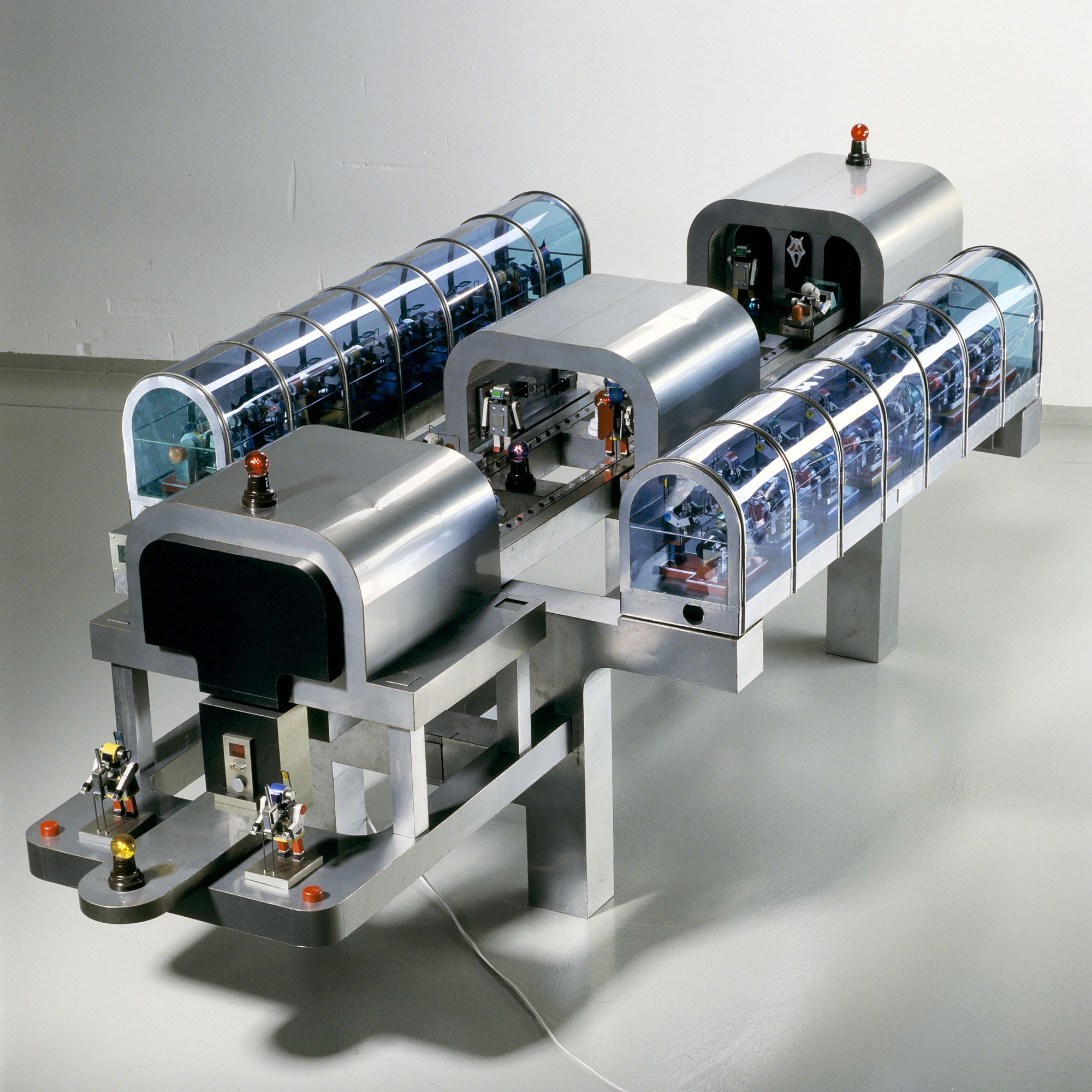 Robot Factory (Usine Robotisée) - 2003
97.2 x 123.2 x 328.9 cm
Iron, steel, aluminium, copper, rubber, cardboard, wood and glass

Photo © Maurice Aeschimann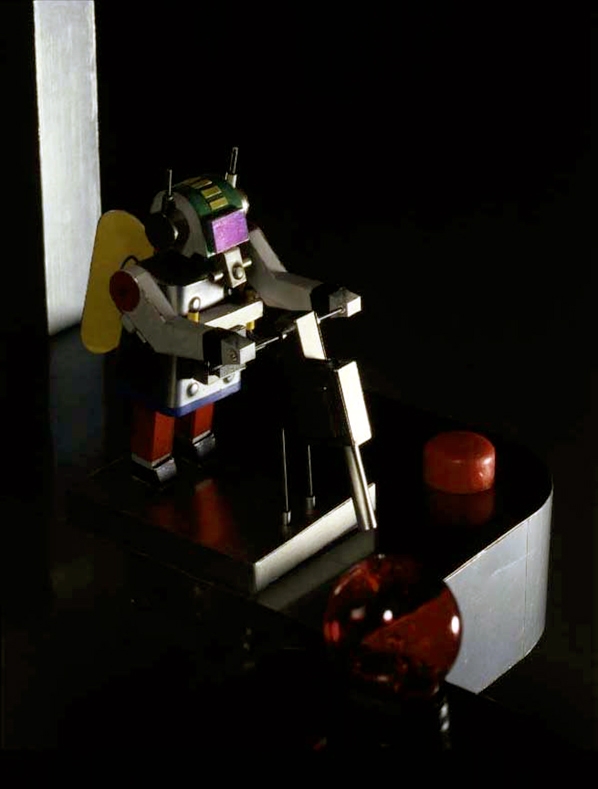 Robot Factory (Usine Robotisée) [detail] - 2003
97.2 x 123.2 x 328.9 cm
Iron, steel, aluminium, copper, rubber, cardboard, wood and glass

Photo © Maurice Aeschimann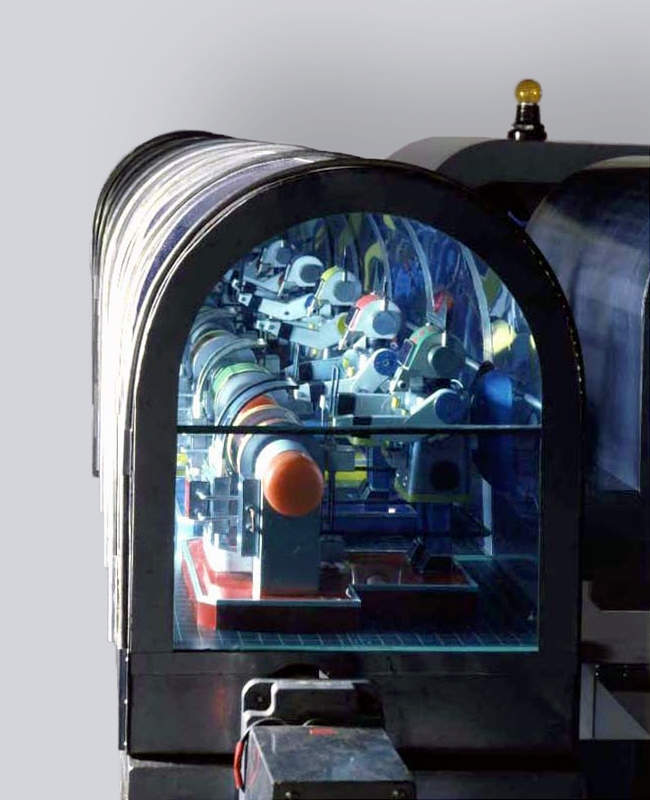 Robot Factory (Usine Robotisée) [detail] - 2003
97.2 x 123.2 x 328.9 cm
Iron, steel, aluminium, copper, rubber, cardboard, wood and glass

Photo © Maurice Aeschimann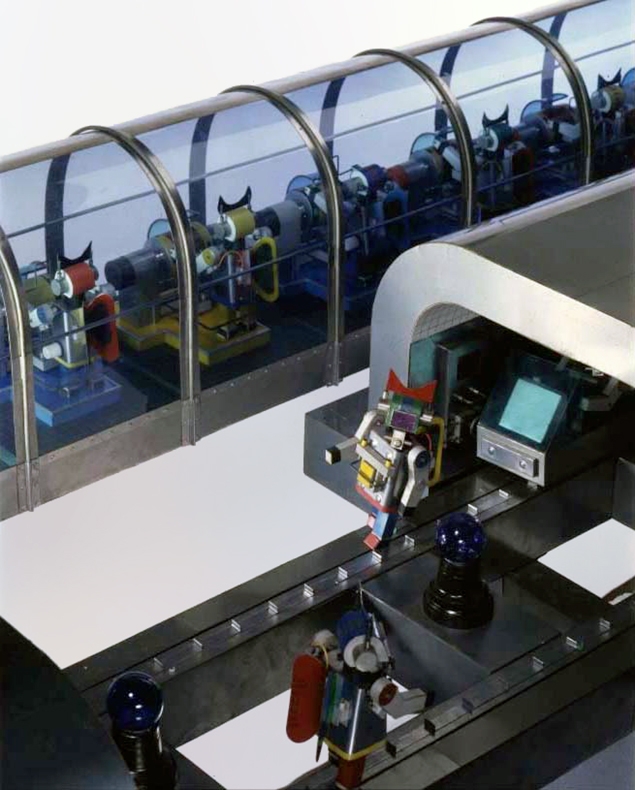 Robot Factory (Usine Robotisée) [detail] - 2003
97.2 x 123.2 x 328.9 cm
Iron, steel, aluminium, copper, rubber, cardboard, wood and glass

Photo © Maurice Aeschimann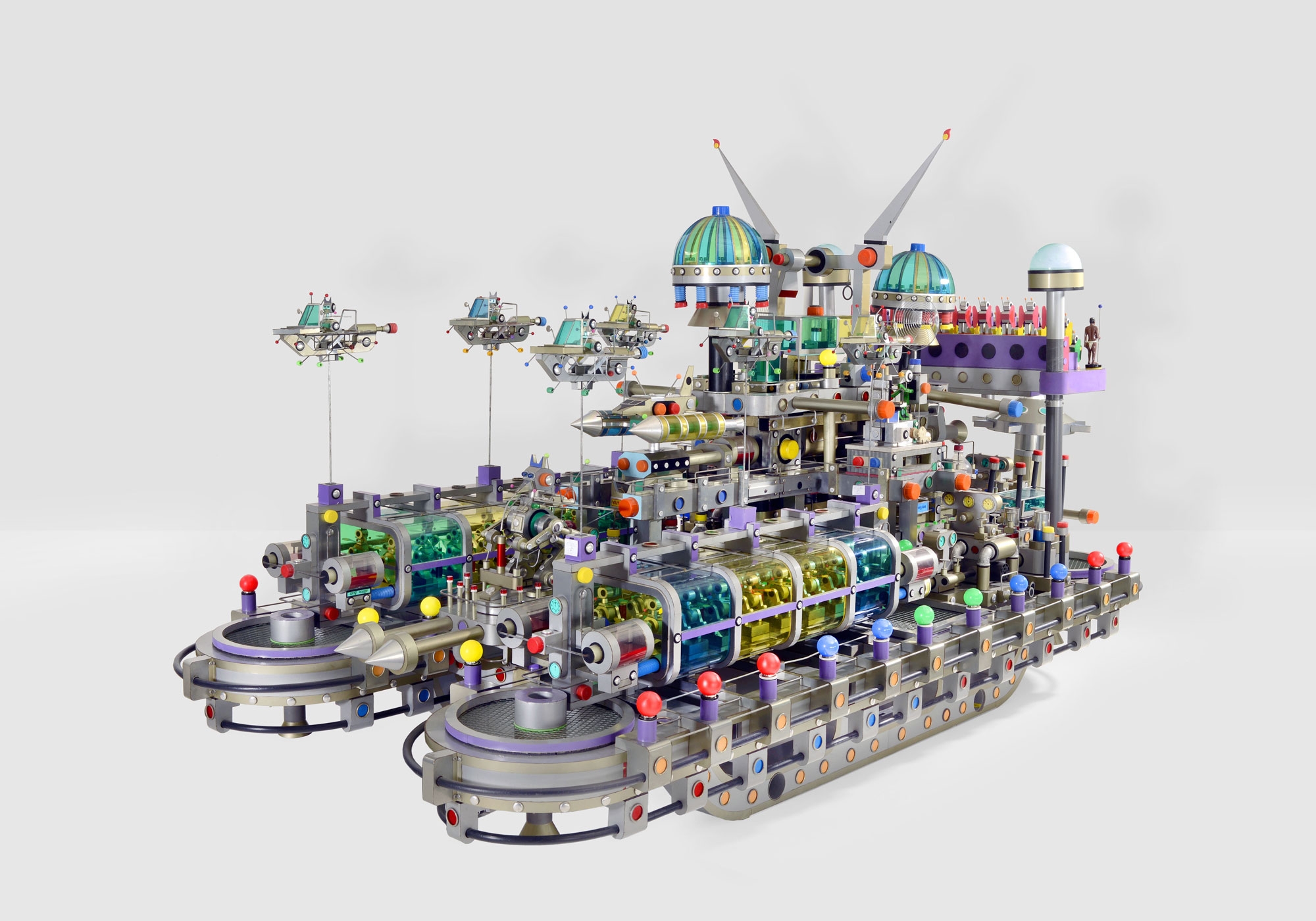 Station Vampires - 2013
321 x 138 x 158 cm
Iron, aluminium, plastic, found material and electric material

Photo © Maurice Aeschimann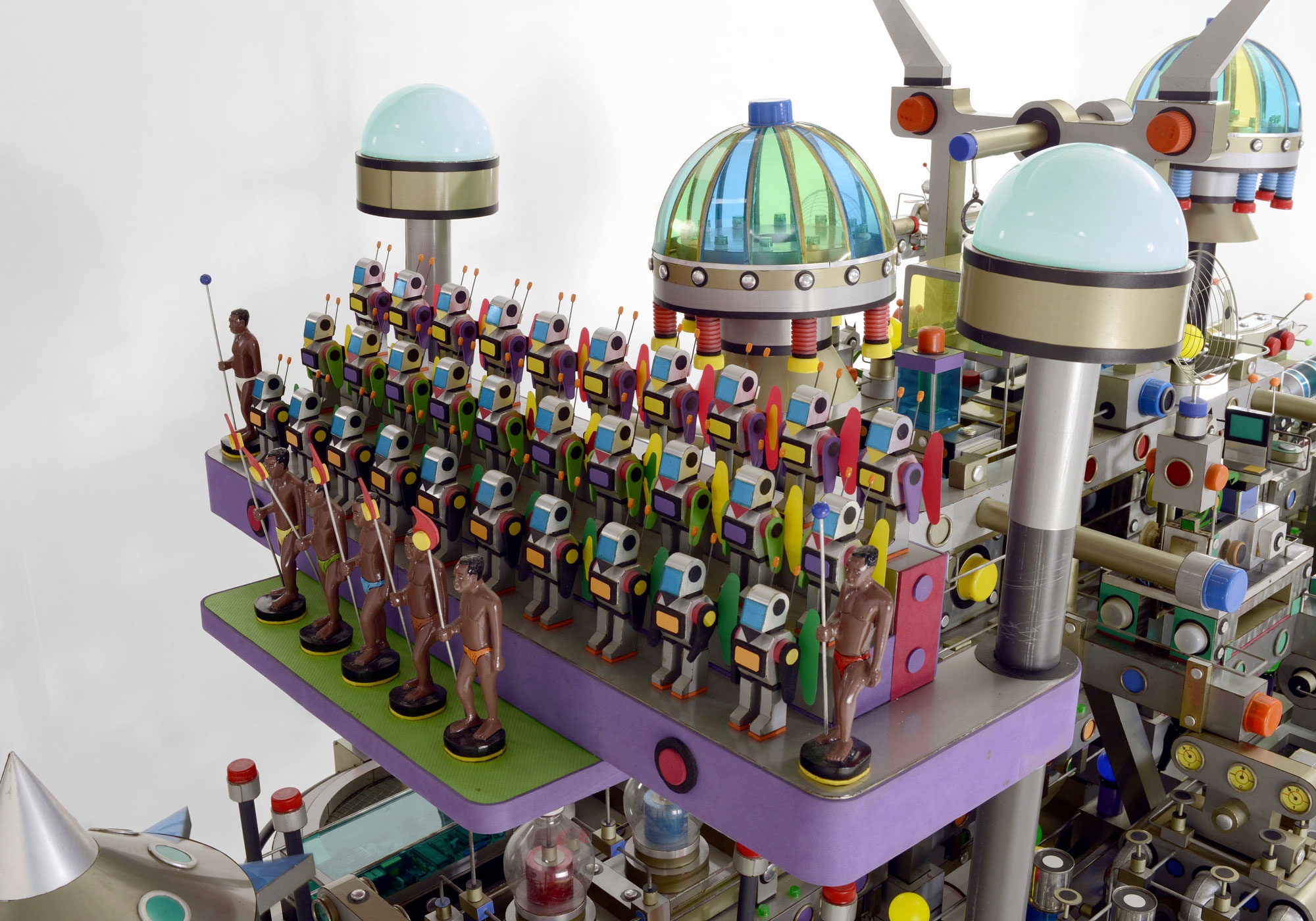 Station Vampires - 2013
321 x 138 x 158 cm
Iron, aluminium, plastic, found material and electric material

Photo © Maurice Aeschimann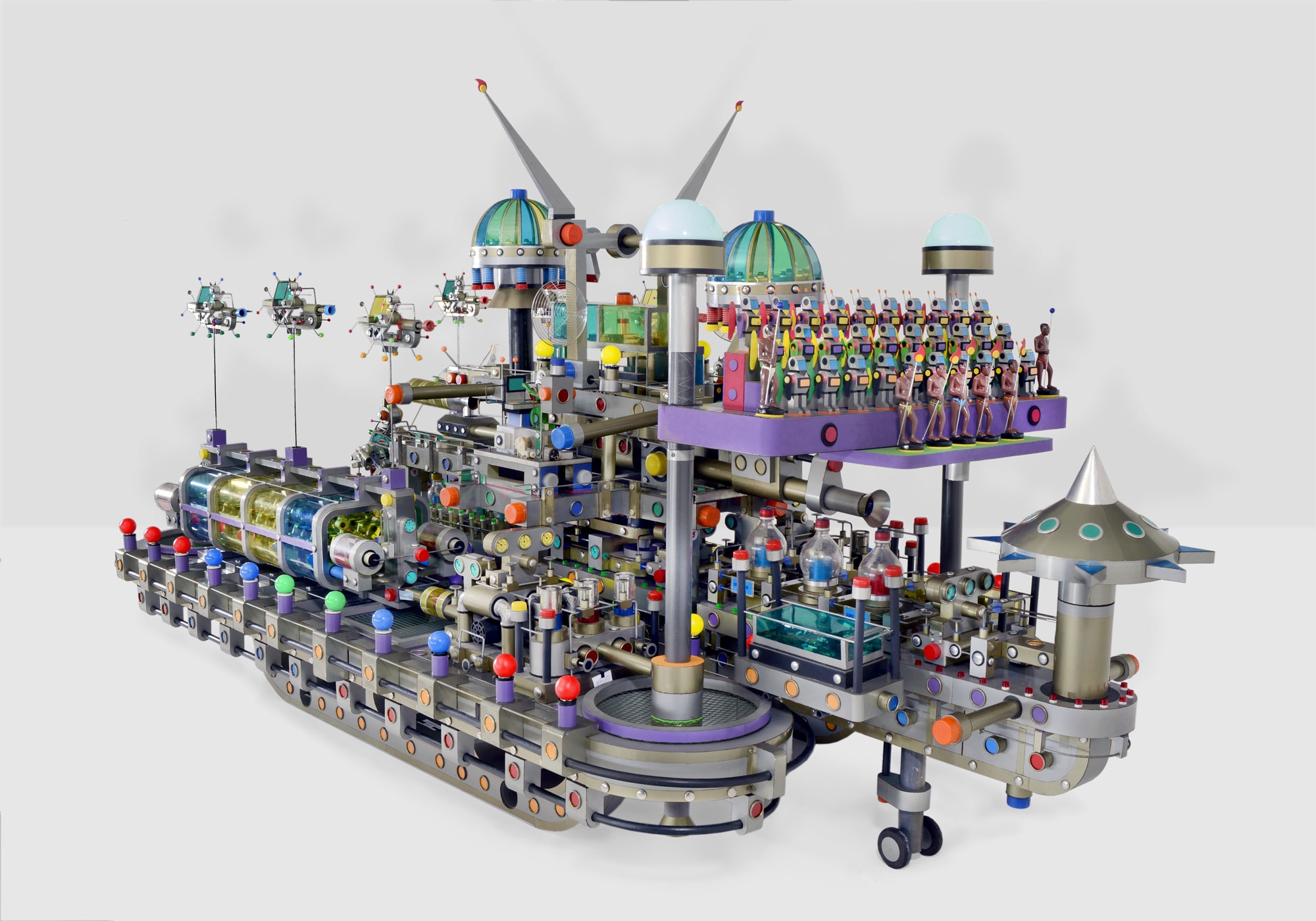 Station Vampires - 2013
321 x 138 x 158 cm
Iron, aluminium, plastic, found material and electric material

Photo © Maurice Aeschimann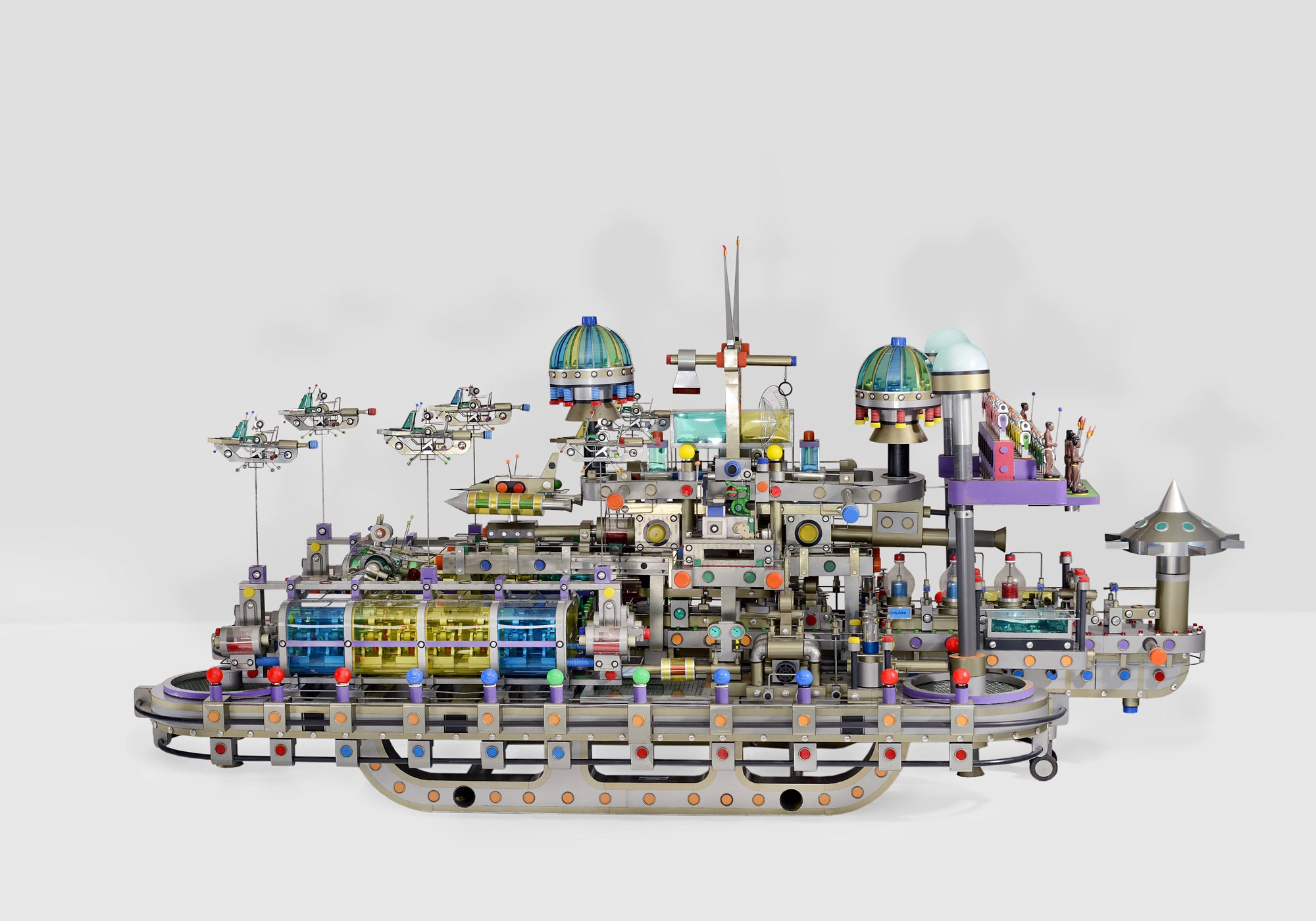 Station Vampires - 2013
321 x 138 x 158 cm
Iron, aluminium, plastic, found material and electric material

Photo © Maurice Aeschimann
Station Vampires - 2013
321 x 138 x 158 cm
Iron, aluminium, plastic, found material and electric material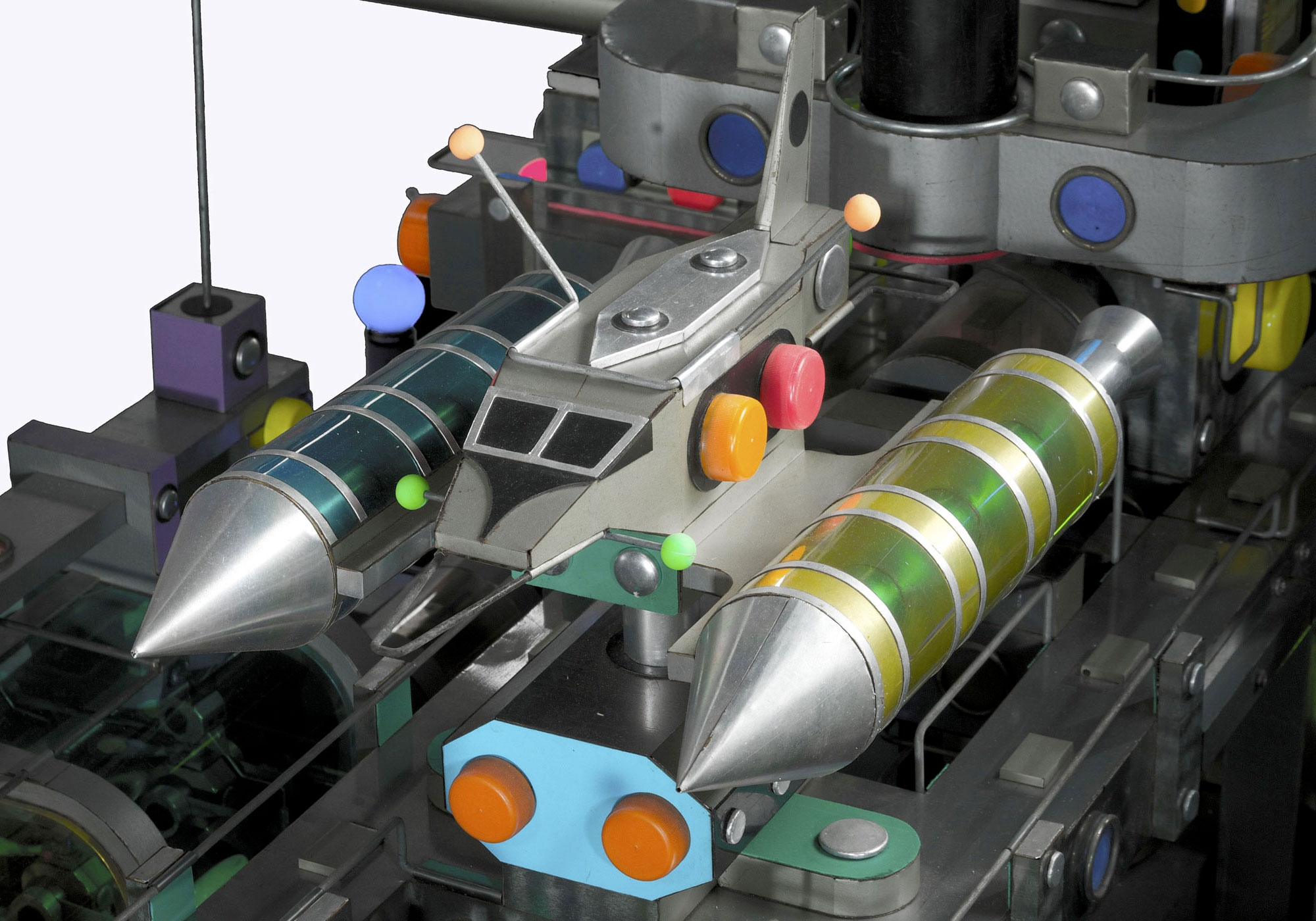 Station Vampires [detail] - 2013
321 x 138 x 158 cm
Iron, aluminium, plastic, found material and electric material

Photo © Maurice Aeschimann
Station Vampires [detail] - 2013
321 x 138 x 158 cm
Iron, aluminium, plastic, found material and electric material

Photo © Maurice Aeschimann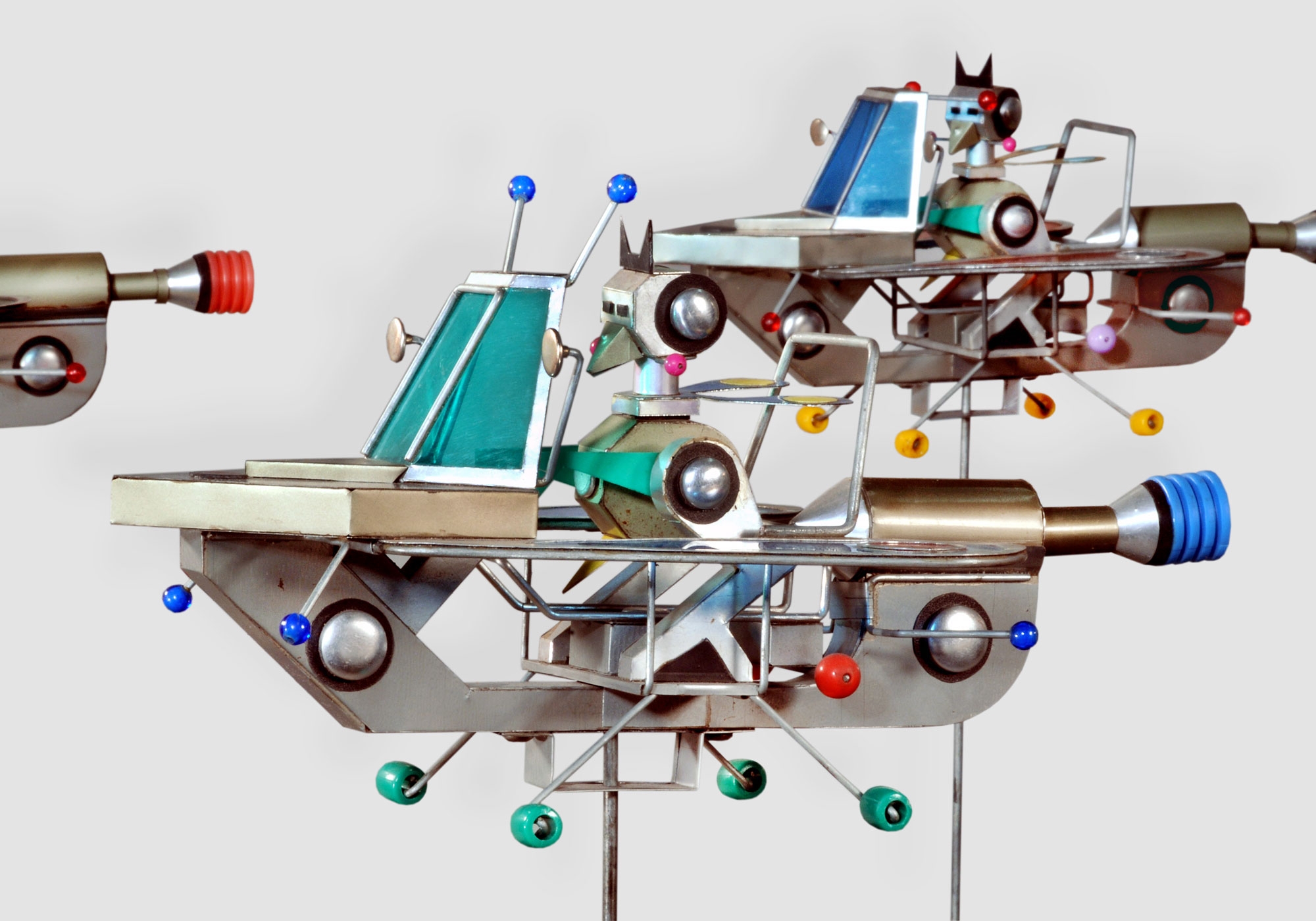 Station Vampires [detail] - 2013
321 x 138 x 158 cm
Iron, aluminium, plastic, found material and electric material

Photo © Maurice Aeschimann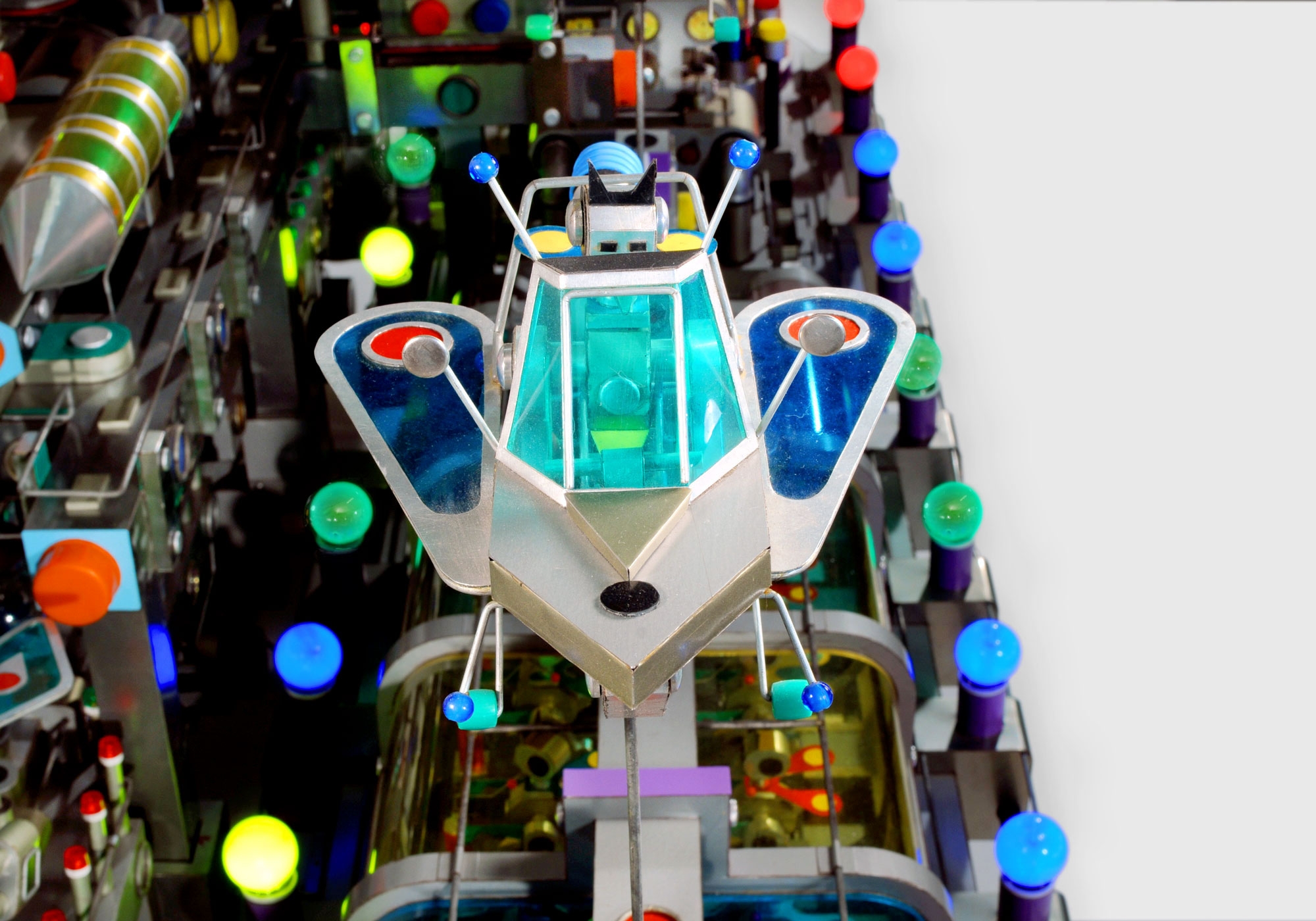 Station Vampires [detail] - 2013
321 x 138 x 158 cm
Iron, aluminium, plastic, found material and electric material

Photo © Maurice Aeschimann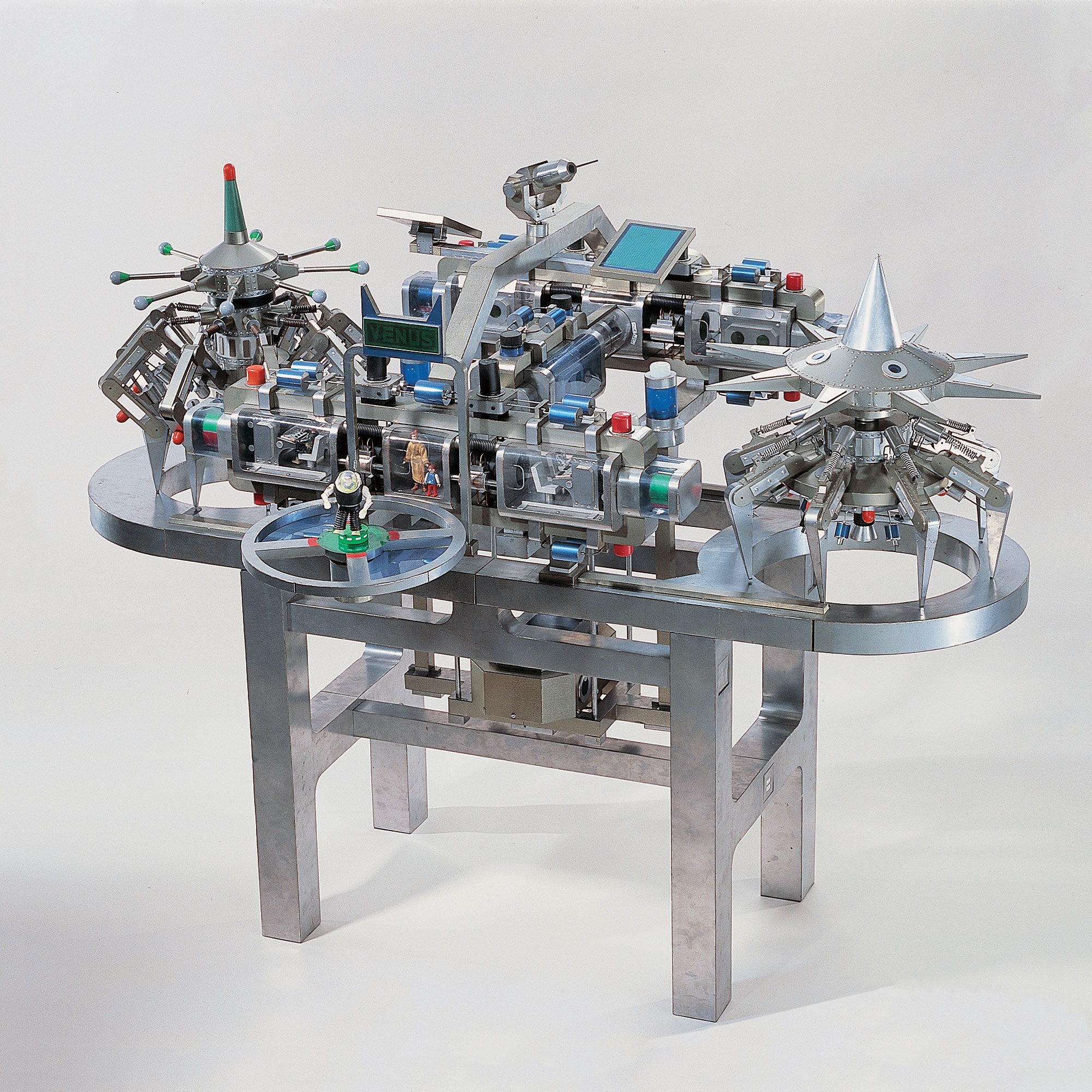 Venus - 2001
147 x 177.3 x 164.4 cm
Iron, steel, aluminum, copper, plastic material, and electrical materials

Photo © Maurice Aeschimann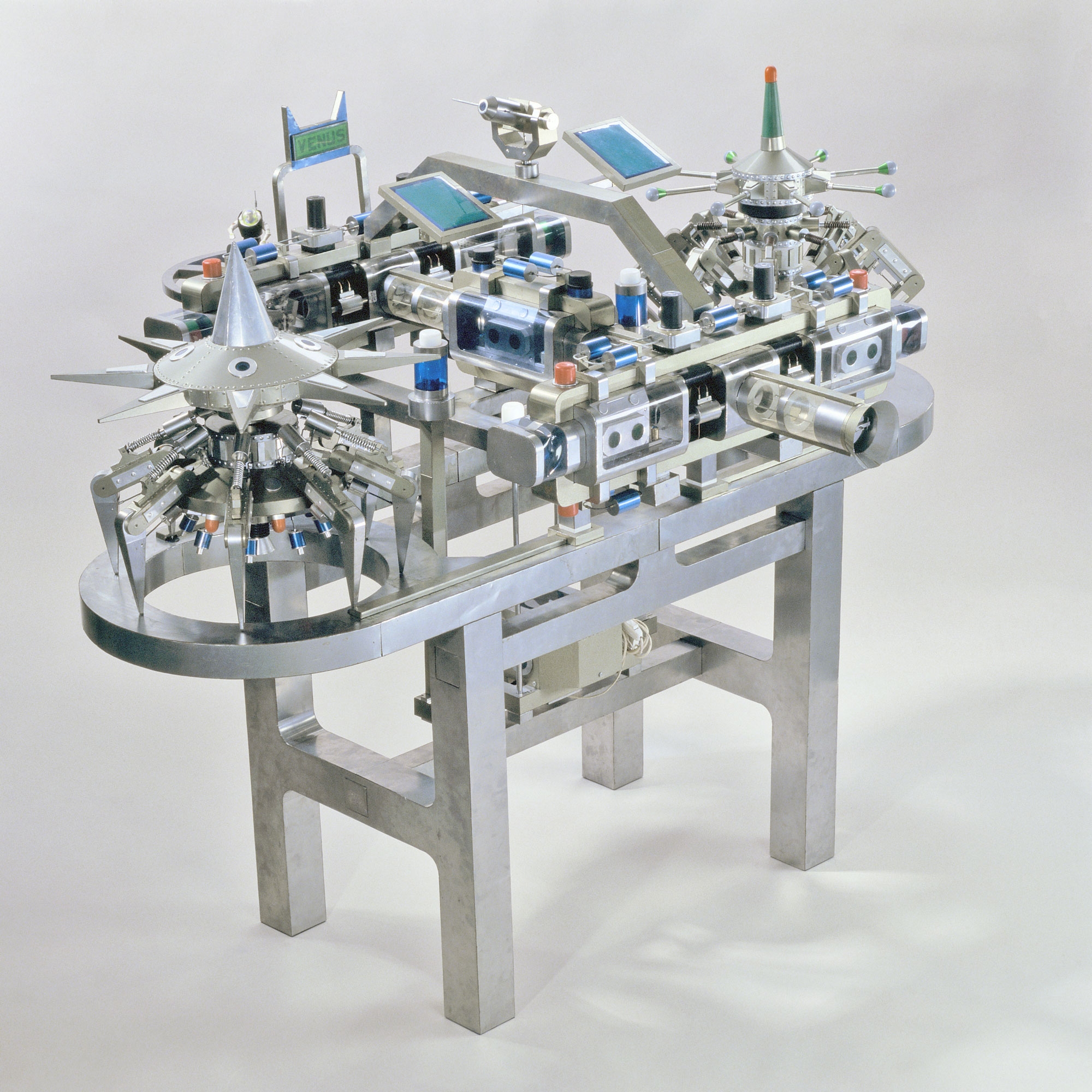 Venus - 2001
147 x 177.3 x 164.4 cm
Iron, steel, aluminum, copper, plastic material, and electrical materials

Photo © Maurice Aeschimann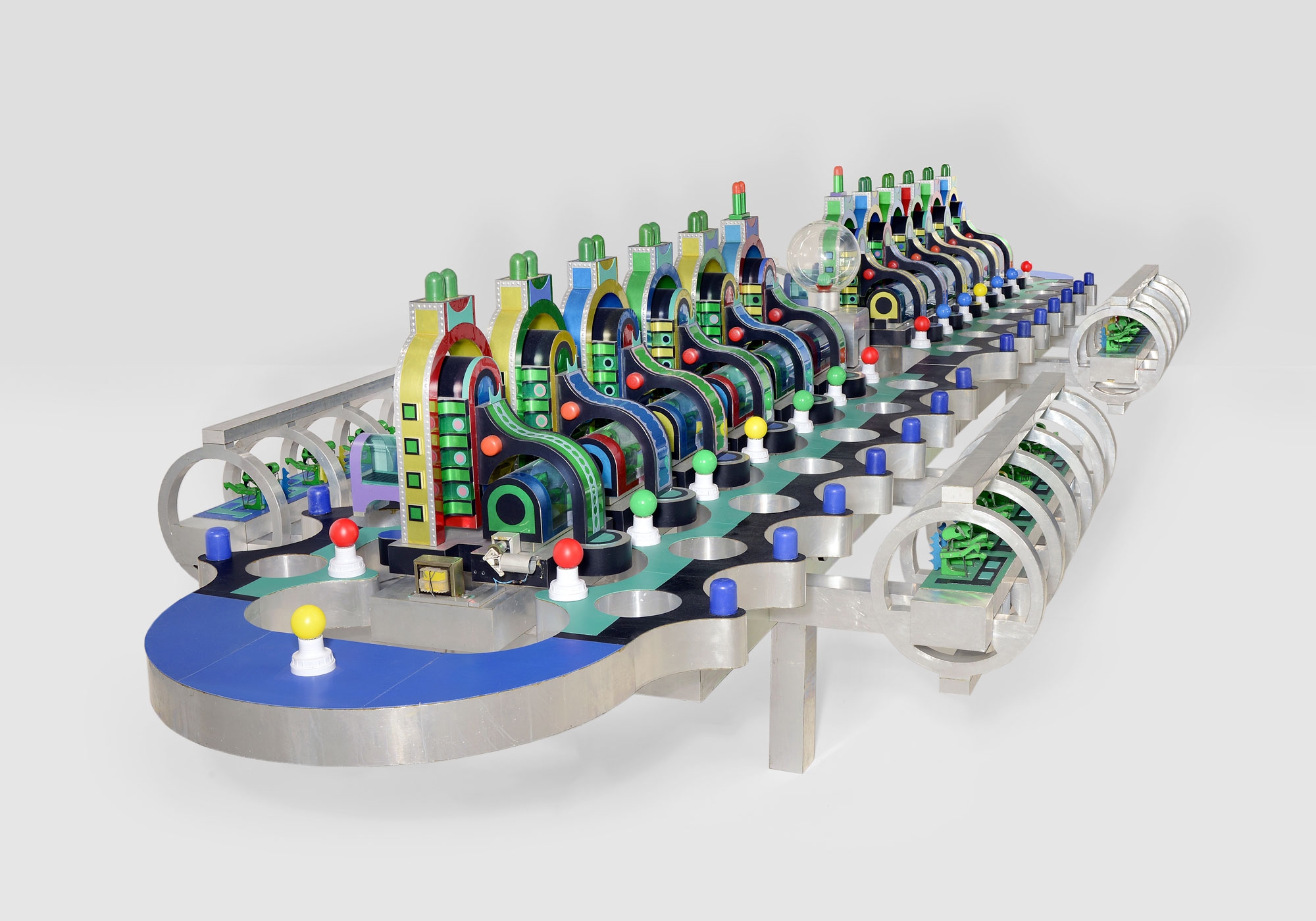 Ville Intergalactique - 2005
112 x 172 x 510 cm
Metal, aluminium, plastic, light bulbs and electrical materials

Photo © Maurice Aeschimann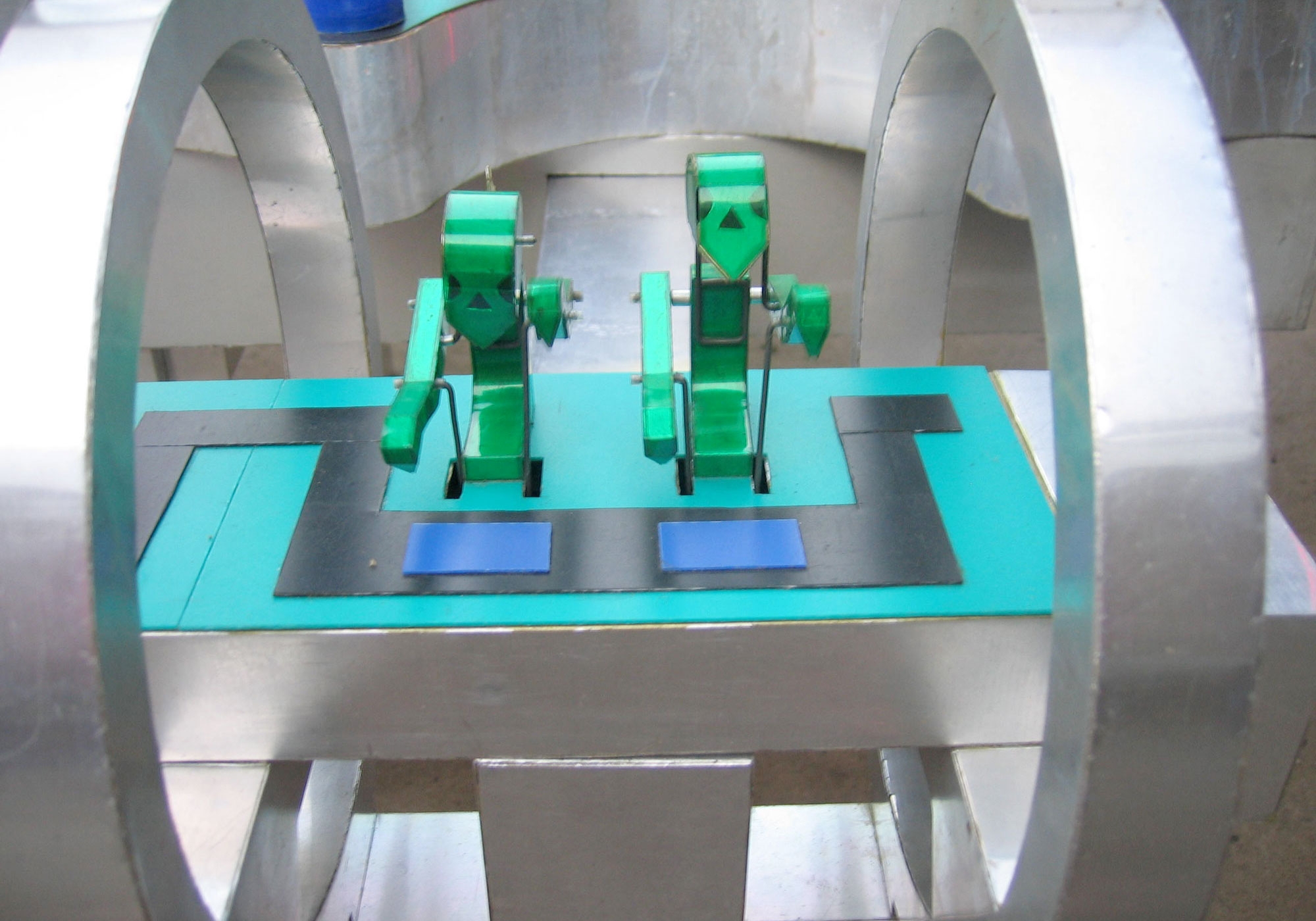 Ville Intergalactique [detail] - 2005
112 x 172 x 510 cm
Metal, aluminium, plastic, light bulbs and electrical materials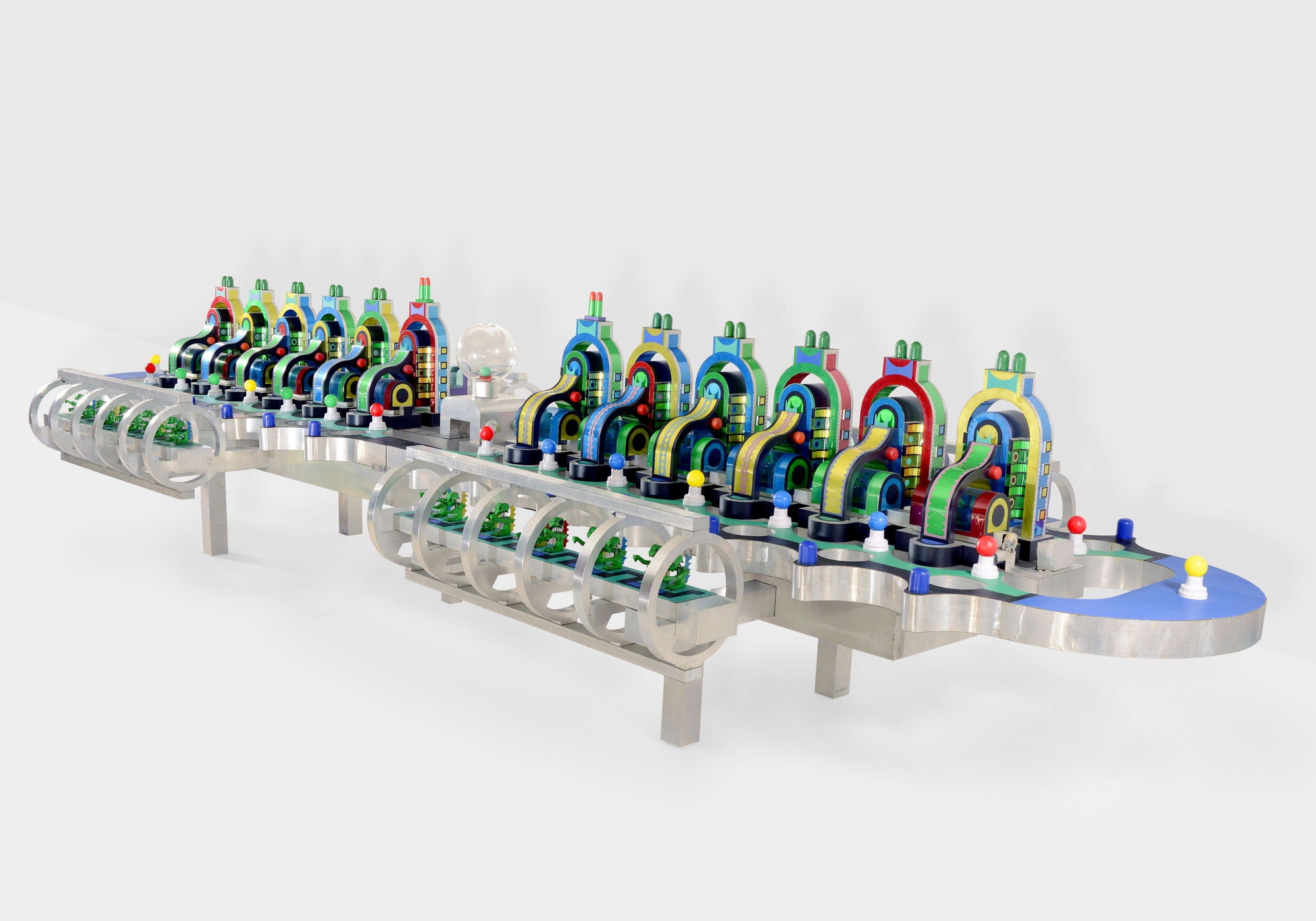 Ville Intergalactique [detail] - 2005
112 x 172 x 510 cm
Metal, aluminium, plastic, light bulbs and electrical materials

Photo © Maurice Aeschimann
Rigobert Nimi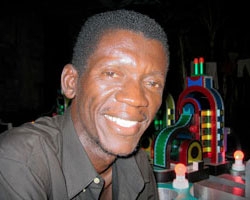 Born 1965, Tshiela, Bas-Congo, Democratic Republic of Congo

Lives and works in Kinshasa, Democratic Republic of Congo
Living in the midst of the chaos that is contemporary Kinshasa, Rigobert Nimi brings an engineer's idealism to his commitment to better the world through his art. For Nimi, imagination and creativity are tools to relieve suffering and the difficulties of life. He has commented on his work: "To conceive and construct these machines with rigor and precision is a way for me to make my dreams become concrete realities, to forget everyday life and its difficulties. It is courage, primarily, that has allowed me to succeed. Young artists here are an ignored resource. We are not valued by those who should be encouraging and helping us."
Nimi has acknowledged that cartoons and science-fiction movies were an early inspiration, and since the year 2000 he has produced a remarkable series of intricate space ships and robot factories. Each work requires careful planning; Nimi calculates and sketches every step of the machine's construction in advance. He employs recycled materials—industrial detritus, plastic, sheet metal, aluminum, electric components—that he finds in Kinshasa. Cutting, transforming, and molding with his own hands, Nimi employs only five tools: a pair of scissors, a customized knife, universal pliers, bent-nosed pliers, and a ruler. General conception, method, and technical precision are constants in the execution of these monumental works which take more than fifteen months to complete. For Nimi, movement, sound and light are an integral part of the work; the mechanism must be simple, robust, and perform like clockwork.
For many years Nimi has been satisfied to sell his "toys," yet he dreams of finding the means to realize projects which will astonish the world. He defines himself as a searcher who aims to create extraordinary, impressive works, beyond what people have seen or imagined. Writing to André Magnin, the artist has declared: "To accomplish one's dreams requires patience and tenacity. What I am producing today has in fact a long history. . . . It has been necessary for you to find me and for you to acknowledge my talent in order for me to finally see a chance to believe in everything that was in my head."
SELECTED GROUP EXHIBITIONS
2020

Alpha Crucis, Astrup Fearnley Museet, Oslo, Norway (01.22 to 09.30 2020)
2017

Art/Afrique. Le NouvelAtelier, Fondation Louis-Vuitton, Paris, France
2015

L'art et la machine, Musée des Confluences, Lyon, France
2015

Beauté Congo – 1926-2015 – Congo Kitoko, Fondation Cartier, Paris, France
2014

Luminós/C/ity.Ordinary Joy: From the Pigozzi Contemporary African Art Collection, Ethelbert Cooper Gallery of African & African American Art, Harvard University, Cambridge, MA, USA
2013/2014

Kin-Babi, Cécile Fakhoury Gallery, Abidjan, Ivory Coast
2011

JapanCongo, Magasin Grenoble, France
2006

"100% Africa", Guggenheim Bilbao, Spain, Oct 2006- Feb. 2007
2005

Arts of Africa, Grimaldi Forum, Monaco, France
2005

African Art Now : Masterpieces from the Jean Pigozzi Collection, Museum of Fine Art Houston, USA
SELECTED BIBLIOGRAPHY
2017

"The Insiders", a selection of works (1989 to 2009) from the Jean Pigozzi collection of African art, Fondation Louis Vuitton Exibition Catalogue, Editions Dilecta
2015

L'art et la machine, Musée des Confluences, Exhibition catalogue, Lienart publishers, Paris
2006

"100% Africa", published by the Guggenheim Bilbao
2005

African Art Now: Masterpieces from the Jean Pigozzi Collection

Exhibition catalogue. Published by Merrell.