The Jean Pigozzi African Art Collection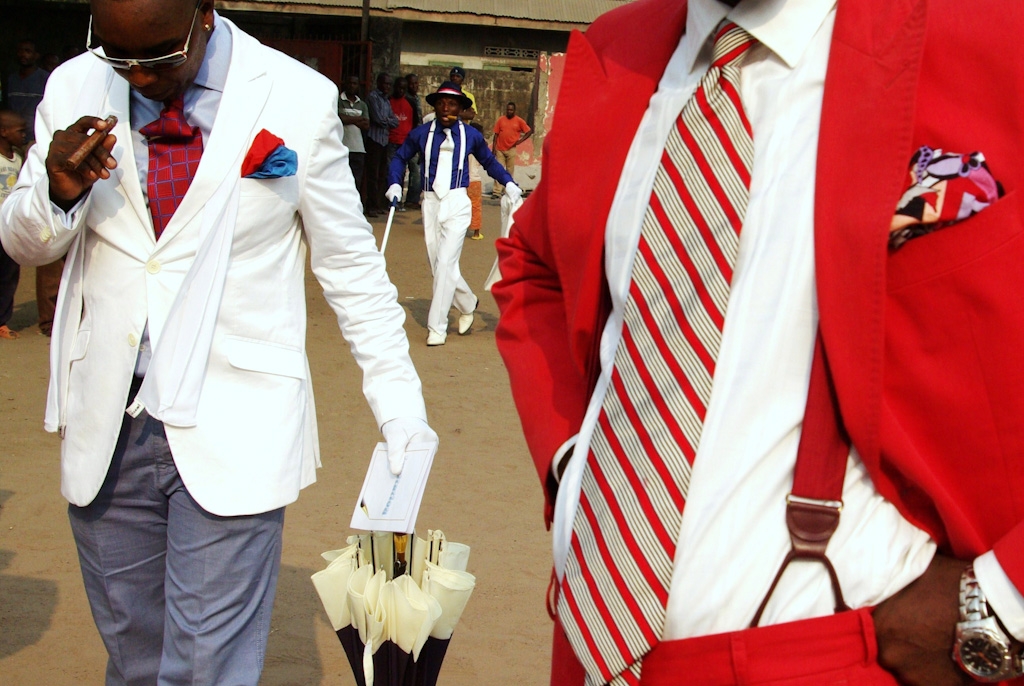 Sapeur de Bacongo - 2008
93 x 70.5 cm
C-Print
Série : S.A.P.E, Congo Brazzaville, 2008

Photo © Baudouin Mouanda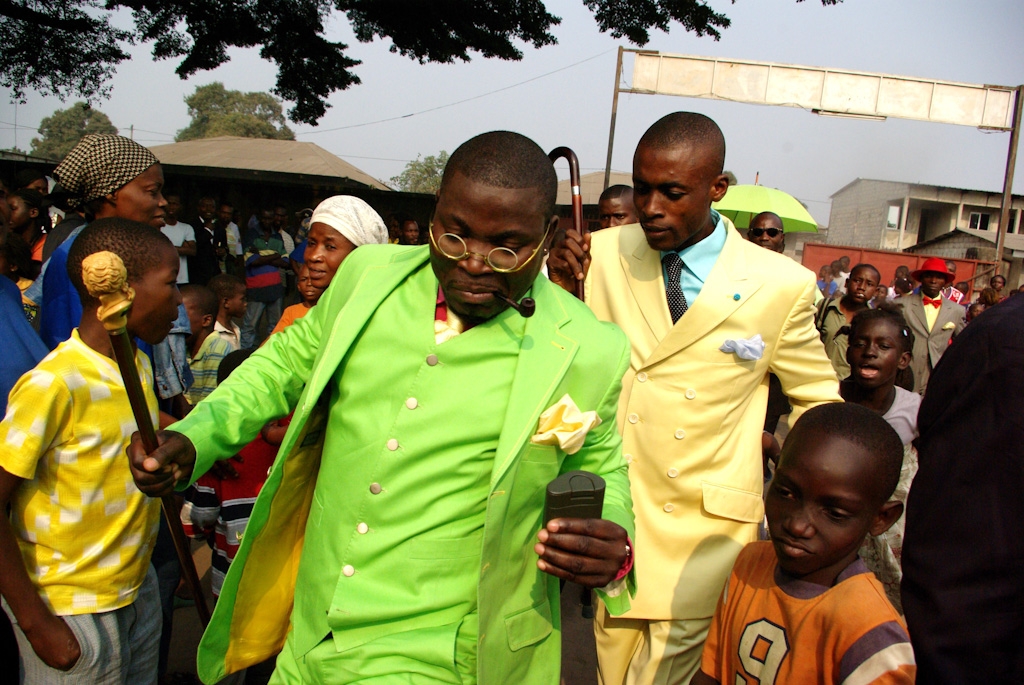 Sapeur de Bacongo - 2008
93 x 70.5 cm
C-Print
Série : S.A.P.E, Congo Brazzaville, 2008

Photo © Baudouin Mouanda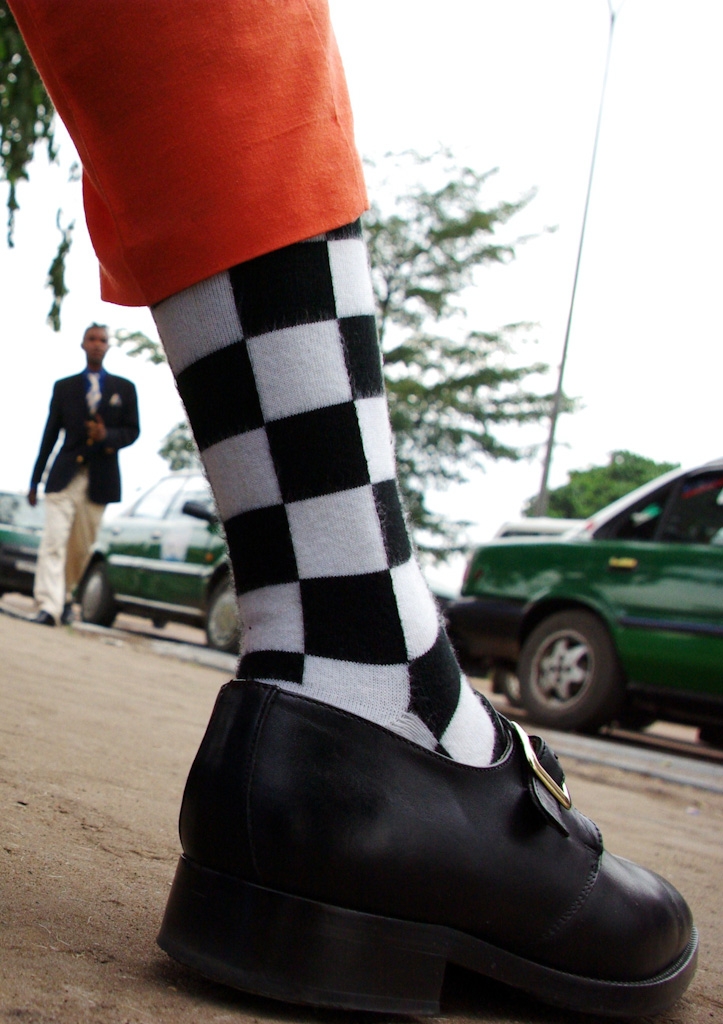 Sapeur de Bacongo - 2008
93 x 70.5 cm
C-Print
Série : S.A.P.E, Congo Brazzaville, 2008

Photo © Baudouin Mouanda
Baudouin Mouanda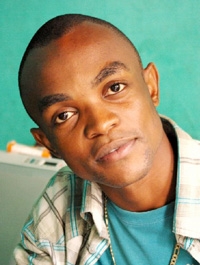 Baudoin Mouanda (1981), Congolese photographer, member of the Collectif Generation Elil and in Africa in visu.

He began photography in 1993. He quickly column for local newspapers Brazzaville life and is nicknamed "Photouin." He turns away from the conformism (photo studio, family, souvenir photo, portrait) and takes a recriminatory look on the repeated wars that Congo has known in his work "The Aftermath of War."

Elected Best Photographer by the jury of the Academy of Fine Arts in Kinshasa and recently awarded at the 5th Francophone Games in Niamey (Niger), where he represented the Congo in 2005, Baudouin Mouanda is selected three times in international competition for the Paris Match Grand Prix of student photo report / SFR, he was one of 30 candidates selected from 4000.

In 2007, he has a residence in Paris where he attended an advanced course in CFPJ (Centre for Training and Development in Journalism).

He took the opportunity to achieve a personal work of Congolese society in Paris and the suburbs called "the Sapologie." He continued in 2008 in Brazzaville. In 2009-2010, he exhibited this work on the SAPE as part of the exhibition "The Art of Being a Man" at the Musée Dapper in Paris.

In 2009, Baudouin Mouanda has been exposed as part of the Rencontres Africaines de la Photographie in Bamako where he was awarded the Young Talent Award and another one from the foundation Blachère. He has just completed a residency (Visa to create) for three months in Gabon in Libreville to develop his work "Hip-Hop and Society" and follow the presidential elections. In 2010, Baudouin Mouanda exhibited in Paris, Benin, and Arles. He is currently exhibiting his work on the Sape and Hip-Hop Expo in Helsinki in Ars 11.

Baudouin Mouanda publishes regularly in Afrique magazine, Jeune Afrique, VSD, L'Express Style and Planète Jeune. His work is part of several collections in France and abroad.
baudouinmouanda.fr

Collectif Génération Elili (Blog)

www.afriqueinvisu.org
SELECTED GROUP EXHIBITIONS
2020

Through an African Lens: Sub-Saharan Photography explores a variety of artistic styles and expression from the 1950s to the present.

MFA Houston, February 27–November 8, 2020
2017

I Love Africa, Festival Photo La Gacilly, France
Festival international Emoiphotographique - Angoulême, France
Ela-Espace Luanda Art - Luanda, Angola
2016

Fête de la Francophonie / Espace - Conton, Wuhan, Kunming, Beijing, China
Marie de Paris - Paris, France
Le Trottoir de Savoir - Paris, France
2015

Festival international de Kyotographie - Kyoto, Japan
Festival international OSTRALE' - Dresden, Germany
Sur le trottoir de savoir / Festival Cinema D'Afrique Suisse Lausanne - Zurich, Switzerland
2014

African Emerging Photography / Villa des Arts - Rabat, Marocco
Clin d'oeil du collectif Elili / Espace - Brazzaville, Congo-Brazzaville
Ateliers réalisés à Malte / Espace - Malte, Greece
Festival international de Foto Festival / Espace - Knokke, Belgium
Festival international du Film Africain / Espace - New York, USA
Congolaise Dream / Biennale international de Dak'art - Dakar, Sénégal
Made in Congo / Chambre de commerce de Pointe Noire - Pointe-Noire, Congo-Kinshasa
2013

Les sapeurs de Bacongo / M.I.A GALLERY - Washington, USA
Institut de malabo Africa Emerging photography - Conakry, Guinée
L'institut français de Libreville - Libreville, Gabon
Musée d'art contemporain de Marseille - Marseille, France
Jeux de la francophonie / Espace - Nice, France
Joburg Art Fair - Johannesburg, South Africa
Musée national d'histoire naturelle - Luanda, Angola
2012

FESTIVAL DE L'AMITIE ET DE LA CITOYENNETE / La Manufacture - Roubaix, France
SCOTABANK CONTACT PHOTOGRAPHY FESTIVAL / Museum contemporain canadian Art - Toronto, Canada
Addis Foto Festival / Espace - Addis-Abeba, Ethiopia
2011

Musée de Kiasma Helsinki - Helsinki, Finland
Collectif Elili / Centre Culturel Russe de Brazzaville - Brazzaville, Congo-Brazzaville
Festival de l'Oeil en seine / Espace - Paris, France
Studio Portrait de famille FNAC / Espace - Paris, France
Exposition collective / Rencontres d'Arles Photographie - Arles, France
Tracés de voyage / Gallerie IF - Paris, France
Africa Rising Louis vuitton / Edun Paris - Paris, France
Congo na bilili / Galerie Congo - Paris, France
Brigton photo Fringe Festival / Espace - London, UK
2009

Festival de Photographie des Arts du dessin / Espace - Kinshasa, Congo-Kinshasa
Visa pour Bamako / Alliance Française d'Accra - Accra, Ghana
Invitation africaine / Centre de la photographie de Brest - Brest, France
2007

Exposition Biennale des arts visuels / Espace - Douala, Cameroon
La Semaine de l'Afrique / Ecole Normale Supérieure - Paris, France
2006

Nouvelle Africaine / Espace - Paris, France
2005

Centre culturel français de Brazzaville / Espace - Brazzaville, Congo-Brazzaville
Rencontres Africaines de la photographie / Espace - Bamako, Mali
SELECTED SOLO EXHIBITIONS
2019

Bilili ya Congo [Rétrospective du Travail de Baudouin MOUANDA (2000 – 2018)], Brazza-Art Galerie, Brazzaville, Congo Republic
2017

Les Sapeurs de Bacongo - Bretagne, France
2016

Sur le trottoir du Savoir - Baudouin Mouanda, ENSAPM, Paris, France
Exposition individuelle / Royal Monceau & Marie Finaz Gallery - Paris, France
2015

Exposition individuelle / Centre culturel Chiroux - Liège, Belgium
2013

Exposition individuelle / Institut français de Pointe noire - Brazzaville, Congo-Brazzaville
2012

Exposition individuelle / Institut français à Dresde - Dresden, Allemagne
2011
Exposition individuelle / Espace - Addis-Abeba, Éthiopie
Casa Africa / Espace - Madrid, Espagne
Exposition individuelle / Institut français à Rio de Jeneiro - Rio de Jeneiro, Brésil
Exposition et résidence / Gasworks Gallery - London, Royaume-Uni
Exposition individuelle / Institut français à Kinshasa - Kinshasa, Congo-Kinshasa
La rencontre de Paris Photo / Espace - Paris, France
Exposition individuelle / Institut français de Brazzaville - Brazzaville, Congo-Brazzaville
2010

Exposition individuelle / Espace - Anvers & Bruxelles, Belgique
Exposition individuelle / Arts gallery Afrique du sud - Johannesburg, Afrique du Sud
Rencontre internationale de Fes / Espace - Fes, Maroc
Les Sapeurs / Tour Bolloré - Paris, France
Exposition individuelle / Musé de Confluences - Lyon, France
SELECTED BIBLIOGRAPHY
2019

Bilili Ya Congo,exhibition catalogue, Lelivredart
2017

Festival Photo La Gacilly - édition 2017 "I Love Africa", exhibition catalogue, pgs 82-87