The Jean Pigozzi African Art Collection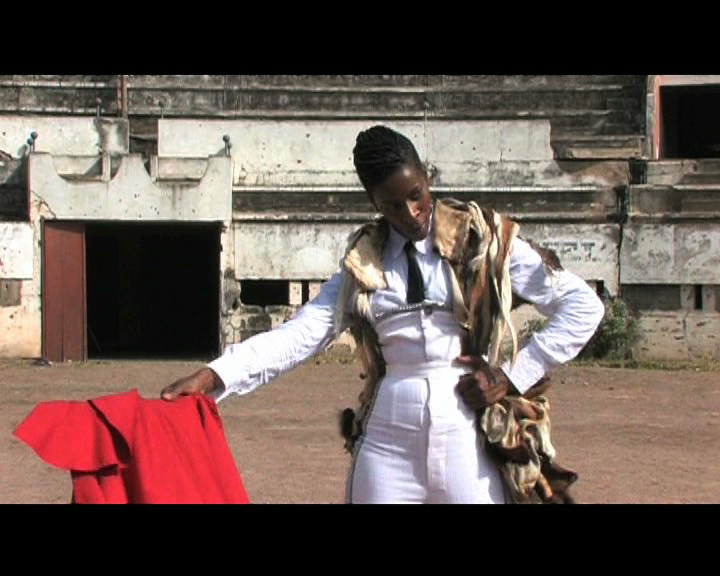 Ukugenisa - 2008
Digital Video, Sound
Runtime: 2 Minutes, 30 Seconds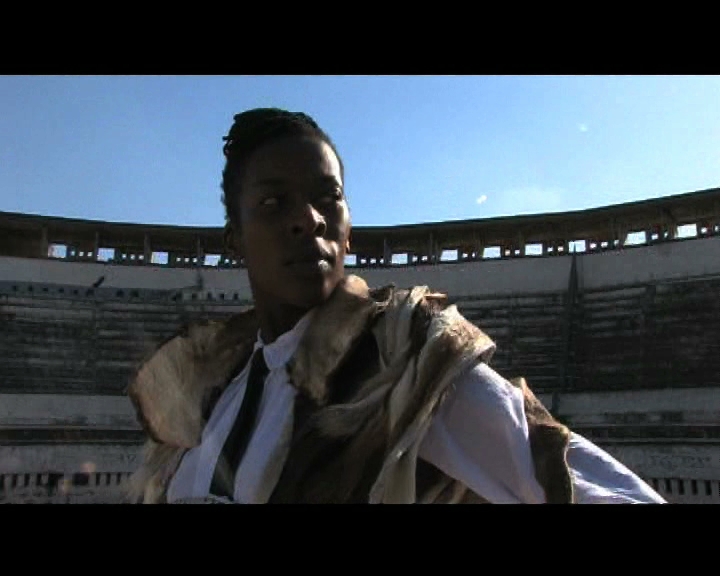 Ukugenisa - 2008
Digital Video, Sound
Runtime: 2 Minutes, 30 Seconds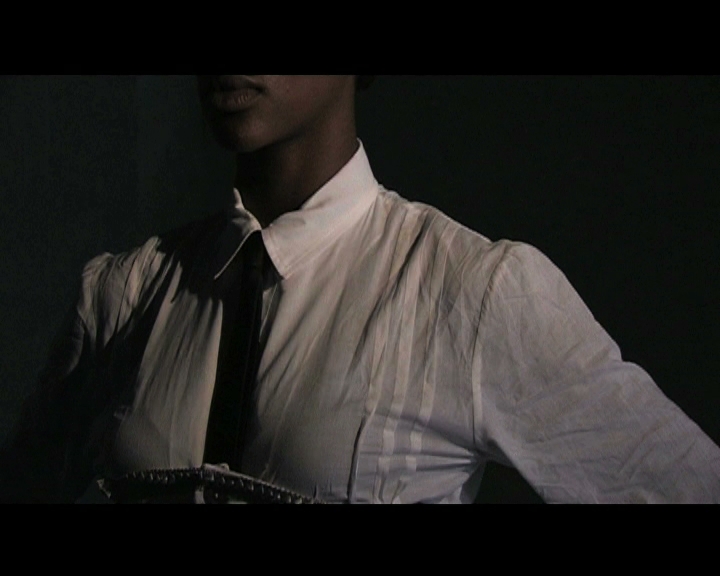 Ukugenisa - 2008
Digital Video, Sound
Runtime: 2 Minutes, 30 Seconds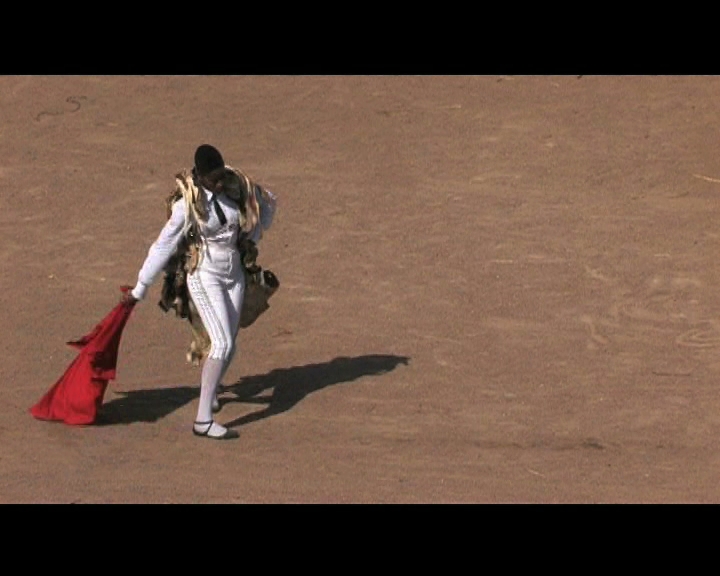 Ukugenisa - 2008
Digital Video, Sound
Runtime: 2 Minutes, 30 Seconds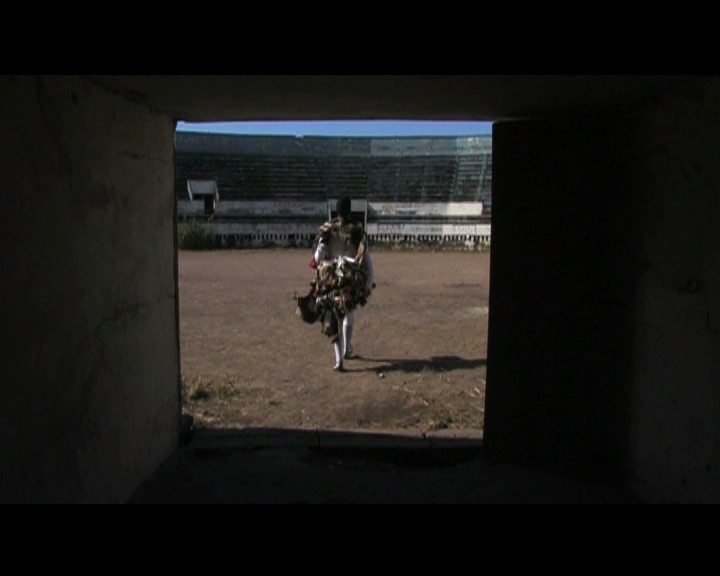 Ukugenisa - 2008
Digital Video, Sound
Runtime: 2 Minutes, 30 Seconds
Nandipha Mntambo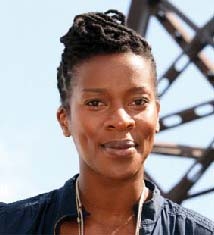 Born in Swaziland, Southern Africa, in 1982

Lives and works in Johannesburg, South Africa.
Mntambo graduated with a Masters in Fine Art (with distinction) from the Michaelis School of Fine Art, University of Cape Town, in 2007. She won the Standard Bank Young Artist Award for Visual Art in 2011, for which she produced the national travelling exhibition Faena.
Mntambo's work focuses on the human body and the organic nature of identity, using mainly natural materials and experimenting with sculptures, videos and photography. One of her favourite materials is the skin of the cow, often also used as a covering for human bodies - boneless sculptures - and thus oscillating between evoking the garments that can be shod at will and the bodies that once contained living, breathing, masticating beings with four stomachs. Mntambo embraces this ambiguity and likes to play with the tension between the sightly and the unsightly by manipulating how her viewers negotiate the two aspects of the hide.
She states:
"My intention is to explore the physical and tactile properties of hide and aspects of control that allow or prevent me from manipulating this material in the context of the female body and contemporary art. I have used cowhide as a means to subvert expected associations with corporeal presence, femininity, sexuality and vulnerability. The work I create seeks to challenge and subvert preconceptions regarding representation of the female body."
"Themes of confrontation, protection and refuge play out particularly in relation to inner conflicts and to notions of self-love/hatred. The bronze, Sengifikile, uses my own features as a foundation, but takes on the guise of a bull. Referencing the head-and-shoulder busts of the Renaissance tradition I challenge male and female roles in society and expected associations with femininity, sexuality and vulnerability."
SOLO EXHIBITIONS
2019

Sikhala, Galerie Andrehn-Schiptjenko, Paris, France
2017

The snake you left inside me, Stevenson, Johannesburg, South Africa
Material Value, Zeitz Museum of Contemporary Art Africa, Cape Town, South Africa
2015

Love and its companions, Andréhn-Schiptjenko, Stockholm, Sweden
Metamorphoses, Stevenson, Cape Town, South Africa
2014

Transience, Stevenson, Johannesburg, South Africa
2013

Nandipha Mntambo, Inaugural Exhibition, Zeitz MOCAA Pavilion, Zeitz Museum of Contemporary Art Africa, Cape Town, South Africa
Nandipha Mntambo, Andrehn-Schiptjenko, Stockholm, Sweden
2012

Faena, Oliewenhuis Art Museum, Bloemfontein; Standard Bank Gallery, Johannesburg; University of Potchefstroom Art Gallery, South Africa
The Unspoken, Stevenson, Cape Town, South Africa
2011

Faena, National Arts Festival, Grahamstown; Nelson Mandela Metropolitan Art Museum, Port Elizabeth; Iziko South African National Gallery, Cape Town; Durban Art Gallery, South Africa
2009

Umphatsi Wemphi, Brodie/Stevenson, Johannesburg, South Africa
The Encounter, Michael Stevenson, Cape Town, South Africa
2007

Ingabisa, Michael Stevenson

Gallery, Cape Town
2007

Locating me in order to see you (Master's exhibition), Michaelis Gallery, Cape Town
GROUP EXHIBITIONS
2019

Speculative Inquiry #1 (On abstraction),Michaelis Galleries,Cape Town, South Africa
IncarNations: African Art as Philosophy,BOZAR Centre for Arts,Brussels, Belgium
Personal Structures –Identities,European Cultural Center -Italy,Venice, Italy
Made Visible: Contemporary South African Fashion and Identity,Museum of Fine Arts Boston,USA
2018

City Deep,The Centre for the Less Good Idea,Johannesburg, South Africa
Dance Africa Festival,Brooklyn Academy of Music, USA
Beyond Borders: Global Africa,University of Michigan Museum of Art, USA
Both, and,Stevenson, Cape Town, South Africa
Norval Sculpture Garden, Norval Foundation,Tokai, South Africa
Sculpture,Institute of Contemporary Art Indian Ocean, Port Louis, Mauritius
Not A Single Story, Nirox Winter Sculpture Fair, Johannesburg, South Africa
2017

Nandipha Mntambo and Per B Sundberg, Galerie Hervé van der Straeten, Paris, France
Afrique Capitales, La Vilette/Paris, France
When the Heavens Meet the Earth: Selected Works from the Sina Jina Collection of Contemporary Art, Heong Gallery, Downing College, Cambridge, UK
Jaguars and Electric Eels, Julia Stoschek Collection, Berlin, Germany
Regarding Africa: Contemporary Art and Afro-Futurism, Tel Aviv Museum of Art, Israel
The Future is Female, 21c Museum Hotel, Louisville, USA
2016

Dak'Art, 12th Dakar Biennale, Senegal
Disguise: Masks and Global African Art, Brooklyn Museum, New York, USA; Fowler Museum, UCLA School of the Arts and Architecture, Los Angeles, USA
2015

The Film Will Always Be You: South African Artists On Screen, Tate Modern, London, UK
Disguise: Masks and Global African Art, Seattle Art Museum, USA
What remains is tomorrow,South African Pavilion, 56th Venice Biennale, Italy
The Divine Comedy: Heaven, Purgatory and Hell Revisited by Contemporary African Artists, Smithsonian National Museum of African Art, Washington DC, USA
Material Matters: New Art from Africa,Institute of Contemporary Art Indian Ocean, Port Louis, Mauritius
Barriers: Contemporary South Africa, Wanås Konst, Southern Sweden
2014

Luminós/C/ity.Ordinary Joy: From the Pigozzi Contemporary African Art Collection, Ethelbert Cooper Gallery, Harvard University, Cambridge, MA, USA
Performance Now,Queensland University of Technology Art Gallery, Brisbane, Australia
Chroma, Stevenson, Cape Town, South Africa
The Danjuma Collection: One Man's Trash (Is Another Man's Treasure), 33 Fitzroy Square, London, UK
From Sitting to Selfie: 300 Years of South African Portraits, Standard Bank Gallery, Johannesburg, South Africa
The Divine Comedy: Heaven, Purgatory and Hell Revisited by Contemporary African Artists, MMK (Museum für Moderne Kunst), Frankfurt, Germany; SCAD Museum of Art, Savannah, Georgia, USA
AIMIA | AGO Photography Prize, Art Gallery of Ontario, Canada
2013

A Sculptural Premise,Stevenson, Cape Town, South Africa
My Joburg, La Maison Rouge, Paris, France
Female Power: Matriarchy, Spirituality and Utopia,Arnhem Museum, Arnhem, the Netherlands
To Be Real–Performance and Performativity,Videonale.14 Elektronenströme, Videonale E.V, IMKunstmuseum Bonn, Germany
2012

The Rainbow Nation, Museum Beelden aan Zee, The Hague, the Netherlands
3rdMoscow International Biennale for Young Art, Moscow, Russia
Viewpoint: A Closer Look at Showing, Huis Marseille, Amsterdam, the Netherlands
Mine–A selection of films by SA artists, Dubai Community Theatre and Arts Centre, Dubai, United Arab Emirates
2011

ARS 11 - Change your perception of Africa and contemporary art

Kiasma, Helsinki, Finland
Contemporary South African Artists, Turner Galleries, Perth, Australia
Mine –A selection of films by SA artists, Iwalewa-Haus, University of Bayreuth, Germany
2010

PEEKABOO: Current South Africa, Tennis Palace Art Museum, Helsinki, Finland
Ampersand, Daimler Contemporary, Berlin, GermanyThe Beauty of Distance: Song of survival in a precarious age, 17thBiennale of Sydney, Australia
SPace: Currencies in contemporary African art, Museum Africa, Newtown, Johannesburg, South Africa
Dak'Art, 9thDakar Biennale, SenegalLife Less Ordinary: Performance and display in South African art,Ffotogallery, Cardiff, Wales
The Good Old Days, Aarhus Art Building, Denmark
Hautnah: Hair in art and culture, Kunstverein Leonberg, Germany
Toros! Works from the 19th, 20th and 21stcenturies, Galerie Sophie Scheidecker, Paris, France
She Devil, Studio Stefania Miscetti, Rome, Italy
2009

Hautnah: Hair in art and culture,Museum Villa Rot, Burgrieden-Rot, Germany
Les Rencontres de Bamako biennial of African photography, Bamako, Mali
Life Less Ordinary: Performance and display in South African art,DjanoglyGallery, Nottingham, UK
La modernité dans l'art africain d'aujourd'hui, Panafrican Cultural Festival of Algiers, Algeria Undercover: Performing and Transforming Black Female Identities, Spelman College Museum of Fine Art, Atlanta, Georgia, USA
Works from the 2008 Dak'art biennale, ifa Gallery, Berlin; Stuttgart, Germany
Number Two: Fragile, Julia Stoschek Collection, Düsseldorf, Germany
Why not?, Kuckei + Kuckei, Berlin, Germany
Beauty and Pleasure in South African Contemporary Art, The Stenersen Museum, Oslo, Norway
2008

Summer 2008/9: Projects, Michael Stevenson, Cape Town, South Africa
Disturbance: Contemporary art from Scandinavia and South Africa, Johannesburg Art Gallery, South Africa
Disguise, Michael Stevenson Gallery, Cape Town, South Africa
Dak'art, Dakar Biennale, Senegal
Black Womanhood: Images, Icons, and Ideologies of the African Body, Hood Museum of Art, Dartmouth College, Hanover, New Hampshire, USA
Skin-to-skin: Challenging textile art, Standard Bank Gallery, Johannesburg
.za: giovane arte dal Sudafrica, Palazzo delle Papesse, Siena, Italy
The Trickster at ArtExtra, Johannesburg, South Africa
2007

Summer 2007/8, Michael Stevenson, Cape Town, South Africa
Apartheid: The South African Mirror, Centre de Cultura Contemporània de Barcelona, Spain
Afterlife, Michael Stevenson Gallery, Cape Town, South Africa
2006

Olivida quien soy - Erase me from who I am, Centro Atlantico de Arte Moderno, Las Palmas
MTN New Contemporaries, Johannesburg Art Gallery, Johannesburg, South Africa
Second to None, Iziko South African National Gallery, Cape Town, South Africa
2005

In the Making: Materials and Process, Michael Stevenson Gallery, Cape Town, South Africa
2001/2002

Curated the Parliamentary Millennium Project (PMP)