The Jean Pigozzi African Art Collection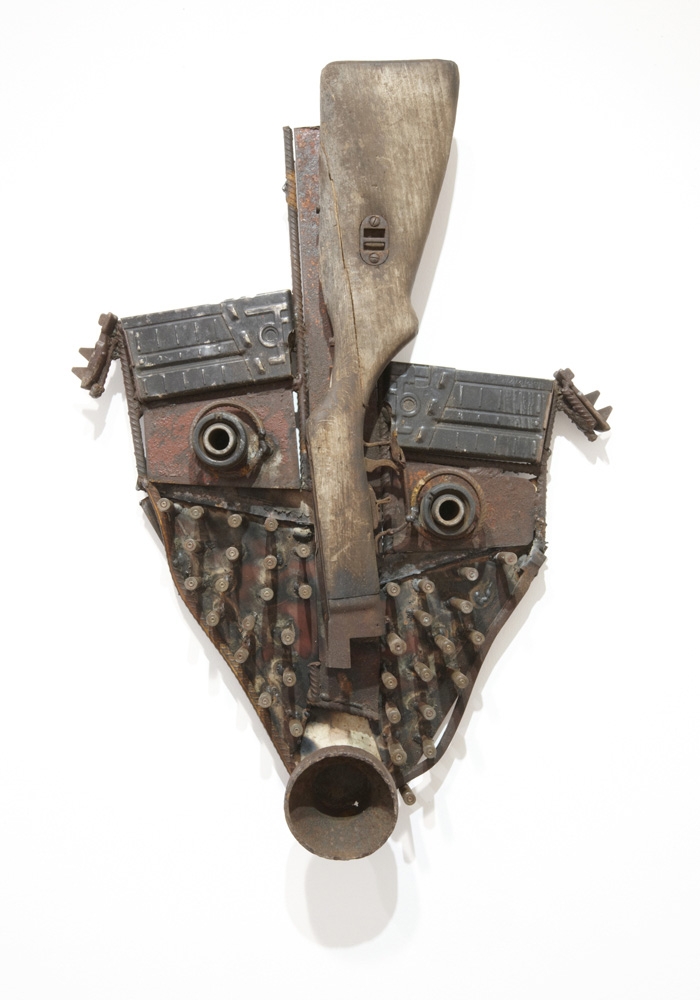 Untitled (Mask) - 2011
70 x 50 x 9 cm
Decommissioned, welded weapons
Gonçalo Mabunda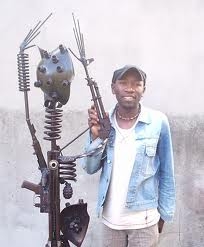 Born in 1975, Maputo, Mozambique.

Lives and works in Maputo.
Gonçalo Mabunda was born in 1975, in Maputo, during the civil war in Mozambique (1975 -1992). Having been a witness to this violence during his childhood, he first took part in the social reconstruction of his country by working on a project whose mission was to exchange weapons for farming tools. Later, he decided to become a memory artist.
In 1998, he became a messenger for the Nucleo studio, an art collective made up of a group of seven young sculptors and the epicenter of art in Maputo. There he met a South African sculptor, Andries Botha, who he followed to Durban for several months in order to complete his metal and bronze work training. When he returned to Mozambique, he joined the project Arms into Art, a project run by a Mozambican Christian organization that transforms weapons into art pieces.
A self-taught artist with a mission to denounce the absurdity of war, he uses old and abandoned weaponry that he transforms to create thrones, masks and totems. Kalashnikovs, rockets, guns and bullets decorate his creations.
His work is exhibited in numerous museums around the world, including the Centre Pompidou, during the famous Africa Remix exhibition in 2005, the Museum of Art and Design, the Brooklyn Museum in New York, the National Museum of Maputo in Mozambique and the Vatican Museum. His work also features in many collections, including one of his works that adorns former US President Bill Clinton's office.
www.goncalo-mabunda.com
SELECTED SOLO EXHIBITIONS
2018

Transformations, Renaud Riley Gallery, Brussels, Belgium
The Messenger, Jack Bell Gallery, London, UK
Cap Town Art Fair, Cap Town, South Africa
2017

Gonçalo Mabunda Emperor of the Sands, Jack Bell Gallery, London, England
O Aceitador do Medo, Museum Abilio de Mattos e Silva, International Festival of Literature, Obidos, Portugal
2016

Jack Bell Gallery, London, England
2015

1:54, Contemporary African Art fair, New-York, USA
Gonçalo Mabunda : Game of thrones, Galerie du passage de Pierre Passebon, Paris, France
2013

Gonçalo Mabunda : When I get green, Jack Bell Gallery, London, UK
2012

Gonçalo Mabunda, New Works, Jack Bell Gallery, London, UK
2011

New Work, Jack Bell Gallery, London, UK
2008

My New Voice, Afronova Gallery, Johannesburg, South Africa
2005

Give Voice, Galleria d'Arte La Nuvola, Rome, Italy
2004

Arms into Art, Alliance Française, Tanzania, Mauritius Islands, Kenya, Ethiopia, South

Africa, Burundi, Namibia, Uganda, Army Museum, Delft, Netherlands
2000

An Artist, a Gesture, Nucleo de Arte, Maputo, Mozambique
SELECTED GROUP EXHIBITIONS
2018

L'Un et l'Autre, Palais de Tokyo, Paris, France
2017

A Summer Exhibition, Royal Academy, London, England
Gaia à travers ses miroirs, Villa des Arts, Rabbat, Morocco (for the event L'Afrique en Capitale)
E-Mois, MACAAL, Marrakech, Morocco
Art Paris Art Fair, Grand Palais, Paris, France
2016

Unter Waffen. Fire and Forget 2, Museum Angewandte Kunst, Frankfurt, Germany
Lumières d'Afriques, Donwahi Foundation, Abidjan, Ivory Coast
2015

Lumières d'Afrique, Chaillot Theater

OFFICIELLE-FIAC, Paris, France
1:54, Contemporary African Art Fair, London, England
1:54, Contemporary African Art Fair, New-York, USA
All The World's Futures, The Venice Biennale, Italy
2014

Luminós/C/ity.Ordinary Joy: From the Pigozzi Contemporary African Art Collection, Ethelbert Cooper Gallery of African & African American Art, Harvard University, Cambridge, MA, USA
Ici l'Afrique/Here Africa - L'Afrique contemporaine à travers le regard de ses artistes, Musée des Suisses dans le Monde,Château de Penthes, Pregny-Chambésy, Switzerland
2011

New Work, Jack Bell Gallery, London, UK
Art Paris ArtFair, Grand Palais, Magnin-­A, Paris, France
2010

African Stories, Ancienne Banque du Maroc, Magnin-­‐A, Marrakech, Morocco
2008

Second Lives, Museum of Arts and Design, New York, USA
My New Voice, Afronova Gallery, Johannesburg, South Africa
2007

Afronism, Afronova Gallery, Johannesburg, South Africa
Brothers in arms, Nùcleo de Arte, Maputo, Mozambique
2005

Give Voice, Galleria d'Arte La Nuvola, Rome, Italy
2004

Africa Remix
Arms into Art, Alliance Française, Tanzania, Mauritius Islands, Kenya, Ethiopia, South

Africa, Burundi, Namibia, Uganda, Army Museum, Delft, Netherlands
2000

An Artist, a Gesture, Nucleo de Arte, Maputo, Mozambique
SELECTED BIOGRAPHY
2021

Ex Africa - Musée du Quai Branly - Jacques Chirac - Sous la direction de Philippe Dagen - Gallimard, Paris
2015

Amelie Klein, Making Africa - A Continent of Contemporary Design, Vitra Design Museum catalogue, pg. 294-295