The Jean Pigozzi African Art Collection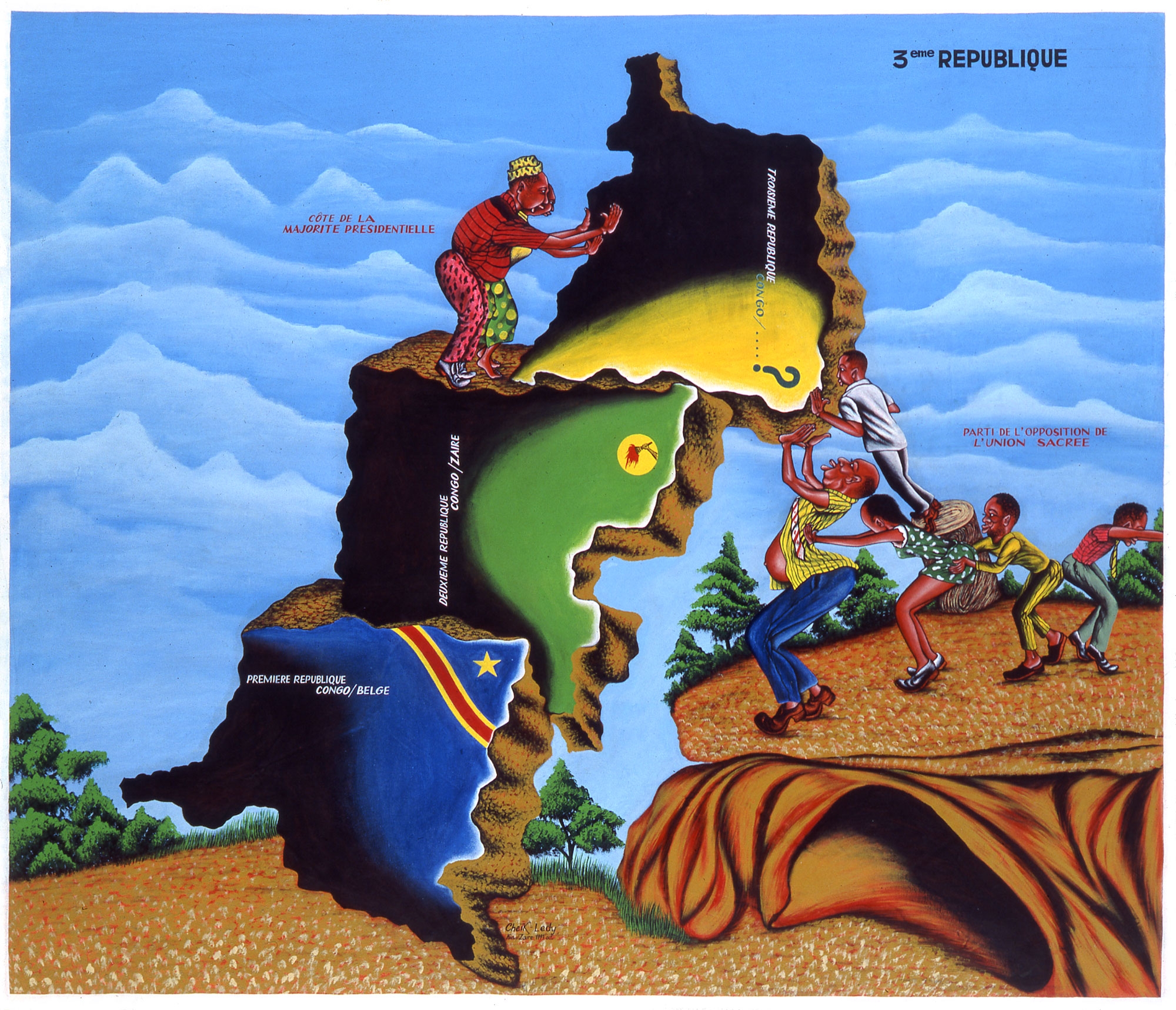 3ème République - 1991
160 x 188.8 cm
Acrylic on canvas
Absence de morale (Moral Absence) - 1990
143 x 135 cm
Acrylic on canvas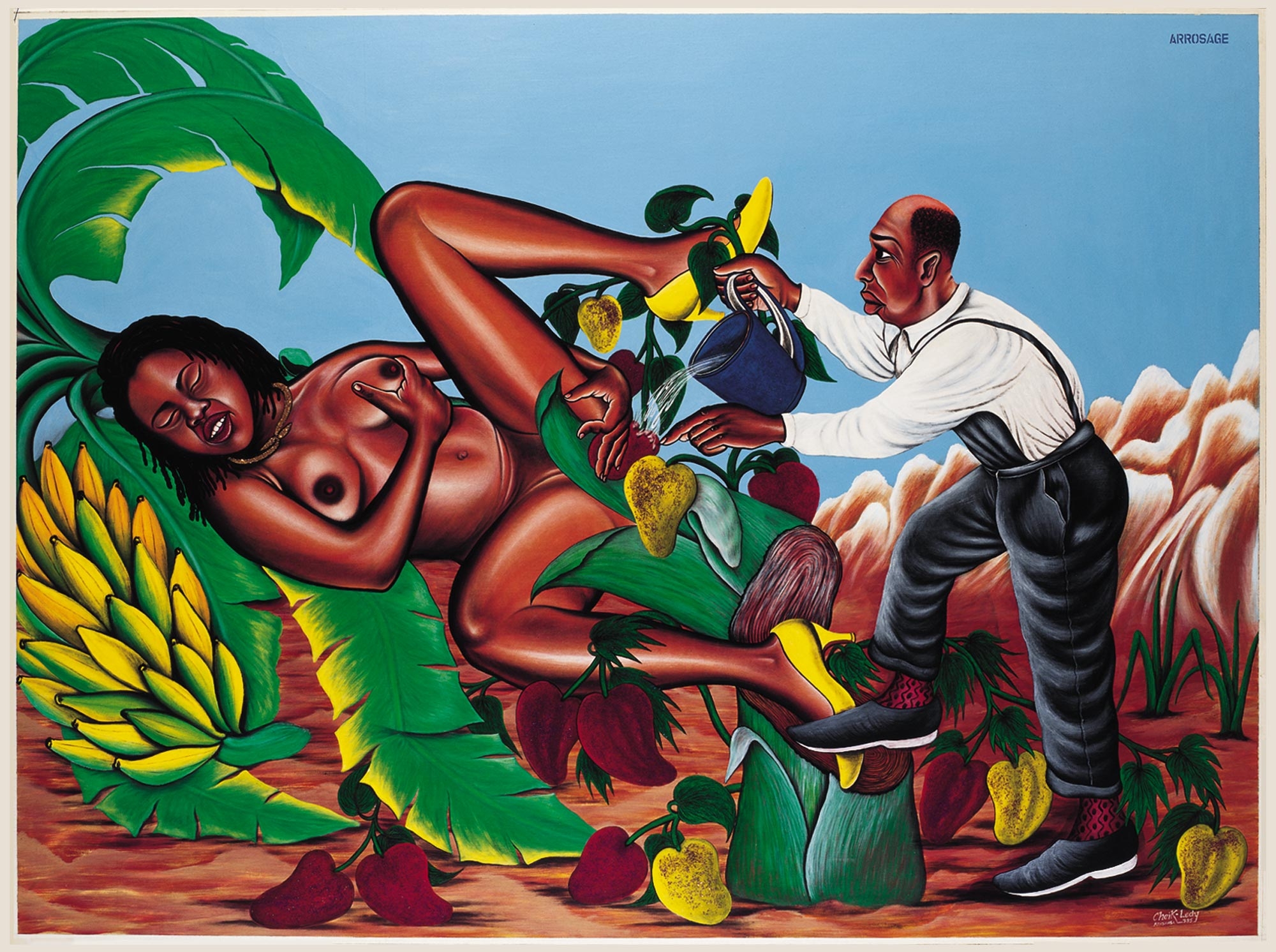 Arrosage (Watering) - 1995
144 x 194 cm
Acrylic on canvas
Cinqs mois de BLOCAGE de la conférence nationale souveraine du Zaïre/Congo Belge - 1991
163 x 187 cm
Acrylic on canvas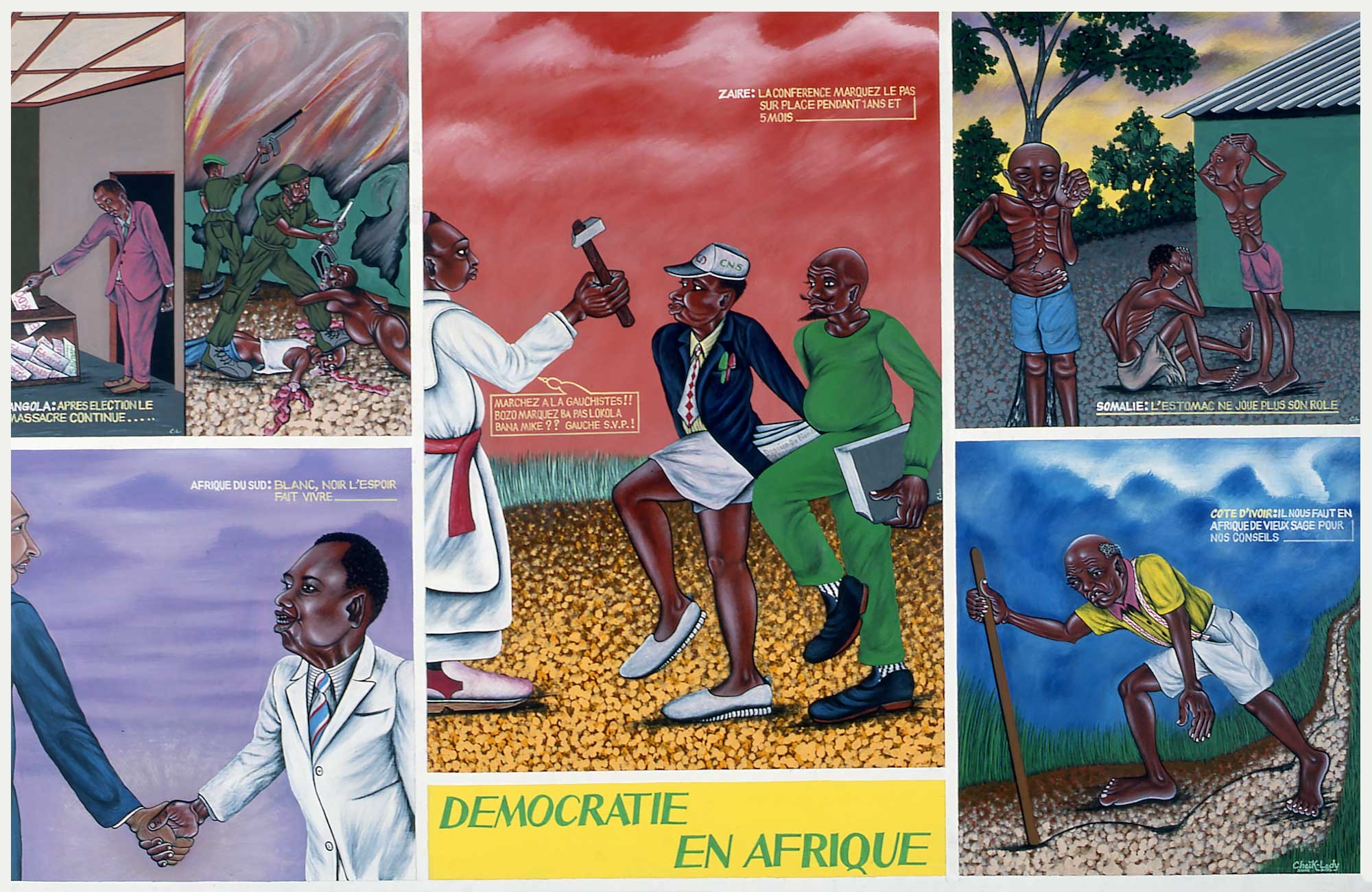 Démocratie en Afrique (Democracy in Africa) - 1992
131.8 x 201 cm
Acrylic on canvas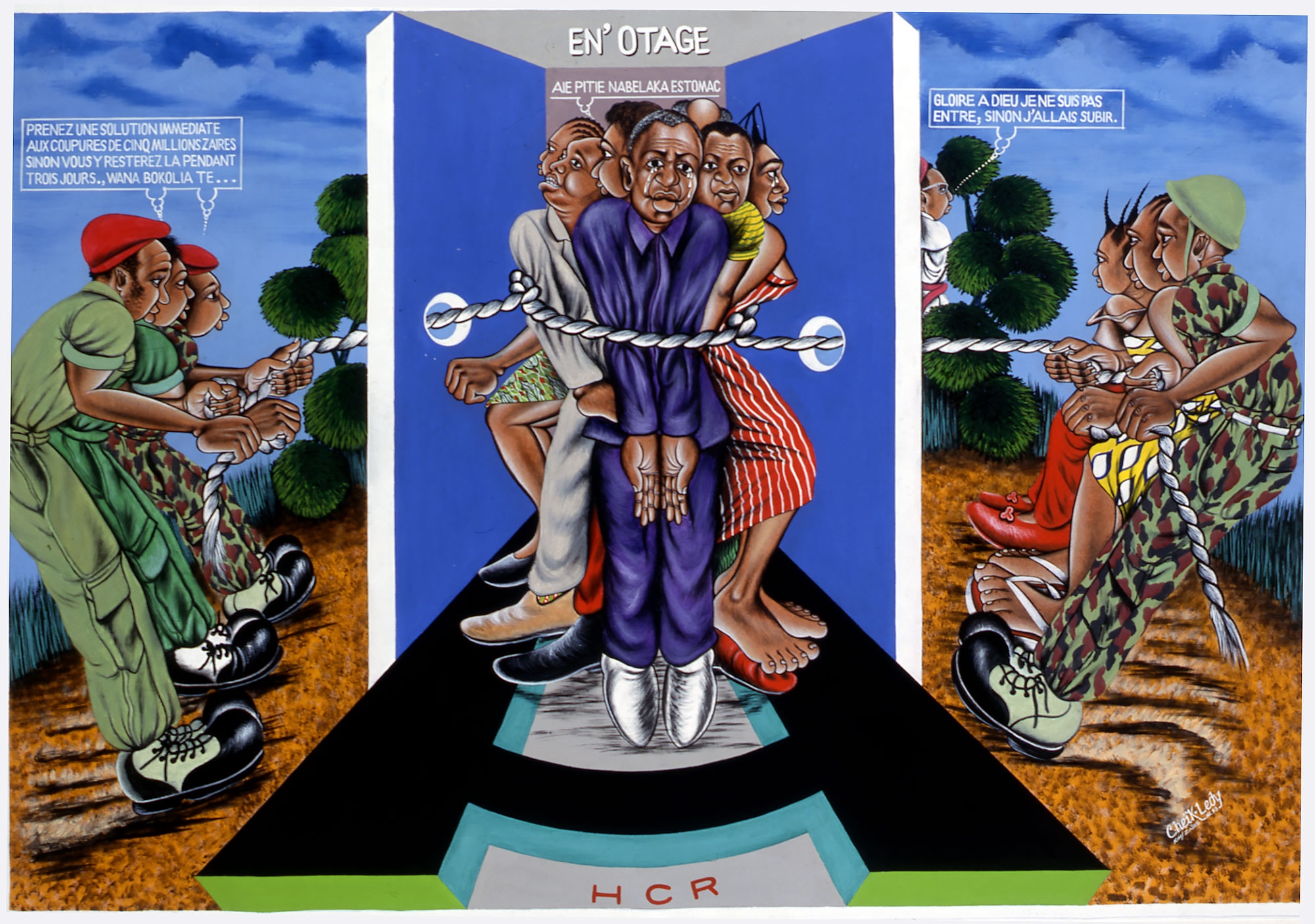 En' Otage - 1993
89.5 x 127 cm
Acrylic on canvas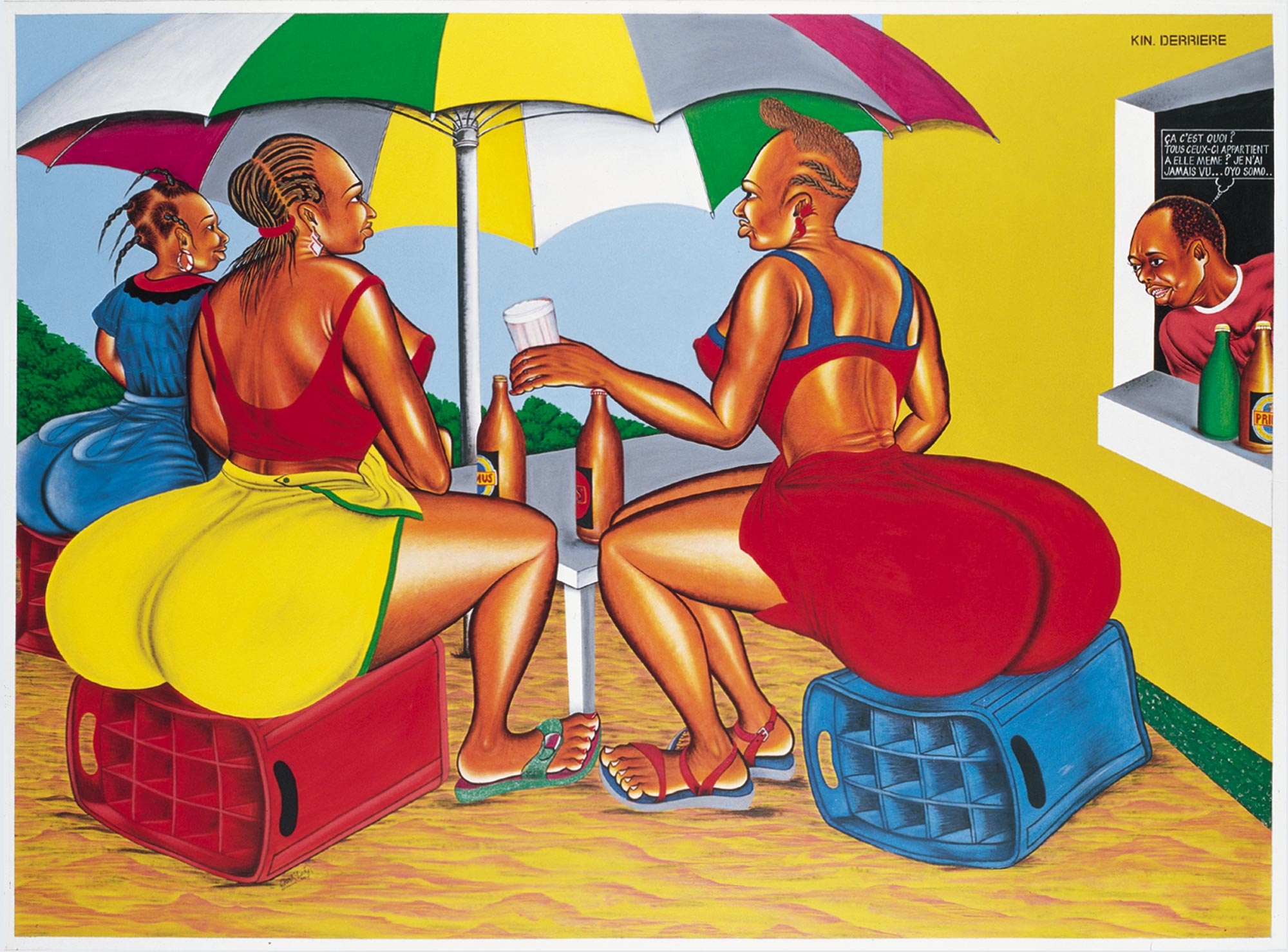 Kin Derrière - 1996
145 x 194 cm
Acrylic on canvas
Le garant/The Guarantee - 1993
132 x 196.5 cm
Acrylic on canvas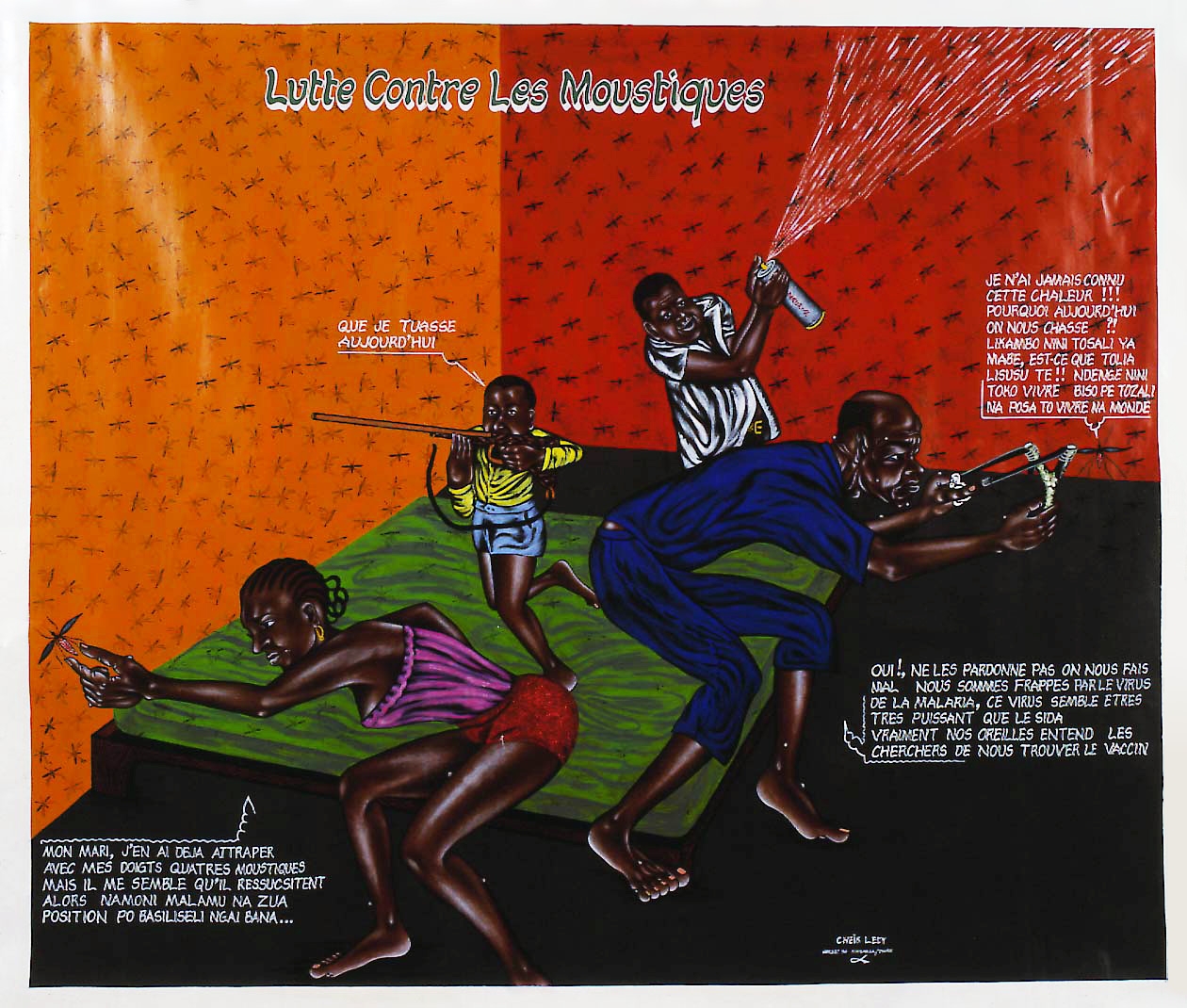 Lutte Contre les Moustiques - 1990
148 x 169 cm
Acrylic on canvas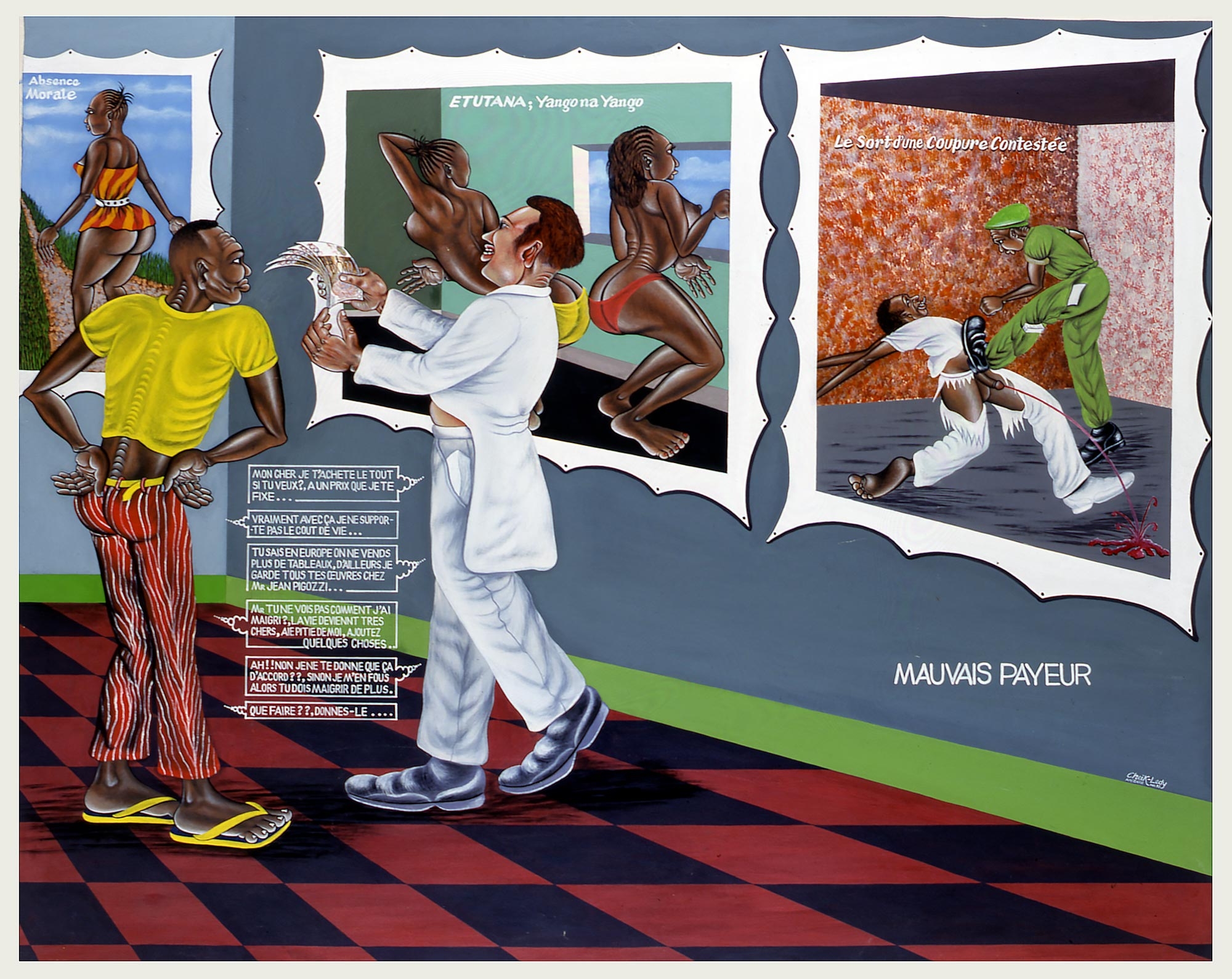 Mauvais payeur (Poor Payer) - 1993
142 x 175 cm
Acrylic on canvas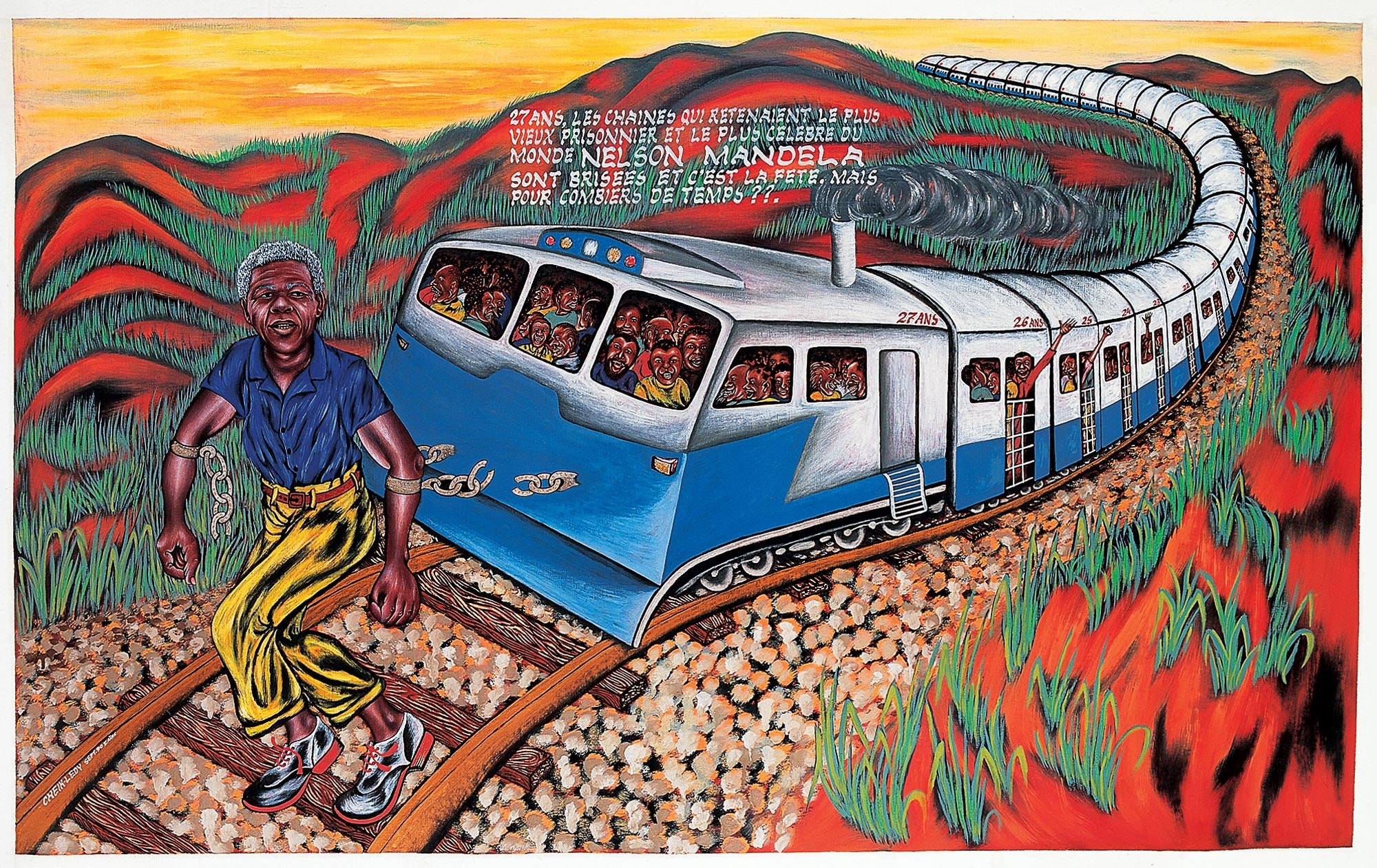 Nelson Mandela - 1990
90 x 145 cm
Acrylic on canvas
Non comprendre - 1995
142.5 x 194 cm
Acrylic on canvas
Cheik Ledy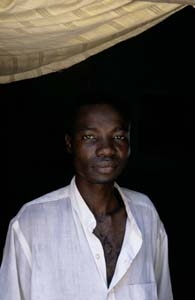 Born in 1962 in Kinto-M'Vuila, Republic of the Congo.

Died in 1997 in Kinshasa, Democratic Republic of the Congo.
Cheik Ledy was trained in art by his elder brother Chéri Samba. Unlike the young popular artists of his generation, who were self-made and for many years lived a precarious existence, Cheik Ledy benefited greatly from the beginning of his career from his brother's experience and his access to fine art materials. Like Samba, Ledy builds his compositions with care, interspersing bilingual text (French and Lingala) and image with sophisticated ease.
Ledy's narratives are imbued with spontaneity, matched by the frankness with which he tackles his frequently controversial themes. He depicted everyday incidents, street-topics ('sidewalk radio" as the grapevine is called), urban myths, harsh realities. Committed to the art of communication, Ledy expressed the political history and social life of his community; he also documented with rare wit his own status as a painter. But his work is not merely an illustrated chronicle or a diary of his emotional life. He casts a critical eye on his surroundings, with a caustic humor that makes his characters almost seem like caricatures. He treated without complacency not only the biting questions of his day, but also those of world history, challenging his viewers to do the same.
SELECTED SOLO EXHIBITIONS
1996

29/09 – 22/12

Cheik Ledy

MAMCO – Musée d'art moderne et contemporain

Geneva - Switzerland
SELECTED GROUP EXHIBITIONS
2015

Beauté Congo – 1926-2015 – Congo Kitoko, Fondation Cartier, Paris, France
2011

Feb 6 - Apr 24 2011

JapanCongo

Magasin Grenoble, France
2005

29 Jan – 8 May

African Art Now : Masterpieces from the Jean Pigozzi Collection

Museum of Fine Arts Houston

Houston - USA
2003 – 2004

19/10 – 25/01

Sexuality & Death. Aids in Contemporary African Art

Rautenstraucht Joest Museum

Köln - Germany
2001

Un art populaire

Fondation Cartier pour l'art contemporain

Paris – France
1997

Lumière Noire

Centre d'art de Tanlay

Yonne - France
1996

Bomoi Mobimba – Toute la Vie

Palais des Beaux-Arts

Charleroi - Belgium
1993

Bonne Année

Galerie Lucien Bilinelli

Brussels – Belgium
1993

La Grande Vérité, les Astres Africains

Musée des Beaux Arts

Nantes - France
1992

Out of Africa

Saatchi Gallery

London – Great Britain
1991

Ny afrikansk Billedkunst

Rundetårn

Copenhagen - Denmark
1990

WAAAAW, A far African Art

Courtrai, Belgique
1991/92

Africa Hoy

Africa Now

Centro de Arte Moderno,

Las Palmas de Gran Canaria, Espagne
Groninger Museum,

Gröningen, Pays-Bas
Centro Cultural Arte Contemporaneo,

Mexico City, Mexique
SELECTED BIBLIOGRAPHY
2015

Beauté Congo 1926-2015 Congo Kitoko, Fondation Cartier, Exhibition catalogue
2014

Post Picasso: Contemporary Reactions, Exhibition catalogue, Museu Picasso, pg 75.
2005

African Art Now: Masterpieces from the Jean Pigozzi Collection

Exhibition catalogue. Published by Merrell in association with the MFAH.
2001

« Un art populaire » Cheik Ledy

Exhibition catalogue by André Magnin. Fondation Cartier pour l'Art Contemporain, ACTE SUD. Texte en français.
1996

Bomoi Mobimba, Toute la vie

Exhibition Catalogue. 7 artistes Zaïrois. Palais des Beaux Arts. Ville de Charleroi, France.
1996

Contemporary Art of Africa

P. 162-163. Text by J. Soulillou. Edited by André Magnin & Jacques Soulillou.

Published by Harry N. Abraams, New York and Thames & Hudson, London.
1993

Kunstforum Africa Iwalewa International (122)

Afrikanische Kunst heute book

Text by A.Magnin p.165 – Cheik Ledy-Cheri Samba p.306 – p.308.
1993

La Grande Vérité, Les Astres Africains

Exhibition catalogue. André Magnin. Edition Musée des Beaux-Art de Nantes. Texte en français.
1993

Afrika

Kunstforum N°122, Ruppichteroth, Suisse
1992

100 % MAKE UP

Projet Mendini. Produit par Alessi.
1991

Africa Hoy

Exhibition catalogue. Text by André Magnin.Ediciones El Viso.