The Jean Pigozzi African Art Collection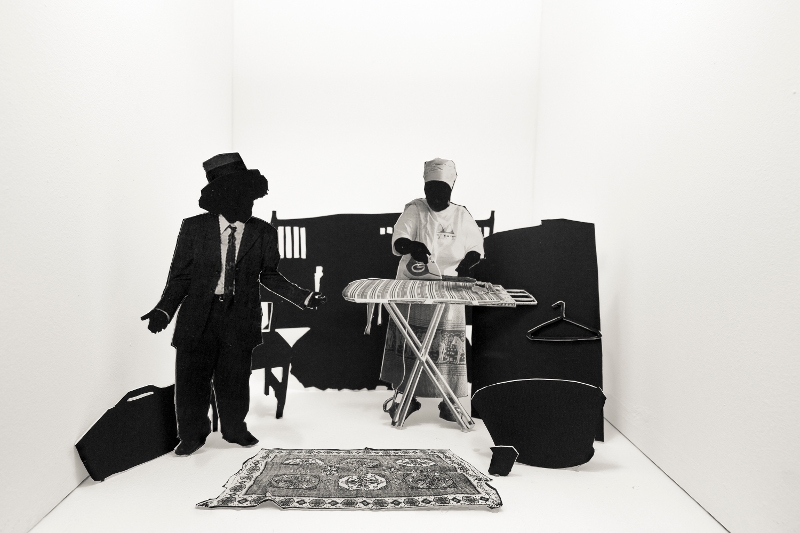 Ke Sale Teng - 2017
Animation film
Duration : 3 min. 22

Watch 'Ke sale teng' from Lebohang Kganye on Vimeo
Lebohang Kganye
Born in 1990, Lebohang Kganye lives and works in Johannesburg, South Africa.
Kganye completed the Advanced Photography Programme at the Market Photo Workshop in 2011. She also completed her Fine Arts studies at the University of Johannesburg in 2016. She is a leading figure of the new generation of contemporary South African photographers.
Although primarily a photographer, Kganye often incorporates her interest in sculpture, performance, installation and film. She confronts her collected and altered photographs; the artist's and her family's, as material for both memory and fantasy. She explores fictional history by using archives to merge illusive characters with "real" characters in a new universe. Kganye was then selected as the Featured Artist for the 17th Business and Arts South Africa Awards in 2014. She was also awarded the Jury Prize at the Bamako Encounters Biennale of African Photography in 2015 and tthe CAP Prize 2016 in Basel and more recently the Rise Art Global Artist of the Year. Kganye recently received the coveted award for the Sasol New Signatures Competition 2017, leading to a solo show at the Pretoria Museum in August 2018.
She has participated in major exhibitions locally and internationally, including The Prada Foundation in Milan, MACAAL in Marrakesh, Digital Africa in Tokyo or Iziko National Gallery in Cape Town. Kganye's work forms part of prestigious collections, such as the Walther Collection New York or The Pigozzi Collection Geneva.
© 2019 Afronova. All Rights Reserved.
www.lebohangkganye.co.za
SOLO EXHIBITIONS
2021

A solo exhibition of Kganye's newly commissioned works will be presented by the Georgian House Museum in Bristol, UK
2020

The Stories We Tell, George Bizos Gallery at Apartheid Museum, Johannesburg
2019

a ppr oc he: Lebohang Kganye, Le Molière, Paris
2018

Mohlokomedi wa Tora, Pretoria Art Museum, Pretoria, South Africa
Tell Tale, The Photo Workshop Gallery, Johannesburg
Festival Africolor, Université Paris 13, Paris
2016

: Focus: African Perspectives, Armory Show, Afronova Gallery, New York
2013

: Ke Lefa Laka, Market Photo Workshop Gallery, Johannesburg,
GROUP EXHIBITIONS
2021

Family Affairs. Family in Current Photography at the House of Photography in Deichtorhallen Hamburg, Germany
The Power of My Hands, at Musée d'Art Moderne de Paris, France
2020

Afterglow, Yokohama Triennale, Yokohama Museum of Art, Japan
Alpha Crucis, Astrup Fearnley Museet, Oslo, Norway (01.22 to 09.30 2020)
Africa State of Mind, a travelling exhibition presented at the Royal West of England Academy, Bristol, UK, in 2019 – 2020, the Museum of African Diaspora, San Francisco, USA and the Impressions Gallery, Bradford, UK, in 2018
The words create images, 5th International Biennale of Casablanca, Casablanca, Morocco
1:54 Contemporary African Art Fair, La Mamounia, Marrakesh, Morroco
Paulo Cunha e Silva Art Prize Exhibition, Porto, Portugal
2016-2018

Recent Histories, a touring exhibition of Contemporary African Photography and Video Art from Arthur Walther Collection, presented at Huis Marseille, Museum for Photography, Amsterdam, Africa is No Island, at MACAAL, Marrakesh in 2018; Give me Yesterday, Fondazione Prada, Milan, Italy, in 2016