The Jean Pigozzi African Art Collection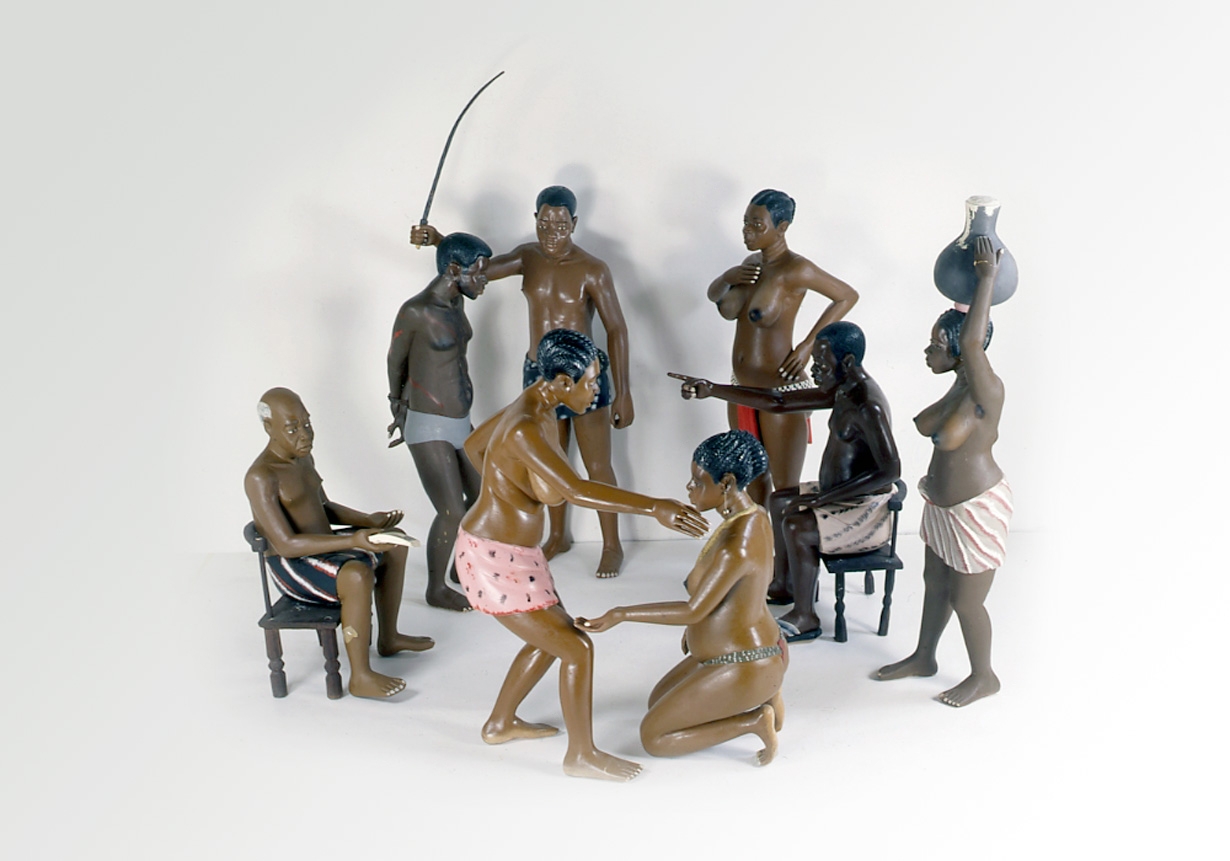 Untitled (Adultery scene) - 1991
145 cm
Painted wood sculptures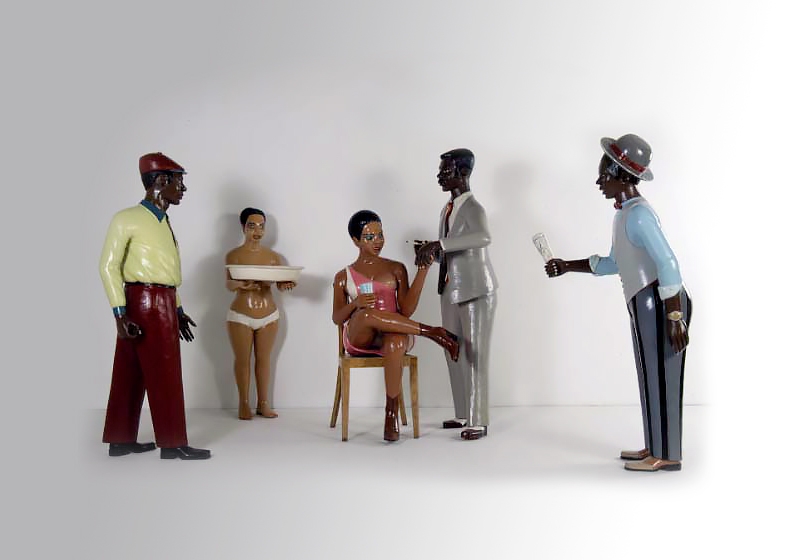 Untitled (Bar scene) - 1991
145 cm
Painted wood sculptures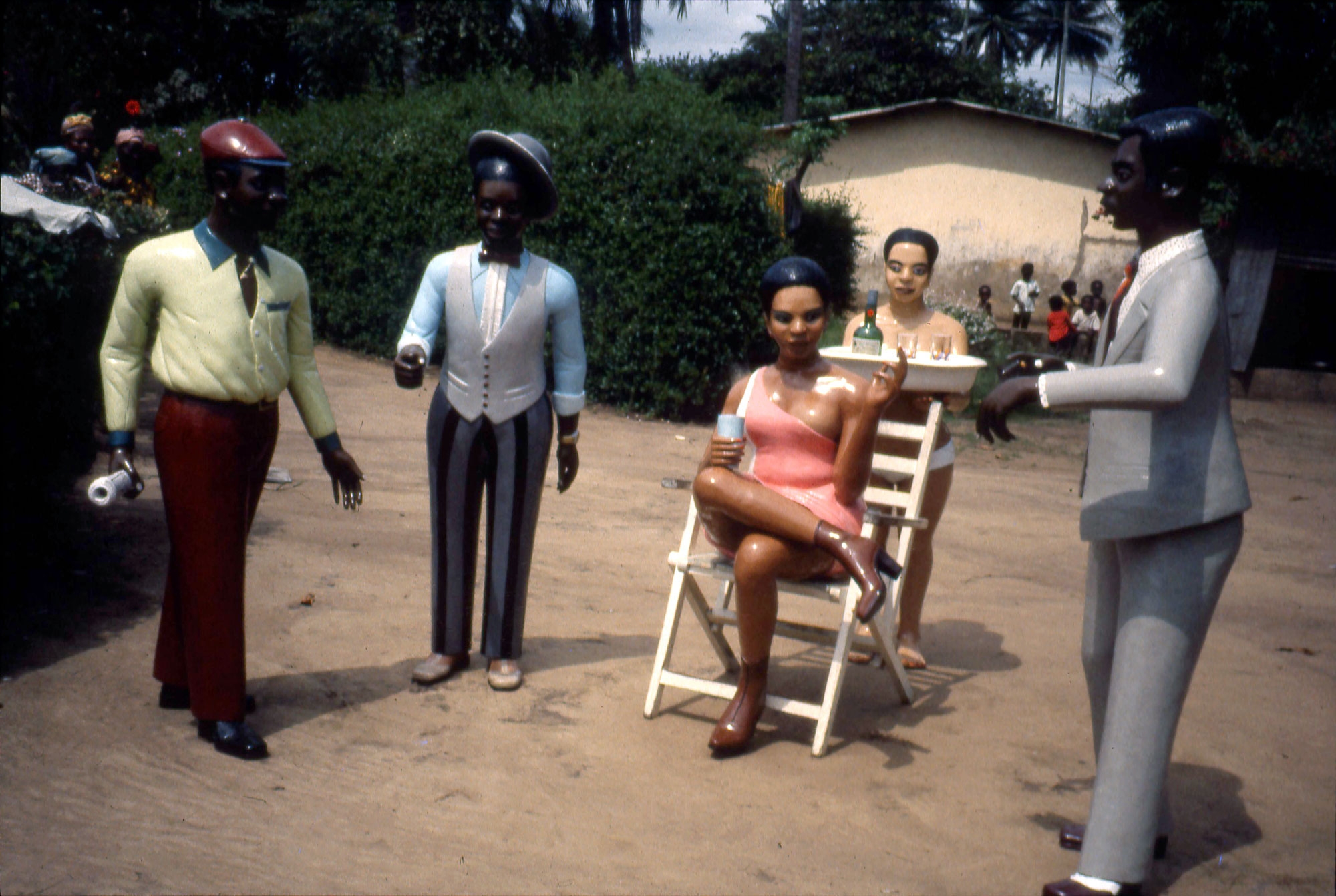 Untitled (Bar scene) - 1991
145 cm
Painted wood sculptures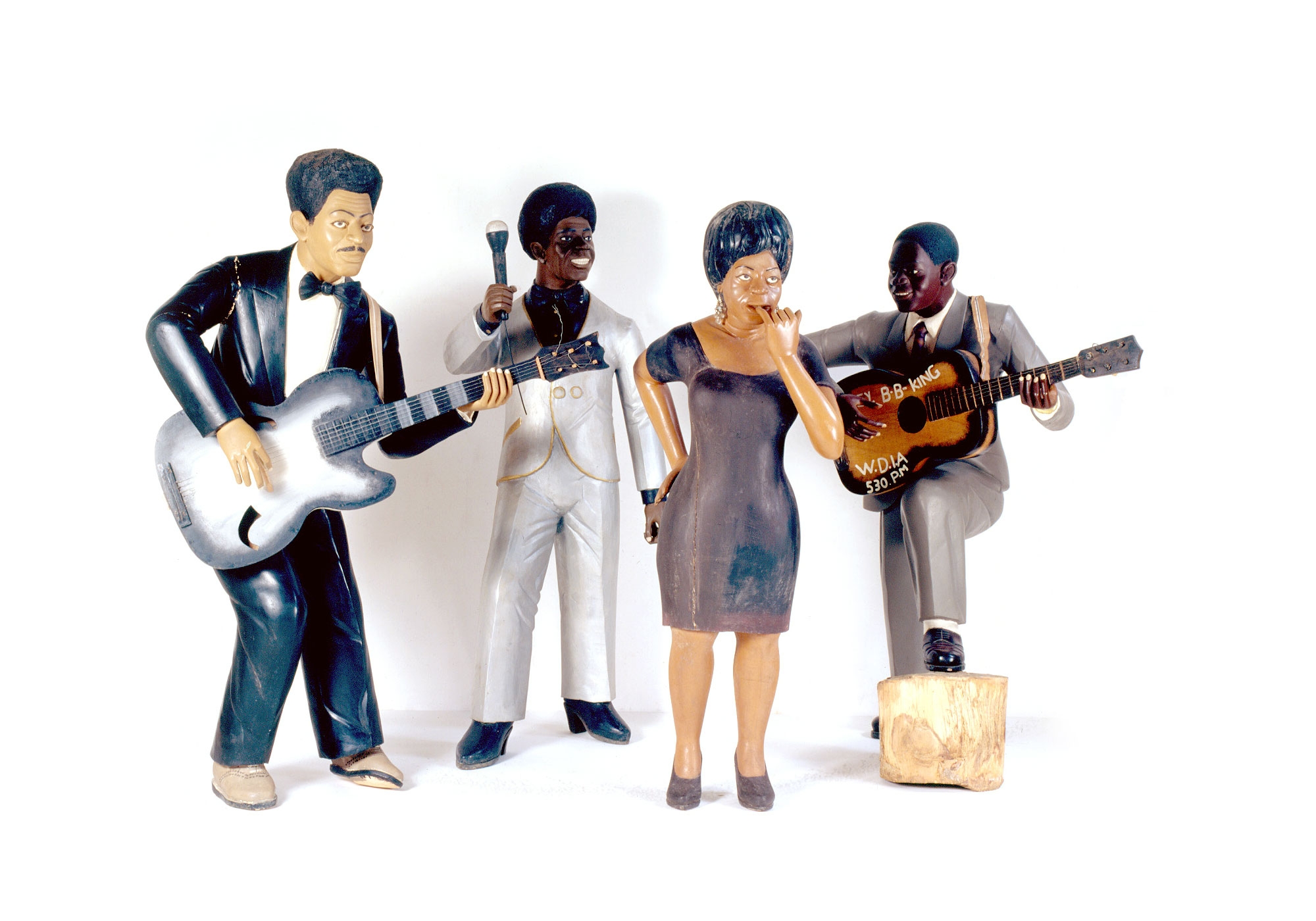 Untitled (Musicians scene) - 1991
177.5 cm
Painted wood sculptures

From left to right:

Chuck Berry (182 x 78.5 x 78 cm)
James Browm (174 x 54 x 65 cm)
Aretha Franklin (181 x 94 x 75 cm)
B.B. King (173 x 106 x 80 cm)
Emile Guebehi & Nicolas Damas

Emile Guebehi YEBO

Born in 1937 in Anomo, Ivory Coast.

Lives and work in Abidjan.
Nicolas Damas YEBO

Born in 1947 in Abidjan, Ivory Coast.

Died in 2001 in Abidjan.
The two brothers Guebehi and Damas were born in a family that came from Nikeïde in Krou country (in the western part of the Ivory Coast, close to the Liberian border).
Emile Guebehi was involved in various manual labor jobs until 1966, before dedicating himself to wood carving, on the advice of a healer in his village. Impressed with his first sculptures, the Ebrié community who populated the lagoon, offered to settle him in the village of Songbo Dagbé, on the road to Abidjan.
Emile Guebehi, then his young brother Nicolas Damas, went to work for the Ebrié community who ordered whole batches of sculptures from them to celebrate the "Feast of Generations". This because the structure of Ebrié society is based on the existence of 4 age-groups. Dougbo: the class of Sages from 56 to 72 years old; Chagba: the class of the Mature Men from 40 to 56 years old; Bleffoue: the class of Warriors from 24 to 40 years old; and the Gnandos: the class of Youths from 8 to 24 years old. Each age group is shown in specific scenes, all done by the same artists, carved in relief, life-size. Passing from one class to another is celebrated by feast with cultural manifestations that are an opportunity to exhibit publicly the totality of the community's cultural heritage.
Emile Guebehi and Nicolas Damas made large mulitcolored scenes representing the characters, animals, objects related to the daily life, the history of the population, the origin of the Ebriés and their initiation rites. Each village in the lagoon is the proud owner and caretaker of these works. They testify to history of the Ebrié and their relationship to these artists who kept up an African tradition of artistic production devoted to the needs of the community.
Alongside this, Damas developed a personal style that reveals his particular interest in urban life. These works represent scenes in bars, groups of musicians, and "trend-setters", and are aimed a more international clientele.
SELECTED EXHIBITIONS:
2015

Les Maîtres de la Sculpture du Côte d'Ivoire, Quai Branly, Paris
2014/2015

Magical Africa – Masks and Sculptures from Ivory Coast The Artists Revealed, De Nieuwe Kerk, Amsterdam
2014

Grand Maîtres Africains, Art and Exhibition Hall, Bonn
2014

Grand Maîtres Africains, Musée Rietberg, Zurich
2005

African Art Now : Masterpieces from the Jean Pigozzi Collection

Museum of Fine Arts Houston

Houston - USA
2005

Sculpture Photographs : 1960-2004

(Malick Sidibé)

Jack Shainman Gallery

New York - USA
2001/2002

Contemporary Art & Photography

(New Acquisitions)

Museum of Fine Arts

Houston - USA
2000

Clubs of Bamako

Rice University Art Gallery

Houston - USA
1999

The Clubs of Bamako

Deitch Projets

New York - USA
1999

Guebehi - Damas

Abidjan National Museum

Abidjan – Ivory Coast
1998

Patchwork in Progress

Mamco

Geneva – Switzerland
1992

Out of Africa

Saatchi Collection,

Londres (U.K.)
SELECTED BIBLIOGRAPHY:
2005

African Art Now: Masterpieces from the Jean Pigozzi Collection

Exhibition catalogue. Published by Merrell in association with the MFAH.
2005

Living with Art

Seventh Edition by Mark Getlein. Published by McGraw Hill.
1999

Clubs of Bamako. Deitch Projects, New York.

Flash Art International.
1996

"Contemporary Art of Africa." Nicolas Damas by Yaya Savane.

Edited by André Magnin and Jacques Soulillou. Text in English.

Harry N. Abraams.