The Jean Pigozzi African Art Collection
Egungun - 2015
24 x 18.5 cm
Archival Pigment ink on Pure Cotton Paper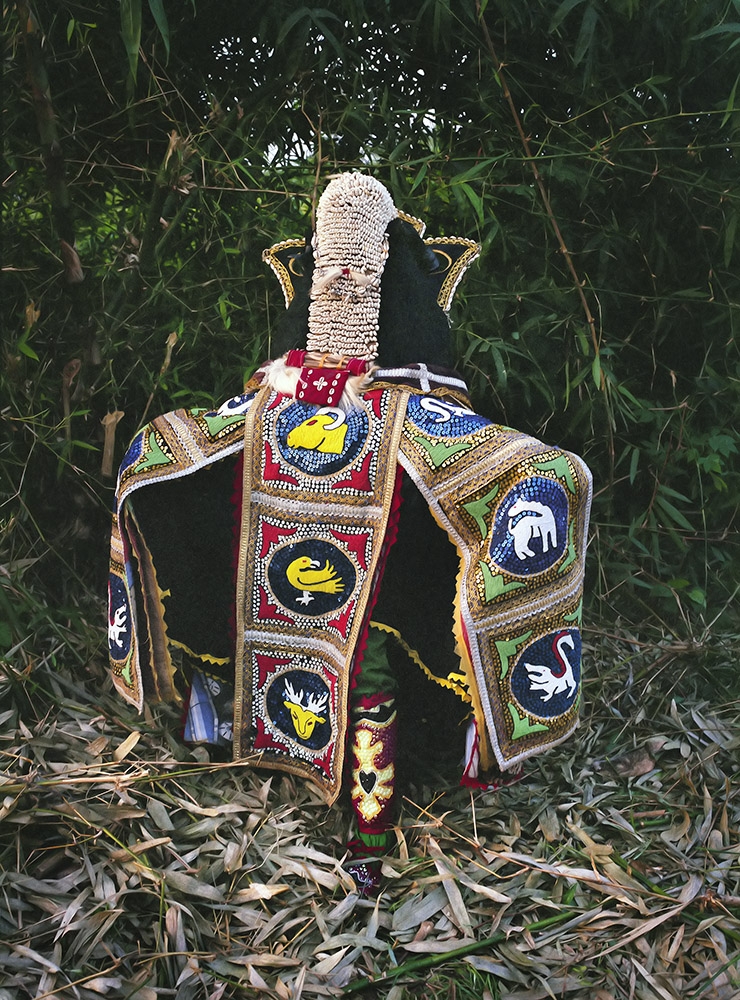 Egungun Masquerade IV - 2015
95 x 67 cm
Pigment print on HP Premium Satin Photographic Paper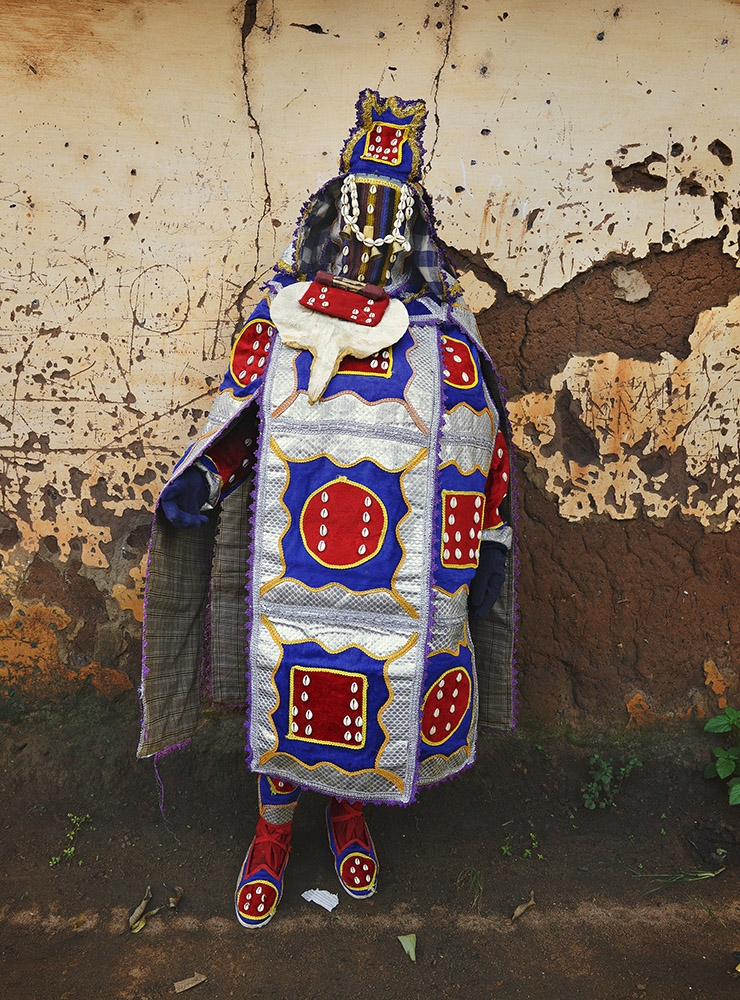 Egungun Masquerade IX - 2015
95 x 67 cm
Pigment print on HP Premium Satin Photographic Paper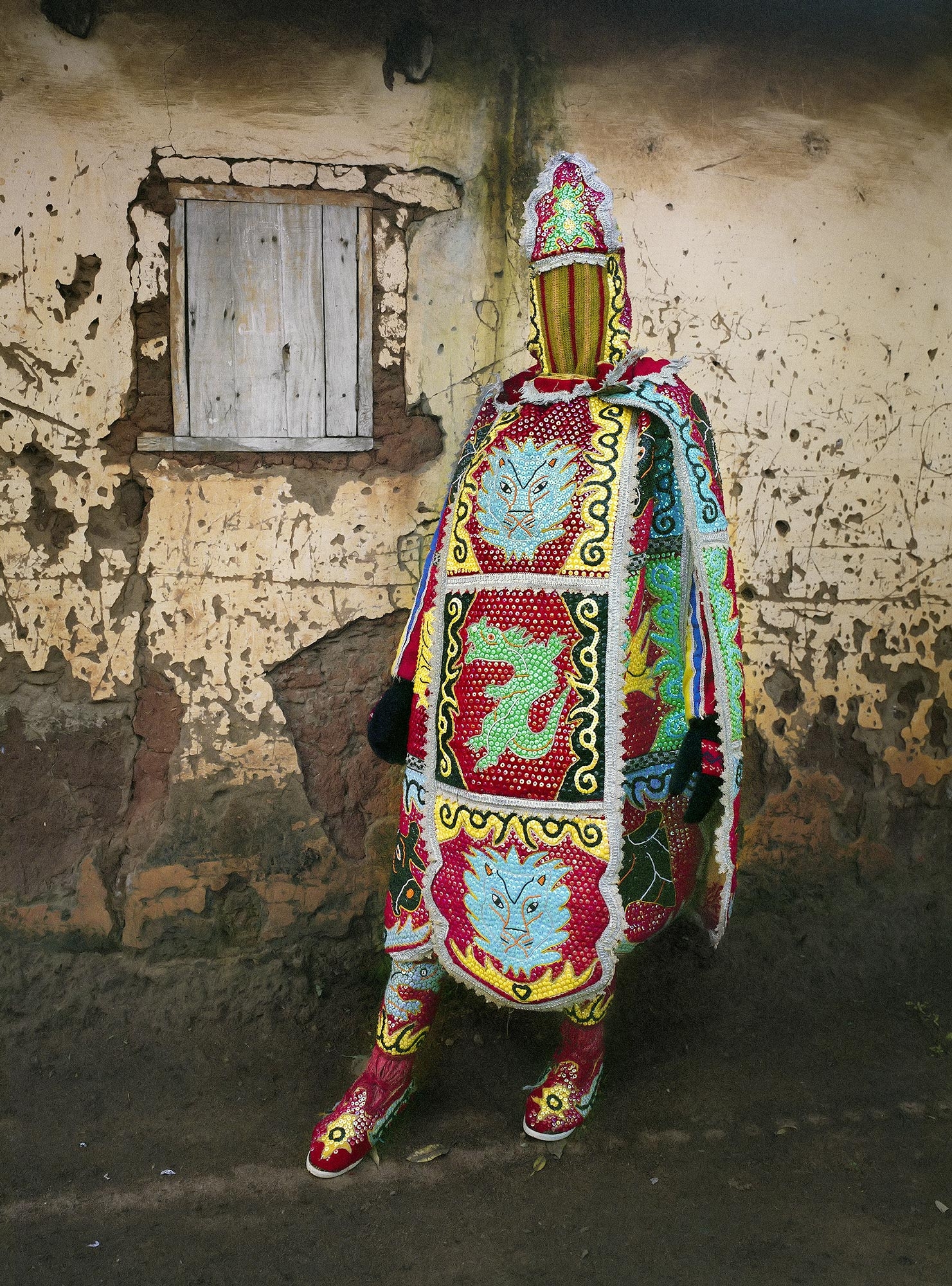 Egungun Masquerade VII - 2015
95 x 67 cm
Pigment print on HP Premium Satin Photographic Paper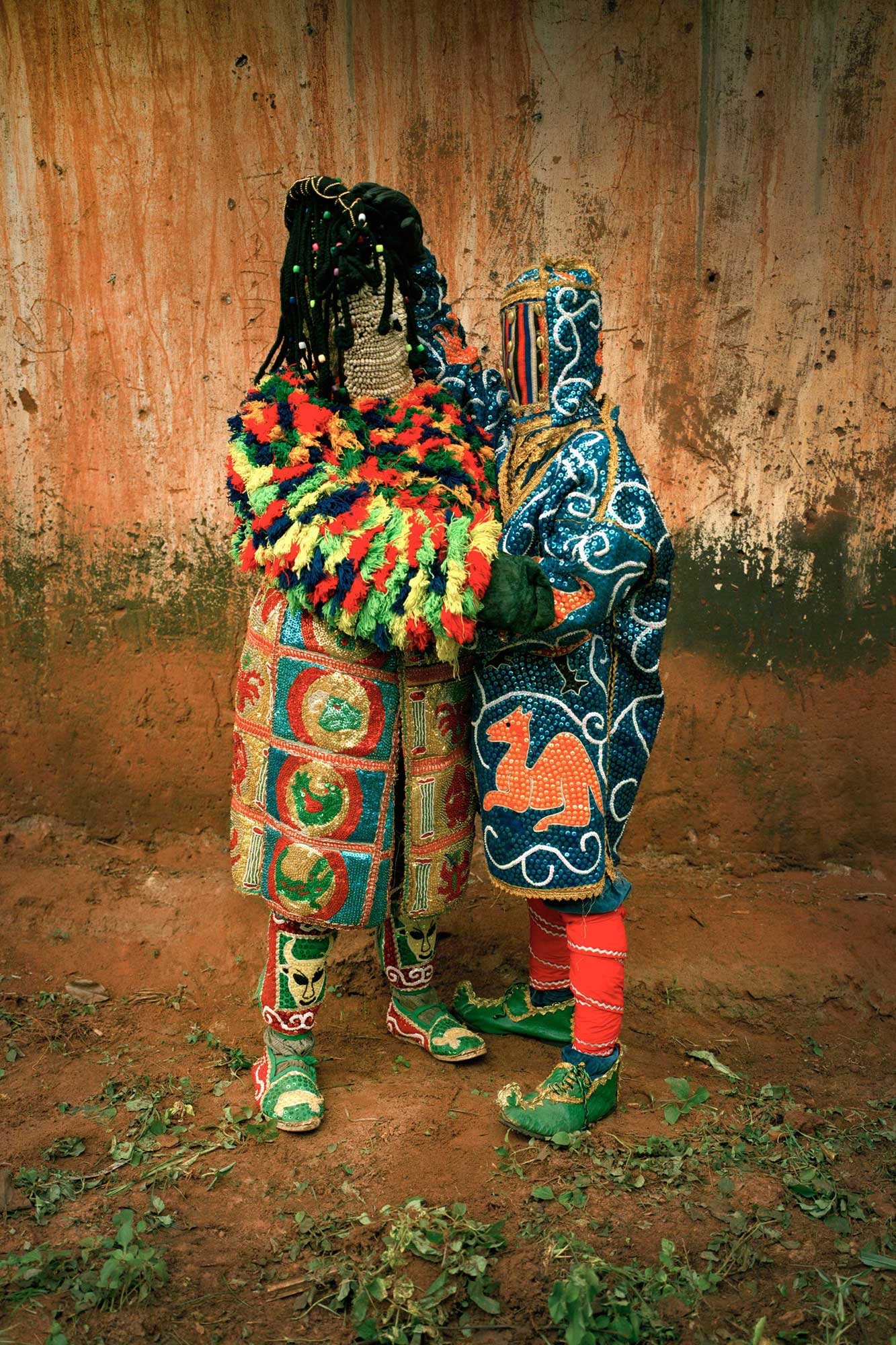 Untitled (Vodou Series) - 2011
95 x 67 cm
C-Print
One ceremonial robe with feathered sleeves,
the other with camel motif.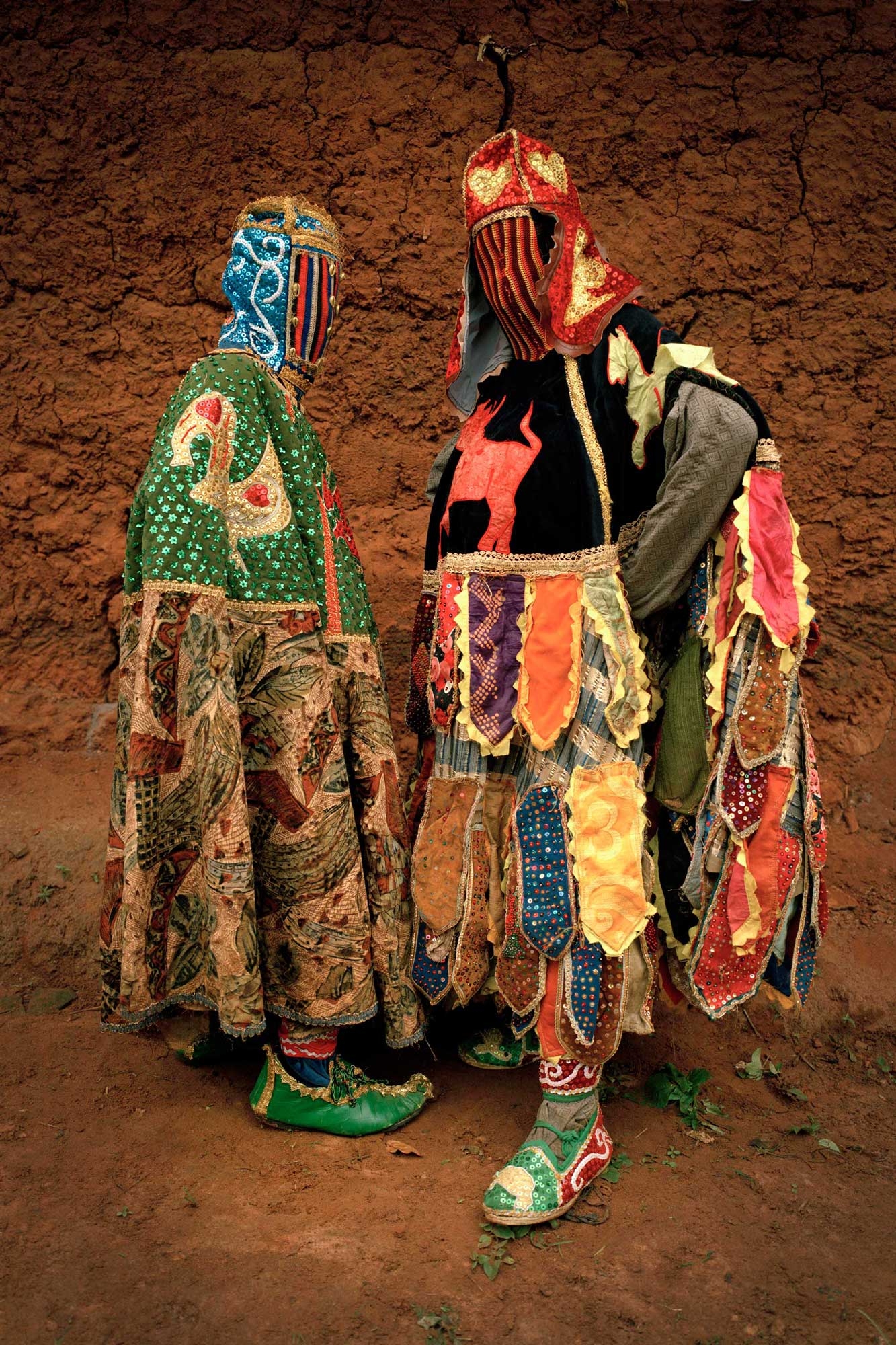 Untitled (Vodou Series) - 2011
94 x 66 cm
C-Print
Green ceremonial dress,
red, gold and black
ceremonial dress.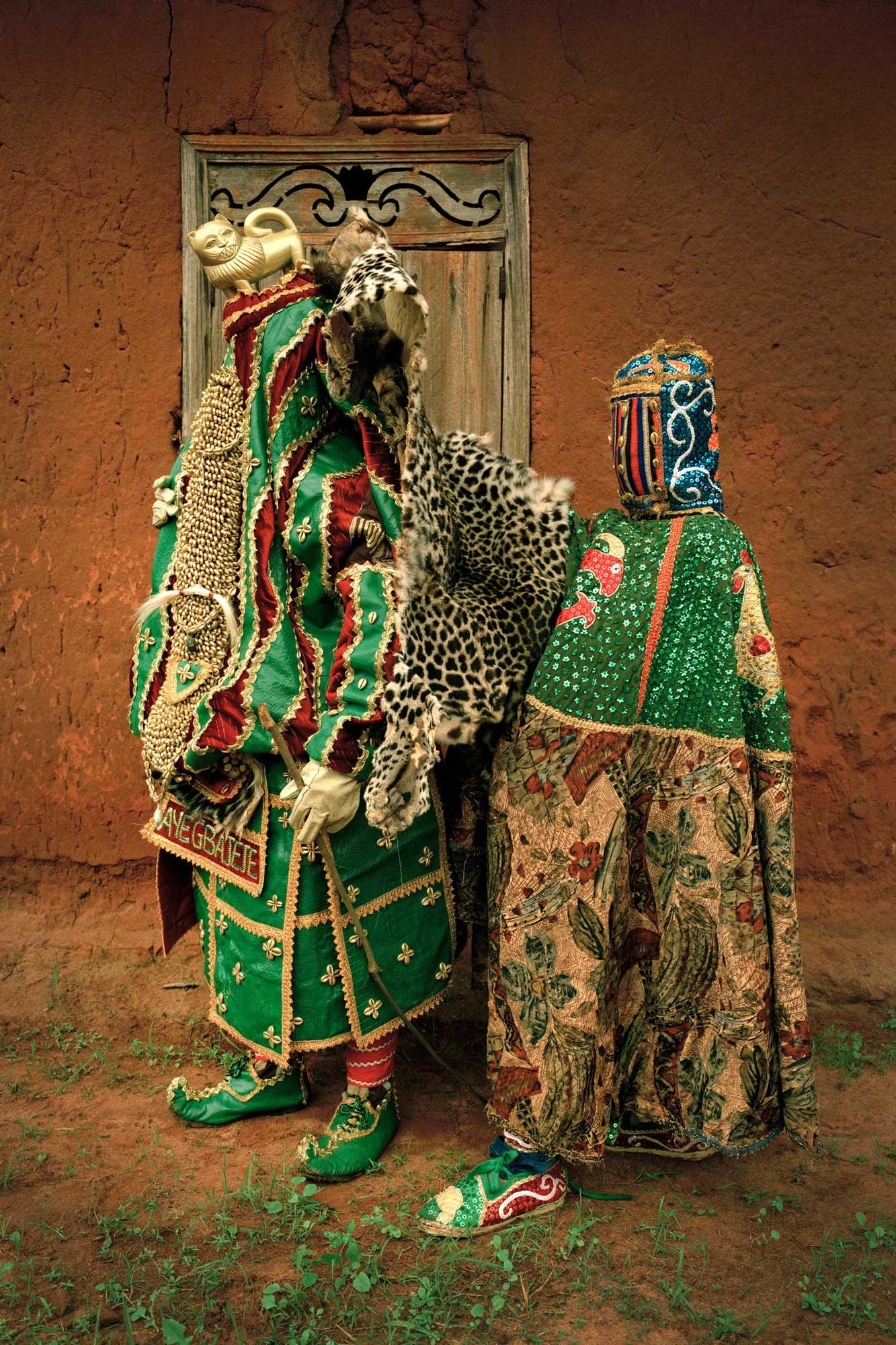 Untitled (Vodou Series) - 2011
94 x 66 cm
C-Print
Two green ceremonial
outfits, one with gold cat
atop its head.
Leonce Raphael Agbodjelou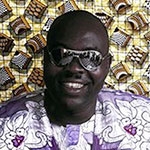 Leonce Raphael Agbodjelou was born in 1965 in Porto-Novo, Benin where he continues to live and work.
Agbodjelou is one of the pre-eminent photographers of the Republic of Benin, based in the capital Porto Novo. Trained by his father, the world-renowned photographer Joseph Moise Agbodjelou (1912-2000), he has since developed his own individual style in contemporary and innovative ways.
Agbodjelou's photographs of the people of Porto-Novo, Benin (formerly Republic of Dahomey) are drawn from street life, his friends, family and studio customers. In Leonce's impressive portraits, wild combinations of locally designed Dutch imported textiles create extreme gradations between background, foreground, person and clothing. Leonce is part of a generation experiencing rapid change and his photographs capture the energy and unfettered zest for life of a people caught between tradition and progress.
In his Vodou series, Agbodjelou, refers to Yoruba funerals, about 150 years ago, when masqueraders began to appear to guide the passage of the deceased to the spirit world. Much has changed for the Yoruba and their spiritual guides, in today's Republic of Benin, and their costumes have absorbed a host of influences over the centuries, but Agbodjelou's clever strategy of placing his subjects against mud brick walls conveys this sense of an essentially unaltered time.
Leonce is the founder and director of the first photographic school in Benin and has recently been appointed president of the Photographer's Association of Porto-Novo. His work has been acquired by the Carnegie Museum of Art, Pittsburgh, and Pitt Rivers Museum, Oxford, among others.
SOLO EXHIBITIONS
2015

LEONCE RAPHAEL AGBODJÉLOU, smac gallery, Cape Town, South Africa
2015

Leonce Raphael Agbodjelou : Code Noir, Jack Bell Gallery, London
2013

Citizens of Porto-Novo, Jack Bell Gallery, London
2013

The Egungun Project, Kleinschmidt Fine Photographs, Wiesbaden, Germany
2012

Leonce Raphael Agbodjelou : Demoiselles de Porto-Novo, Jack Bell Gallery, London, England
2011

Egungun Project, Jack Bell Gallery, London
2010

From Dahomey to Benin, Jack Bell Gallery, London
GROUP EXHIBITIONS
2016

Making & Unmaking, Camden Arts Centre, London
2016

Making Africa - A Continent of Contemporary Design, CCCB, Barcelona, Spain
2016

Disguise: Masks and Global African Art, Brooklyn Museum, New York, USA
2014

Pangaea: New Art from Africa and Latin America, Saatchi Gallery, London
2013/2014

Taylor Wessing Photographic Portrait Prize, National Portrait Gallery, London
2013

Native Nostalgia, The Museum of African Design, South Africa
2013

Revealed2, Samstag Museum of Art, Adelaide, Australia
2013

LagosPhoto Festival, Lagos
2013

Paris Photo, Paris
2012

Betwixt and Between: Contemporary African Photography, Museum of Glasgow
Out of Focus, Saatchi Gallery, London
2011

Les Fantomes, Jack Bell Gallery, London
SELECTED BIBLIOGRAPHY
2021

Ex Africa - Musée du Quai Branly - Jacques Chirac - Sous la direction de Philippe Dagen - Gallimard, Paris
2015

Amelie Klein, Making Africa - A Continent of Contemporary Design, Vitra Design Museum catalogue, pg. 290